Welcome to Dynamic Cosplay Presents: Mera
Cosplayer: Comic Girl Cosplay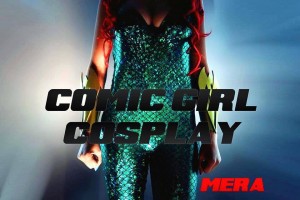 DCN: What made you create this character, why Mera?
Comic Girl: Mera is such an incredible, strong character who definitely doesn't get enough recognition. I also love her new 52 outfit redesign.
DCN: Outside of cosplay do you have any other interest/hobbies?
Comic Girl: I am a youtuber (when I have time), and have a very strong passion for charity volunteer work. I also have a bachelors degree in chemical engineering, so I like to stay on top of what's going on in the scientific community.
DCN: How do your friends and family feel about you cosplaying? Are they supportive?
Comic Girl:It took my family a little bit of time to fully understand the concept of cosplay, and were as supportive as they could be without fully understanding the scope of things. Now that I've been cosplaying for a little while, they understand it all a little better and support me even more. Many of my friends are also cosplayers, so they're definitely supportive.
DCN: How long have you been cosplaying?
Comic Girl: I've been cosplaying for almost 3 and a half years now
DCN: Why do you cosplay?
Comic Girl: I like to cosplay because it makes me happy. It's a great creative outlet, lets me show off my appreciation and love for certain characters and designs, is a great way to make new friends, and it lets me challenge myself creatively. I also really like combining my charity work with my cosplaying, and am a member of the volunteer group The League of Super Heroes.
DCN: What was your favorite cosplay project?
Comic Girl: I love all of my cosplays for different reasons, and I always try to do outfits that are different from the others I've done to keep pushing my creative skills and to try new things. The costume who's construction I'm most proud of is my Lagertha Lothbrok (from the tv show Vikings) costume, while my favourite to wear would either be my 90's Rogue or Mera.
DCN: How long did it take you to get this costume together?
Comic Girl: This costume only took a few days to make (minus having to wait for the wig I ordered to come in haha).
DCN: Do you have a pet peeve when it comes to cosplay?
Comic Girl: I have a couple of pet peeves; the first is when people who don't understand cosplay assume that its a fetish thing. While I'm sure some people are into that, it's really unfair to judge or label someone that . Another pet peeve are the cosplayers who look down on people who buy their costumes. Cosplay and costuming are two different things and you don't need to make your own costumes to be a cosplayer.
DCN: Do you have any cosplays you will never do and why?
Comic Girl: For me, the only constraints I put on myself for cosplay are financially-based and space-based constraints. It's one of the reasons I've never worked with worbla before (I always opt for the less-expensive craft foam or wood); I just can't justify spending that much money on a costume when I have student loans to pay off. As for the space-based constraints, storing large costume pieces isn't easy.
DCN: Why do you think cosplay has become so popular in the last few years?
Comic Girl: I think cosplay has become a lot more popular because geek culture has been inching it's way into media in a way they couldn't do before, and it's become a lot more accessible for the general population. Marvel and DC movies have become a lot more popular than they were in the 80s and 90s, fantasy, horror/gore and super hero tv shows are fairly popular (walking dead, game of thrones, arrow, etc.). And with geek culture becoming more accessible, conventions and geeky events also become more accessible, making cosplay more accessible.
DCN: Which DC character may we see next from you?
Comic Girl: I actually have quite a few DC characters lined up; the post-convergence costume redesigns and the bombshell costume designs have been incredible! I'm planing on doing a post-convergence Wonder Woman, a few versions of Starfire, a gender bent Nightwing, the flash, and maybe even a villain or two!
DCN: Do you have a favorite memory or story while cosplaying?
Comic Girl: My favourite memories while cosplaying have been meeting new friends and fellow cosplayers, so it's hard to pick just one. Meeting David Ramsey and getting a hug, compliment on my costume, and photo with him is pretty high up on my list though.
Photography by  MTKS Adventures, and Open Shutter Photography!
Please comment below and share.
Don't forget to like us or follow us on:
Facebook: https://www.facebook.com/dccomicsnews
Twitter: @DCComicsNews
Pinterest: http://www.pinterest.com/dccomicsnews/
Tumblr: http://dccomicsnews.tumblr.com
Instagram: @dccomicsnews