DC Comics News has compiled a list of DC Comics titles and collectibles shipping to comic shops for September 13, 2017.
Check back every Friday with the DC Comics News Pull Box to see all the cool new DC Comics titles and collectibles that will be available at your favorite local comic shop! So, what titles or collectibles will you be picking up this Wednesday? You can sound off in the comments section below! Click on Comic shop Locator to find the comic shop nearest to you!
COMICS
ACTION COMICS #987 (OZ EFFECT) $2.99
BATGIRL AND THE BIRDS OF PREY #14 $3.99
DARK NIGHTS METAL #2 (OF 6) $3.99
DETECTIVE COMICS #964 $2.99
FLASH #30 $2.99
HAL JORDAN AND THE GREEN LANTERN CORPS #28 $2.99
HARLEY QUINN 25TH ANNIVERSARY SPECIAL #1 $4.99
JUSTICE LEAGUE OF AMERICA #14 $2.99
MISTER MIRACLE #1 (OF 12) 2ND PTG $3.99
MISTER MIRACLE #2 (OF 12) $3.99
NEW SUPER MAN #15 $3.99
RED HOOD AND THE OUTLAWS #14 $3.99
SCOOBY APOCALYPSE #17 $3.99
SCOOBY DOO WHERE ARE YOU #85 $2.99
SUICIDE SQUAD #25 $3.99
SUPERGIRL #13 $3.99
SUPERWOMAN #14 $3.99
TEEN TITANS #12 (METAL) $3.99
TITANS #15 $3.99
WONDER WOMAN #30 $2.99
DCN Pull Box Triple Spotlight
ACTION COMICS #987 (OZ EFFECT) $2.99
(W) Dan Jurgens (A) Viktor Bogdanovic (CA) Nick Bradshaw
"THE OZ EFFECT" part one! The agents of the mysterious Mr. Oz begin to move as the Man of Steel works to stop the chaos they unleash in Metropolis and across the globe. But when Mr. Oz steps from the shadows his identity rocks the Last Son of Krypton to his core. The story that began in DC Universe: Rebirth #1 begins to end here!
---
DARK NIGHTS METAL #2 (OF 6) $3.99
(W) Scott Snyder (A/CA) Greg Capullo, Jonathan Glapion
As Superman and Wonder Woman hunt for a missing ally, Batman investigates a mystery spanning centuries. When the World's Greatest Detective discovers a foe even greater than the Justice League could possibly imagine, will Earth's heroes be ready?
---
MISTER MIRACLE #2 (OF 12) $3.99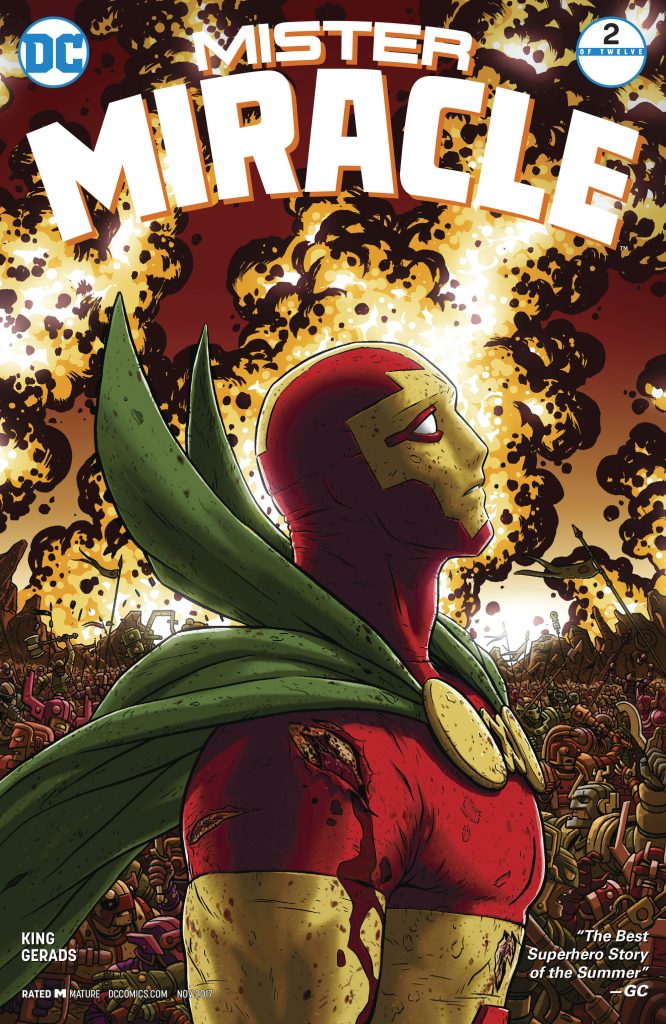 (W) Tom King (A) Mitch Gerads (CA) Nick Derington
What do you do after the most death-defying act of your escape artist career? You go to war, of course! Scott Free has skipped out on his trip to the great beyond and taken a boom tube to New Genesis instead, where he and his wife, Big Barda, take on the invading hordes of Apokolips. Things are a little off, however, and Mister Miracle starts to doubt why he's fighting when Orion takes over the mantle of Highfather. It's enough to make a New God miss Granny Goodness's orphanage! From Eisner Award-nominated writer Tom King and artist Mitch Gerads, the team that brought you THE SHERIFF OF BABYLON and the recent Swamp Thing crossover in BATMAN #23!
---
Variant Covers
Note: Variant Prices To Be Determined By Retailer
ACTION COMICS #987 (Bradshaw Lenticular) $3.99
ACTION COMICS #987 (Neil Edwards variant) $2.99
BATGIRL AND THE BIRDS OF PREY #14 (Karmome Shirahama variant)$3.99
DARK NIGHTS METAL #2 (OF 6) (Andy Kubert variant) $3.99
DARK NIGHTS METAL #2 (OF 6) (Jim Lee variant) $3.99
DARK NIGHTS METAL #2 (OF 6) (John Romita Jr variant) $3.99
DETECTIVE COMICS #964 (Rafael Albuquerque variant)$2.99
FLASH #30 (Howard Porter variant) $2.99
HAL JORDAN AND THE GREEN LANTERN CORPS #28 (Barry Kitson variant) $2.99
HARLEY QUINN 25TH ANNIVERSARY SPECIAL #1 (Terry Dodson variant) $4.99
HARLEY QUINN 25TH ANNIVERSARY SPECIAL #1 (Jim Lee variant) $4.99
JUSTICE LEAGUE OF AMERICA #14 (Doug Mahnke variant) $2.99
MISTER MIRACLE #2 (OF 12) (Mitch Gerads variant) $3.99
NEW SUPER MAN #15 (Bernard Chang variant) $3.99
RED HOOD AND THE OUTLAWS #14 (Guillem March variant) $3.99
SCOOBY APOCALYPSE #17 (David Finch variant) $3.99
SUICIDE SQUAD #25 (Whilce Portacio variant) $3.99
SUPERGIRL #13 (Stanley Artgerm Lau variant) $3.99
SUPERWOMAN #14 (Renato Guedes variant) $3.99
TEEN TITANS #12 (Chad Hardin variant)  $3.99
TITANS #15 (Dan Mora variant) $3.99
WONDER WOMAN #30 (Jenny Frison variant) $2.99
GRAPHIC NOVEL
BATMAN DARK KNIGHT MASTER RACE COVERS DLX ED HC $24.99
BATMAN HIS GREATEST ADVENTURES TP $9.99
DC UNIVERSE REBIRTH OMNIBUS EXPANDED EDITION HC $99.99
GREEN LANTERNS TP VOL 03 POLARITY (REBIRTH) $16.99
HARLEY QUINN REBIRTH DLX COLL HC BOOK 01 $34.99
HARLEY QUINN TP VOL 03 RED MEAT (REBIRTH) $16.99
HELLBLAZER TP VOL 17 OUT OF SEASON $29.99
LEGENDS OF THE DARK KNIGHT JIM APARO HC VOL 03 $49.99
SUPERMAN REBORN HC (REBIRTH) $24.99
MERCHANDISE/COLLECTIBLES
DC COMICS HARLEY QUINN GOTHAM 5 PK SHORT COMIC STORAGE BOX $64.95
ACTION FIGURES/STATUES
DC DESIGNER SER BATMAN BY ANDY KUBERT MINI STATUE $80.00
DC EVIL SUPERFRIENDS 8IN AF ASST $29.99
DC GALLERY BATMAN TAS NEW ADV CATWOMAN PVC FIG $45.00
DC SUPERFRIENDS WENDY AND MARVIN 8IN AF 2 PACK $59.99
DC ICONS NIGHTWING AF $28.00
DC ICONS ROBIN & SUPERBOY AF 2 PACK $60.00
DC ICONS SUPERGIRL AF $28.00
CLOTHING
DEMON BY KIRBY T/S XXL $22.95
JUSTICE LEAGUE SELFIE BLACK T/S XXL $18.99
SUICIDE SQUAD HARLEY QUINN MAF EX DRESS VER $59.99
SWAMP THING LOGO T/S SM $18.95
Please comment below and don't forget to like, share and follow us on:
Facebook: https://www.facebook.com/dccomicsnews
Twitter: @DCComicsNews
Pinterest: http://www.pinterest.com/dccomicsnews/
Tumblr: http://dccomicsnews.tumblr.com
Instagram: @dccomicsnews