DC Comics News has compiled a list of DC Comics titles and collectibles shipping to comic shops for January 16, 2019.
Check back every Friday with the DC Comics News Pull Box to see all the cool new DC Comics titles and collectibles that will be available at your favorite local comic shop! So, what titles or collectibles will you be picking up this Wednesday? You can sound off in the comments section below! Click on Comic shop Locator to find the comic shop nearest to you!
COMICS
BATMAN WHO LAUGHS #2 (OF 6) $4.99
CATWOMAN #7 $3.99
DETECTIVE COMICS #996 $3.99
ELECTRIC WARRIORS #3 (OF 6) $3.99
FLASH #62 $3.99
GODDESS MODE #2 $3.99
GREEN LANTERN #1 2ND PTG $4.99
HAWKMAN #8 $3.99
HEROES IN CRISIS #2 (OF 9) 2ND PTG $3.99
HOUSE OF WHISPERS #5 $3.99
JUSTICE LEAGUE DARK #7 $3.99
RED HOOD OUTLAW #30 $3.99
SCOOBY APOCALYPSE #33 $3.99
SUICIDE SQUAD #50 $4.99
SUPERGIRL #26 $3.99
SUPERMAN #7 $3.99
TITANS #33 $3.99
WONDER WOMAN #62 $3.99
DCN Pull Box Triple Spotlight
HAWKMAN #8 $3.99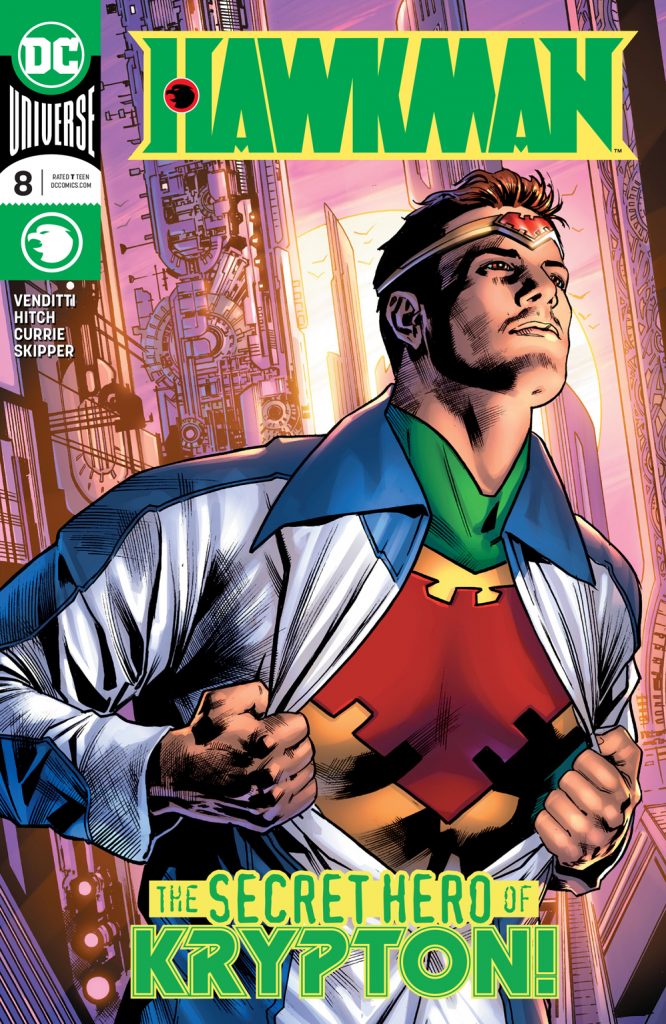 (W) Robert Venditti (A/CA) Bryan Hitch
Next stop: Krypton! As Hawkman's intergalactic road trip continues, the next location on his itinerary is the ruins of Krypton, the alleged location of the super-weapon that will help him stop the Deathbringers. There, he's suddenly whisked away to Krypton's final moments and meets his past-life predecessor, Catar-Ol. Hawkman tries to learn the final fate of the super-weapon, but the planet goes boom before Carter can get the goods. Looks like it might be time for Plan B…
---
BATMAN WHO LAUGHS #2 (OF 6) $4.99
(W) Scott Snyder (A/CA) Jock
After the shocking ending of issue #1, a ticking clock sets Batman on a trail throughout the different realities of the Multiverse. He starts to see all the iterations of his life, and what could have been…but more importantly, Bruce Wayne begins to deduce that his current life is somehow wrong, and that all the mistakes he's made are somehow connected. Meanwhile, the Batman Who Laughs raises the curtain on his second act, pulling out the big guns to break into Arkham Asylum… enter one of the most punishing Batmen of the Dark Multiverse: the Grim Knight!
---
DETECTIVE COMICS #996 $3.99
(W) Peter J. Tomasi (A) Doug Mahnke, Jaime Mendoza (CA) Brian Stelfreeze
In the catacombs under Paris, Henri Ducard is not going to sit and wait for the death that's coming for everyone who helped to train Batman…he's going to wrestle it to the ground and put a bullet between its eyes! Good plan-but what if it just gets right back up? Can even Batman save him then?
---
Variant Covers
Note: Variant Prices To Be Determined By Retailer
BATMAN WHO LAUGHS #2 (OF 6) VAR ED $4.99
CATWOMAN #7 VAR ED $3.99
DETECTIVE COMICS #996 VAR ED $3.99
FLASH #62 VAR ED $3.99
HAWKMAN #8 VAR ED $3.99
JUSTICE LEAGUE DARK #7 VAR ED $3.99
RED HOOD OUTLAW #30 VAR ED $3.99
SCOOBY APOCALYPSE #33 VAR ED $3.99
SUICIDE SQUAD #50 VAR ED $4.99
SUPERGIRL #26 VAR ED $3.99
SUPERMAN #7 VAR ED $3.99
TITANS #33 VAR ED $3.99
WONDER WOMAN #62 VAR ED $3.99
GRAPHIC NOVELS
A VERY DC VALENTINES DAY TP $16.99
BATWOMAN TP VOL 03 FALL OF THE HOUSE OF KANE $16.99
DEATHSTROKE THE TERMINATOR TP VOL 05 WORLD TOUR $24.99
FLASH ROGUES REVERSE FLASH TP $16.99
SCOOBY DOO TEAM UP TP VOL 06 $12.99
SUPERGIRL TP VOL 05 THE HUNT FOR REACTRON $19.99
ACTION FIGURES/STATUES
3A X DC STEEL AGE JOKER 1/6 SCALE FIGURE $240.00
AQUAMAN MOVIE AQUAMAN VINIMATE $9.99
BATMAN BLACK & WHITE BATMAN STATUE BY JIRO KUWATA $80.00
BVS DAH-001SP DYNAMIC 8-CTION HEROES BATMAN PX AF COMIC VER $50.00
BVS DAH-003SP DYNAMIC 8CTION HEROES SUPERMAN PX AF COMIC VER $50.00
DC GALLERY SHAZAM COMIC PVC FIGURE $45.00
FUNKO SAVAGE WORLD THUNDERCATS PANTHRO AF $12.99
JL DAH-0013SP DYNAMIC 8HEROES SUPERMAN PX AF SPCL COLOR VER $50.00
MYSTERY MINIS FANTASTIC BEASTS 2 12PC BMB DISP $7.99
CLOTHING
BATMAN COWL T/S LG $19.95
BATMAN COWL T/S MED $19.95
BATMAN COWL T/S XL $19.95
BATMAN COWL T/S XXL $22.95
BATMAN DAMNED SYMBOL T/S LG $19.95
BATMAN DAMNED SYMBOL T/S MED $19.95
BATMAN DAMNED SYMBOL T/S SM $19.95
BATMAN DAMNED SYMBOL T/S XL $19.95
BATMAN DAMNED SYMBOL T/S XXL $22.95
BATMAN DESTINY T/S LG $19.95
BATMAN DESTINY T/S MED $19.95
BATMAN DESTINY T/S SM $19.95
BATMAN DESTINY T/S XL $19.95
BATMAN DESTINY T/S XXL $22.95
BATMAN DETECTIVE #164 T/S LG $19.95
BATMAN DETECTIVE #164 T/S MED $19.95
BATMAN DETECTIVE #164 T/S SM $19.95
BATMAN DETECTIVE #164 T/S XL $19.95
BATMAN DETECTIVE #164 T/S XXL $22.95
BATMAN PX HEATHER CRISP SNAP BACK CAP $28.00
BLACK ADAM METALIX SYMBOL T/S LG $22.95
BLACK ADAM METALIX SYMBOL T/S MED $22.95
BLACK ADAM METALIX SYMBOL T/S SM $22.95
BLACK ADAM METALIX SYMBOL T/S XL $22.95
BLACK ADAM METALIX SYMBOL T/S XXL $25.95
GREEN LANTERN 2019 SYMBOL T/S LG $19.95
GREEN LANTERN 2019 SYMBOL T/S MED $19.95
GREEN LANTERN 2019 SYMBOL T/S SM $19.95
GREEN LANTERN 2019 SYMBOL T/S XL $19.95
GREEN LANTERN 2019 SYMBOL T/S XXL $22.95
JOKER BATS BY JOCK T/S SM $19.95
MAD TV VIVA LA STUPIDITY T/S LG $19.95
MAD TV VIVA LA STUPIDITY T/S MED $19.95
MAD TV VIVA LA STUPIDITY T/S SM $19.95
MAD TV VIVA LA STUPIDITY T/S XL $19.95
MAD TV VIVA LA STUPIDITY T/S XXL $19.95
SHAZAM! 2019 SYMBOL T/S LG $19.95
SHAZAM! 2019 SYMBOL T/S MED $19.95
SHAZAM! 2019 SYMBOL T/S SM $19.95
SHAZAM! 2019 SYMBOL T/S XL $19.95
SHAZAM! 2019 SYMBOL T/S XXL $22.95
SUPERMAN PX HEATHER CRISP SNAP BACK CAP $28.00
WONDER WOMAN AMAZON PRINCESS T/S LG $19.95
WONDER WOMAN AMAZON PRINCESS T/S MED $19.95
WONDER WOMAN AMAZON PRINCESS T/S SM $19.95
WONDER WOMAN AMAZON PRINCESS T/S XL $19.95
WONDER WOMAN AMAZON PRINCESS T/S XXL $22.95
Please comment below and don't forget to like, share and follow us on:
Facebook: https://www.facebook.com/dccomicsnews
Twitter: @DCComicsNews
Pinterest: http://www.pinterest.com/dccomicsnews/
Tumblr: http://dccomicsnews.tumblr.com
Instagram: @dccomicsnews