[Editor's Note: This review may contain spoilers]
Writer: Gene Luen Yang
Artist: Stephen Segovia
Colours: Protobunker
Letters: Tom Napolitano
Reviewed By: Derek McNeil
Summary
The next turning point for the Terrifics starts here! It's a new chapter in the lives of Mr. Terrific, Phantom Girl, Metamorpho and Plastic Man as their renewed mission of exploring the Multiverse and protecting Earth's place amid the cosmic tapestry hits upon a terrifying message hidden within their own technology: something big is coming. When a distress call from Bgztl heralds Armageddon for planet Earth, the team must think bigger, trust no one and fight with everything they've got to save the planet from…the Megacosm!
Positives
With the change in creative team, some readers may be worried that the quality might not hold up, especially with the departure of Jeff Lemire. However, new writer Gene Luen Yang is only one issue into his run, so it's not really fair to compare his writing to Lemire's yet.
From what we see here, I don't see any worrying early signs of a drop in quality, but there is no huge improvement either. However, Yang does plant some promising seeds that could produce some great storytelling, which is about as much as we could ask at this point.
Yang doesn't seem to have dropped any major changes on us yet. Ms. Terrific seems to be hanging around – for now anyway. Mr. Terrific seems somewhat reticent about entering a romantic relationship with her, realizing that she's not quite the same woman as his late wife, despite being her doppelgänger from a parallel Earth.
There also seems to be a significant divide in their personal beliefs. Michael Holt is a believer in what he can observe and verify. He doesn't believe there is a supernatural force that guides events. On the other hand, Paula Holt is a woman of faith, believing in a God that answers her prayers. This difference in their religious beliefs could prove a significant obstacle towards their potential romance.
It also makes for an interesting connection between Ms. Terrific and Plas. Her faith and Eel's Irish Catholic upbringing allow both to pick up on the threats they are facing are based on the biblical plagues of Egypt, while the other Terrifics are left perplexed.
Negatives
I was disappointed to see that Plas' son Offspring wasn't in the issue. Although it wasn't outright stated that he was joining the team, last issue certainly seemed to imply that he was. It's still possible that he might just be absent from this particular story. But whether he formally joins the team or not, I hope that Luke sticks around as a member of the supporting cast.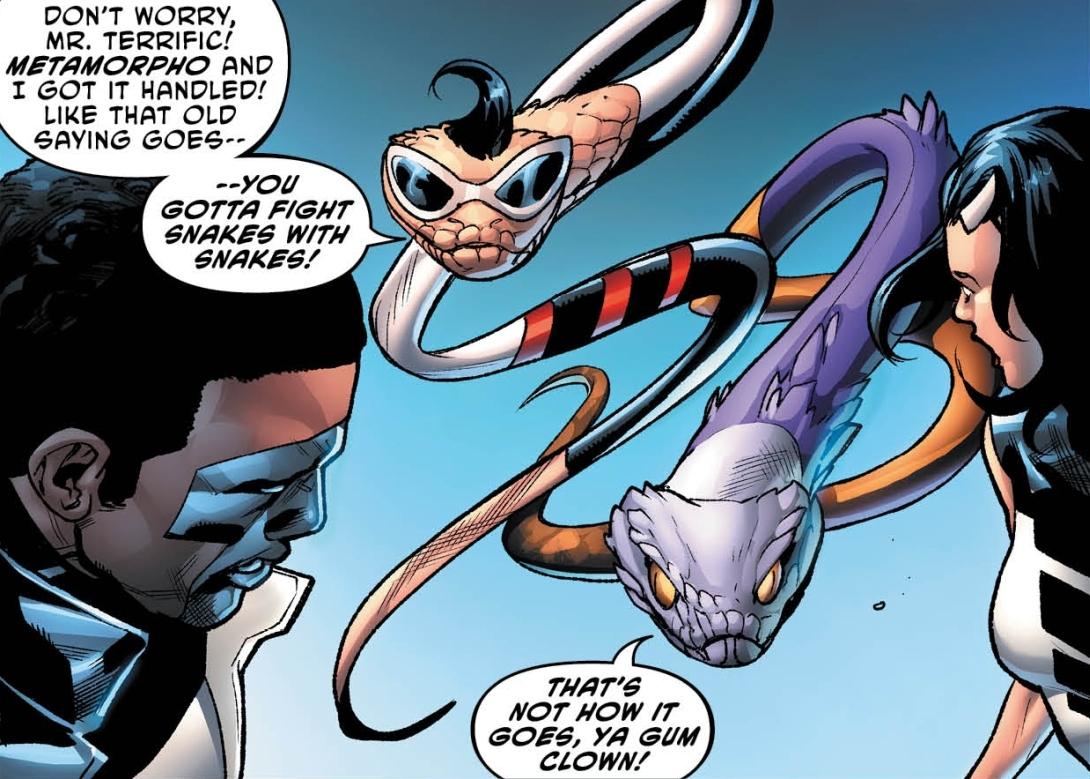 Verdict
The new creative team is off to a good start, but it remains to seen if they will live up to the high standard set by the outgoing team, but the potential to do so is evident. Jeff Lemire is a hard act to follow, but I have hopes that Gene Luen Yang is up to the job.