Review: Harley Quinn: Black+White+Red – Chapter 1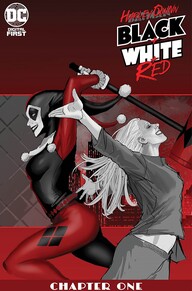 [Editor's Note: This review may contain spoilers]
Writer: Stjepan Sejic
Artist: Stjepan Sejic
Letters: Gabriella Downie
Reviewed by: Carl Bryan
Summary
"Red is the color of an innocent man's blood on my glasses" – Harley Quinn
Chapter One – "Harleen: Red"

Resolutely defiant in the face of all of Arkham's attempts to psychoanalyze her, Harley Quinn is suddenly compelled to reveal some of her most vulnerable thoughts – and hints of her future — when confronted with the simplest of prompts: "What does the color red mean to you?" Another stunningly beautiful story from the world of Stjepan Šejić's bestselling HARLEEN!
Positives
She's not silly in this one.  She's not daft.  She's not the comic relief.  She's Dr. Harley Quinzel  And she's locked up as they study her.  Interestingly enough, she knows this this type of therapy and the Arkham Asylum head of operations is none too happy that she is throwing up roadblocks.
Stjepan Šejić has captured Dr. Harleen Quinzel perfectly.  She is telling her story in a way through poetry of using the color "Red".  This script reads like a true piece of literature that captures a story of two criminal lovers that wreak havoc only to part ways with a wake of devistation behind them. 
But don't cry as "Red" also has the optimism that saves Harley as well.  Stjepan Šejić's story captures a real true to life Harley.  That's what a lot of fans have been waiting for!
Positives 2.0
Stjepan Šejić's art – Harley's features are beautiful.  Her hair is both unkempt yet perfect.  The Joker is not old in this.  You can see how Harley would be drawn to him.  The coloring of his skin is not stark white, but subtle and his features are not so sharp.  You can see why these two were at one time a solid couple.
The use of only grey, white, red and black makes this comic so perfect. The shading, the pencils, the expressions of the characters.  Šejić's art is as sharp as her writing!
Negatives
Absolutely none. It stays true to Harley's roots, but there is no silliness.  I like that!
Verdict
Stjepan Šejić's provides the perfect intro to the Black, White, and Red series.  It will be interesting to see how this progresses.  But her pens and prose have given this reviewer the Harley he has always wanted to see!