For years, the rivalry between the two biggest comic book companies has raged on and off the page. The history of these two juggernauts of pop culture stretches back decades, and in 2017 Reed Tucker took it upon himself to chronicle this battle of the titans in his book titled Slugfest: Inside the Epic, 50-year Battle between Marvel and DC.
According to the book's official description:
Slugfest, the first book to chronicle the history of this epic rivalry into a single, in-depth narrative, is the story of the greatest corporate rivalry never told. Complete with interviews with the major names in the industry, Slugfest reveals the arsenal of schemes the two companies have employed in their attempts to outmaneuver the competition, whether it be stealing ideas, poaching employees, planting spies, or launching price wars. The feud has never completely disappeared, and it simmers on a low boil to this day. With DC and Marvel characters becoming global icons worth billions, if anything, the stakes are higher now than ever before.
And now, this amazing book is being transformed into a docuseries for the streaming service Quibi.
For those of you unaware, Quibi is a short-form streaming platform that generates content, less than 10 minutes long, for mobile viewing. They've had a great deal of heavy hitters join to create shows, and Slugfest is no different as the acclaimed Marvel directors, Joe and Anthony Russo, are spearheading this project alongside the creators of the wonderful Hulu documentary Batman & Bill, Sheena Joyce and Don Argott.
During the NYCC panel for Slugfest, it was revealed that pop culture icon Kevin Smith would be narrating the series, which is great as he has been entrenched in the world of comic his entire career. They also revealed the official poster, which you can see below.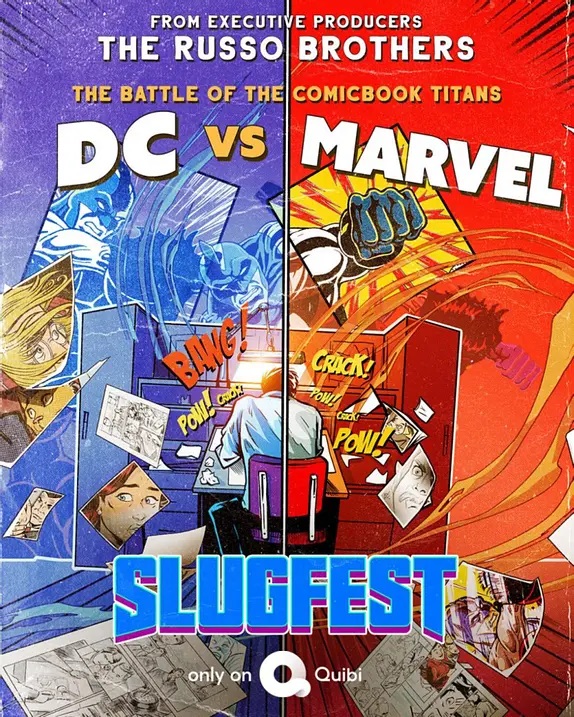 Also on the panel was former DC publisher Jenette Kahn, actor Brandon Routh (Superman Returns, Legends of Tomorrow), and the creator of Thanso, Jim Starlin.
Now, the Kevin Smith and poster reveals weren't the only things to happen in this half hour panel, as the final 9 minutes were saved for the premiere of the very first episode of the series. This episode told the story of Jack Kirby (played by Jon Barinholtz) and Joe Simon (played by Brandon Routh as they came up with the idea for Marvel's answer to Superman, Captain America, as a foil for Hitler and Nazi Germany.
Slugfest is set to premiere on Quibi on November 8, and if you'd like to check out the full panel from NYCC, check out the video below.