Review: DC THE DOOMED AND THE DAMNED #1 
[Editor's Note: This review may contain spoilers]
Writers: Travis G. Moore, Saladin Ahmed, Marv Wolfman, John Arcudi, Kenny Porter, Amanda Deibert, Garth Ennis, Amedeo Turturro, Brandon Thomas, Alyssa Wong
Artists:  Daniel Sampere, Max Fiumara, Baldemar Rivas, PJ Holden, , Tom Mandrake, Leonardo Manco, Mike Perkins, Travis G. Moore, Riley Rossmo
Letters: See Graphic Below
Colors: See Graphic Below  
Reviewed by: Carl Bryan
Summary
"Demon Head!  You are Wrong!  Grundy still lives!  And he comes for you!" – Solomon Grundy
It was a dark and stormy night when the creatures of the DC Universe began to emerge from their lairs into the cool evening air. Tales of the macabre, the murderous, and the morbid abound in this spine-chilling special about monsters and mayhem! What happens when Batman encounters a true urban legend after speaking its name three times in a mirror, or when Madame Xanadu enlists the help of Man-Bat to take down a shadowy specter? And who can stop an intergalactic demon from turning people into frog beasts? Only the unlikely team-up of Green Lantern and Etrigan! All this and seven more fang-tastic tales to trick your treats and bob your apples.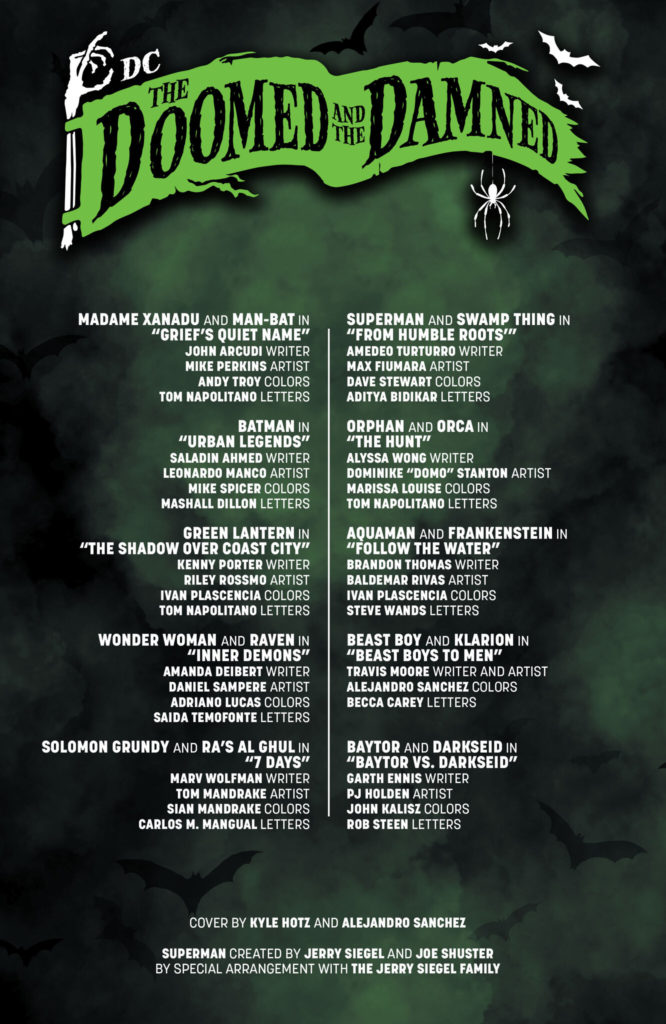 Positives
This book comes at a great time as we can celebrate Halloween with some interesting tales and some interesting duos!  I applaud DCs run on Gotham City Monsters and also JLA Dark which placed some of the mainstay characters like Wonder Woman and Batwoman into some precarious situations involving magic and macabre.
Man-Bat and Madam Xanadu cross supernatural paths in "Grief's Quiet Name" .  Mike Perkins tale involves a roaming ghost that simply wants to rest in peace.
Batman takes on Mr. Slow Death in "Urban Legends".  Batman's strong suit has always been listening to children when others don't.  In this new twist on an old mirror incantation, Batman's prior dark metal expertise comes into play!
Green Lantern and The Demon – Etrigan – this was an odd pairing of a supernatural matter where methods differ, but the end result matters.  The strongest development in this story is the rhyming scheme that Kenny Porter has to provide for Etrigan's scrips as well as Riley Rossmo's art!  Rossmo has drawn some really interesting pencils of Batman in some special issues, and is developing into a very recognizable artist in the DC landscape!  Jawlines and Masks are his specialty!
Positives 2.0
"Inner Demons" is absolutely haunting and to see Raven and Wonder Woman on the same page battling a demon is quite interesting!  In fact, I can imagine Raven as a JLA Dark member and this tale by Amanda Deibert casts a pretty wide shadow to where I would not be surprised if the events played out in this story had ramifications for Wonder Woman in 2021!
Marv Wolfman's "7 Days" indicates the same as Ra's Al Ghul and Talia Al Ghul are putting together a new League of Assassins, but need the immortality of Solomon Grundy to aid them.  With the Lazarus Pits becoming weaker for Al Ghul, Solomon holds the key to Ras living even longer!  Wolfman does a great job of weaving in the "Born on a Monday…" poem into the story where it is the spine of the story!  Foreshadowing a new League?
Superman and Swamp Thing and Clayface…infections through plant life and an altruistic struggle shown through the eyes of a villager in pain!  Pretty deep story where Swamp Thing continues to make his presence known strongly to others in the DC Universe!
Positives 3.0
I am continually impressed with the character of Cassandra Cain/Orphan (whom should evolve into her own version of Batwoman sometime soon).  Pairing her with Orca to take down a child trafficking plot in Alyssa Wong's "The Hunt" provides a hero/villain crossover that works!  If you are an Orphan fan, check her out in the latest Batman and the Outsiders  finale as I think a new duo is assembling in Gotham!
Aquaman and a host of other characters are paired appropriately to provide the Halloween type pairings you would expect, but these stories appear to be planting seeds that will take growth in 2021.  It's a great casual way for DC to provide something special to its readers without heavy handed foreshadowing!  I love it!
Negatives
If it is a Halloween issue….shouldn't we hear crickets chirping at night?  Or should it simply be quiet!  Either way, no noise here for Negatives!  Art and scripts are superlative!
Verdict
I love mixing characters!  Tom Taylor does it in DCeased and it works!  The more these characters interact, the more we buy into the world of DC being interconnected!  Great issue at a great time of the year!  Kudos to all authors on their stories and again, Riely Rossmo's art is super cool!