Review: The Scumbag #1
[Editor's Note: This review may contain spoilers]
Writer: Rick Remender
Artist: Lewis LaRosa, Moreno Dinisio
Letters:  Rus Wooten
Colors: Moreno Dinisio
Reviewed by: Carl Bryan
Summary
"Well it's not that far from paradise…at least it's not for me…." – Ernie Ray Clementine – The Scumbag
The Scumbag #1 -"JAZZ APPLE ARMAGEDDON," Part One The fate of the world rests in the hands of the worst person on it!
NEW ONGOING SERIES from the writer of DEADLY CLASS! RICK REMENDER launches an all-new comedy espionage series, THE SCUMBAG—the story of Ernie Ray Clementine, a profane, illiterate, drug-addicted biker with a fifth-grade education. He's the only thing standing between us and total Armageddon because this dummy accidentally received a power-imbuing serum, making him the world's most powerful super spy.
This new ongoing series will feature a murderers' row of all-star artistic talent rotating each issue. The first issue showcases the stunning work of LEWIS LaROSA, with subsequent chapters and covers by brilliant talents such as ANDREW ROBINSON, ERIC POWELL, TULA LOTAY, WES CRAIG, ROLAND BOSCHI, SIMONE DI MEO, MARGUERITE SAUVAGE, DUNCAN FEGREDO, YANICK PAQUETTE, MIKE McKONE, DAVE JOHNSON, MORENO DINISIO, and many more!
Positives
As a reviewer I am a sucker for first issues.  Its like rolling dice and seeing if you are on the ground floor of something special or you just crapped out (if you read this comic, you'll definitely get that Easter Egg….whew!).
The Scumbag reminds me of The Greatest American Hero gone bad…really bad.  For older readers, you should remember that early 1980s series about Ralph Hinkley  who is given  a red and black suit that grants him superhuman abilities, but he loses the instruction book.
Now take that wholesome beginning and turn it on its end with Ernie Ray Clementine, a profane, illiterate, drug-addicted biker with a fifth-grade education.  In a delerium tremens fit, he wanders into an alley where Scorpionus and Father Time are battling for The Formula Maxima that will allow its consumer to possess super speed, strength and x-ray vision.
A clumsy Ernie Ray drops his syringe of drugs and subsequently injects his body with the Formula Maxima and Father Time takes Ernie's drugs.  And that is where things take a major turn for the worse…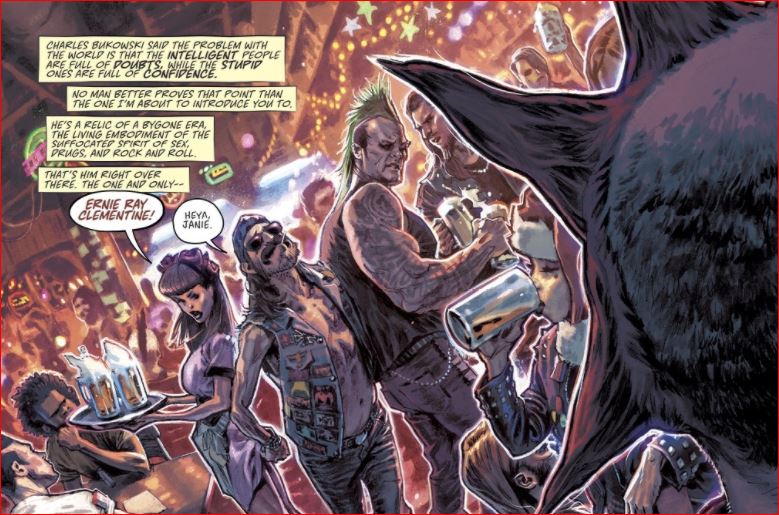 Positives 2.0
Negatives
This is a major adult comic in that you get a glimpse into an underbelly of the world you may not be prepped for.  The premise is pretty simple and it rests on an accidental "heroin/freebasing" mistake.  Now read that sentence out loud…"an accidental heroin/freebasing mistake.  This comic is going to be your guilty pleasure… wash your hands after reading it though.
Verdict
If you are into something really really different and you like uncomfortable clashes, this is your book.  You'll laugh and wince and roll your eyes.  And that's in the first two pages!