Review: Seven Secrets #7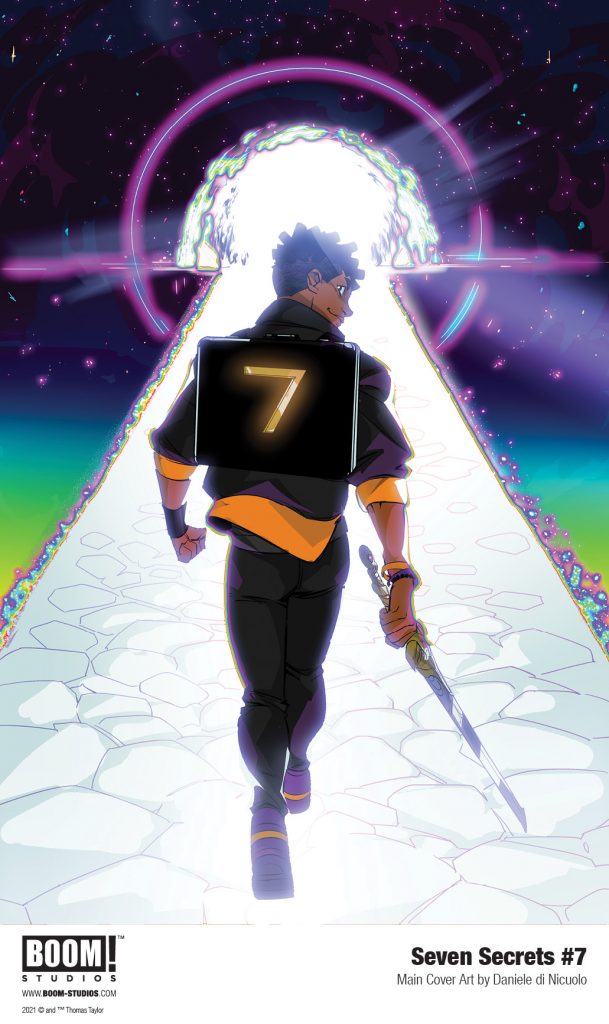 [Editor's Note: This review may contain spoilers]
Publisher: Boom Studios
Writer: Tom Taylor
Artists:  Daniele Di Nicuolo
Letterer: Ed Dukeshire
Colors: Walter Baiamonte with Katia Ranalli
Reviewed by: Carl Bryan
Summary
"Who Am I?" –  Caspar
"You're my son." – Eva (Caspar's Mother)
"Am I something else" – Caspar
"You are the holder of the Seventh Secret.  That is enough!" – Eva
For centuries, the Order has trusted in Keepers and Holders to guard the Secrets in seven briefcases against all harm, but when their stronghold is attacked and the secrets put in peril, the entire Order must face their greatest fear-an enemy who knows too much and is willing to kill to get what he wants.
Another case has been opened, and with it, a new path revealed. Caspar and the remaining members of the Order have managed to escape to the world of Faerie…
…but are they truly safe?
Positives
Tom Taylor's first installments in issues #1-#6 have provided us with the background that there are Seven Secrets that are literally being kept "secret" in order for the world to survive.  Protected by a Holder and a Keeper, each secret is closely guarded.  We find ourselves now as the Holders and Keepers have been scattered, but have now converged in an parallel world that Selkies inhabit.
As it turns out this heavenly world was where Caspar was raised in a normal growth timeline (apparently he could have been accelerated through his growth and maturation).  The Selkies were entrusted with his care and raising, but now Eva, Caspar's mother, is not keen on Caspar remaining in this realm.
Taylor must have the best "connect the dots story board" in the business as he is building quite the universe surrounding Seven Secrets.  After reeling from their attack, the Holders and Keepers are now tasked with getting back to the real world.  I love that Taylor used this "retreat" as a way to provide more of Caspar's history as we continue to pull for this character!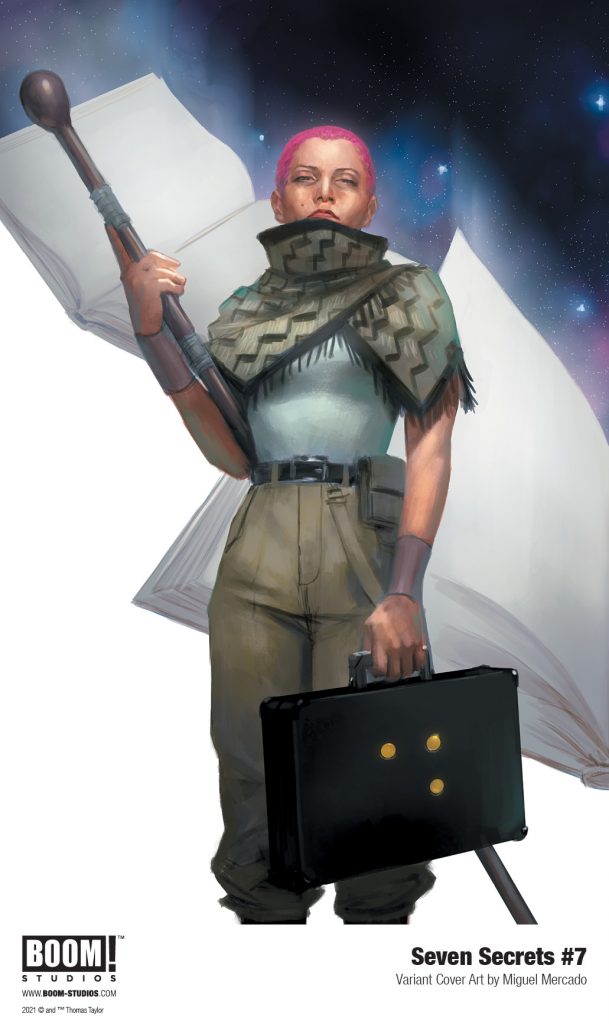 Positives 2.0
Daniele Di Nicuolo illustrates Taylor's Universe perfectly.  The lines, the environment, the expressions and the colors!   Everything in this environment is so vivid and the art is crisp.  To take Taylor's story to different environments is always a challenge but Di Nicuolo's art changes gears so smoothly!
Negatives
The time gap between issues was a bear for me.  Once a story arc of Taylor's begins, you cannot get enough.  Finally, we get issue #7 as I am just as curious as to what is in those briefcases that are so important.
Verdict

Tom Taylor is at the apex of his game and we are the benefactors.  To provide a new world with rich characters and to be able to explore really fourteen members of this team that protects seven secrets provides a lot of territory to cover.  i know he is centered on Caspar right now, but I am very intrigued at all the other members of this team.  You should be too!