Review: Karmen #3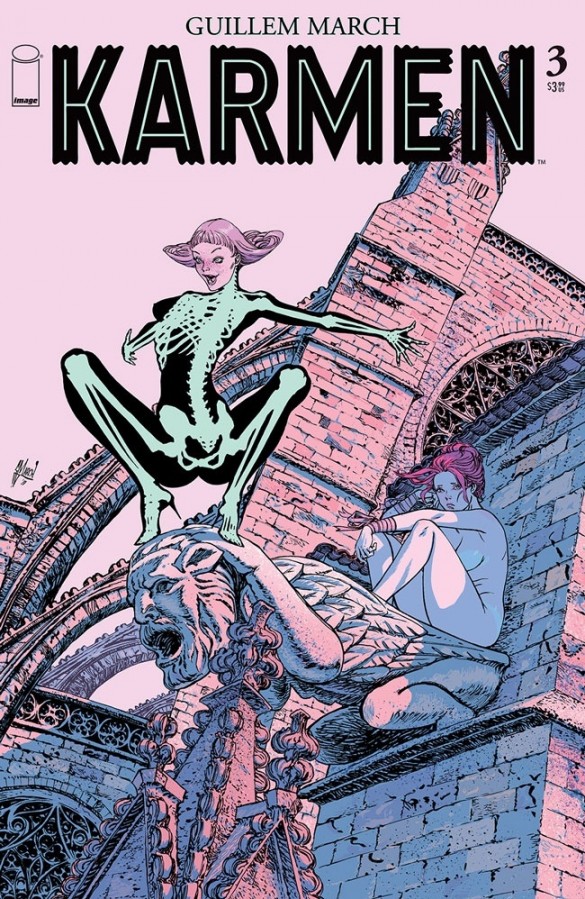 [Editor's Note: This review may contain spoilers]
Publisher: Image Comics
Writer and Artist: Guillem March 
 Letters: Cromatik, LTD.
Color Assistant: Tony Lopez
Review by: Kendra Hale
Summary
Our quirky angel Karmen may have been handling Cata with kid gloves up until now, but Karmen #3 is the end of that phase. There is a lot to go over, so let's just jump right in. 
The cat is truly out of the bag as Cata is coming to grips with her death and just what that means. Karmen tries to explain that in order to be prepared for her next life, as she has to learn from the mistakes of this one…and they are running out of precious time for Cata to do so. 
After a terrible car accident, we learn more about Karmen as an Angel and about her "mission".  Meeting another Angel named Karmela grants insight that Cata is being treated by Karmen as a special case. And that Karmen is going outside of their process and protocols for her. Afterwards, Karmen lets her emotions fly in what seems to be a very personal rage at Cata.
Positives
The more that Karmen, as a series, unfolds, the more I am transfixed and want to know about this world and the players within it. Each of these issues have held within them heavy topics that are hard enough to navigate and posture on in any normal setting. But to see them talked about and explored in this series has been cathartic and thought-provoking. 
The artwork, page for page, matches this story with haunting images that echo through the emotional spectrum. 
Negatives
That I cannot devour the story all at once. Literally. 
Verdict
I can already tell Karmen is going to be an unforgettable series.  There is this special quality that reminds me of other books that have stayed with me, something that stays after the last narration, the last image. 
Karmen #3 comes with a high recommendation. 

Images May Be Subject To Copyright.