Review: Wonder Girl #2

[Editor's Note: This review may contain spoilers]

Writer: Joelle Jones
Art: Joelle Jones and Adriana Melo
Colors: Jordie Bellaire
Letters: Clayton Cowles

Reviewed by: Matthew B. Lloyd
Summary
Yara Flor encounters her legacies, one Amazonian and one Brazilian myth….  Her heroic journey begins here as she must face Amazons from all over who want to push her back into hiding.
Positives
As interesting and exciting as the end of last issue was, Wonder Girl #2 opens with exactly what we want.  Joelle Jones introduces us to Iara, a character from Brazilian Folklore and Yara Flor's namesake.  Iara sees a kindred spirit in Yara and one can't help what that means for Yara.  Iara has been turned on by her family and that seems to follow for Yara as Amazons from Bana-Mighdall and Themiscyra set out to find Yara and send her back into hiding.  This brings two fan favorites into the issue, Artemis and the erstwhile Wonder Girl, Cassie Sandsmark!  Connecting Yara's story to the fabric of the DC Universe and other Wonder Woman supporting characters is thankfully welcomed.  It's especially significant that Cassie, the current holder of the "Wonder Girl" moniker is included.  This promises that there will be an in-story transition of the name and Cassie won't simply be shunted off to comic book limbo.  Here's hoping she maintains a presence with new costumed identity if DC can't keep two "Wonder Girls" around.
Positives Cont'd
It all boils down to two very important ingredients, mystery and character.  There's a mystery surrounding Yara and the reason she's causing so much distress to the Amazons.  This all feeds into Yara's character and it goes along with Iara's character.  Her tragic story is just as intriguing and engaging as Yara's.  
Joelle Jones and Adriana Melo combine for a really enjoyable visual experience.  There's a lot of detail that communicates so much, whether it's Yara's expression when she thinks she's about to be sick to her stomach due to the turbulence during a flight, or the sideways glance Joao gives her in the moment.  Jordie Bellaire compliments as well as she chooses her colors carefully to evoke just the right atmosphere, be it Bana-Mighdall or Brazil.
Negatives
It's hard to imagine what one cold find as a Negative about Wonder Girl #2.  It doesn't even suffer from decompressed storytelling.  There's quite a lot of information that moves the story forward and deepens the intrigue as well as the investment in all the characters, Iara, Yara, Cassie, Artemis and even Joao.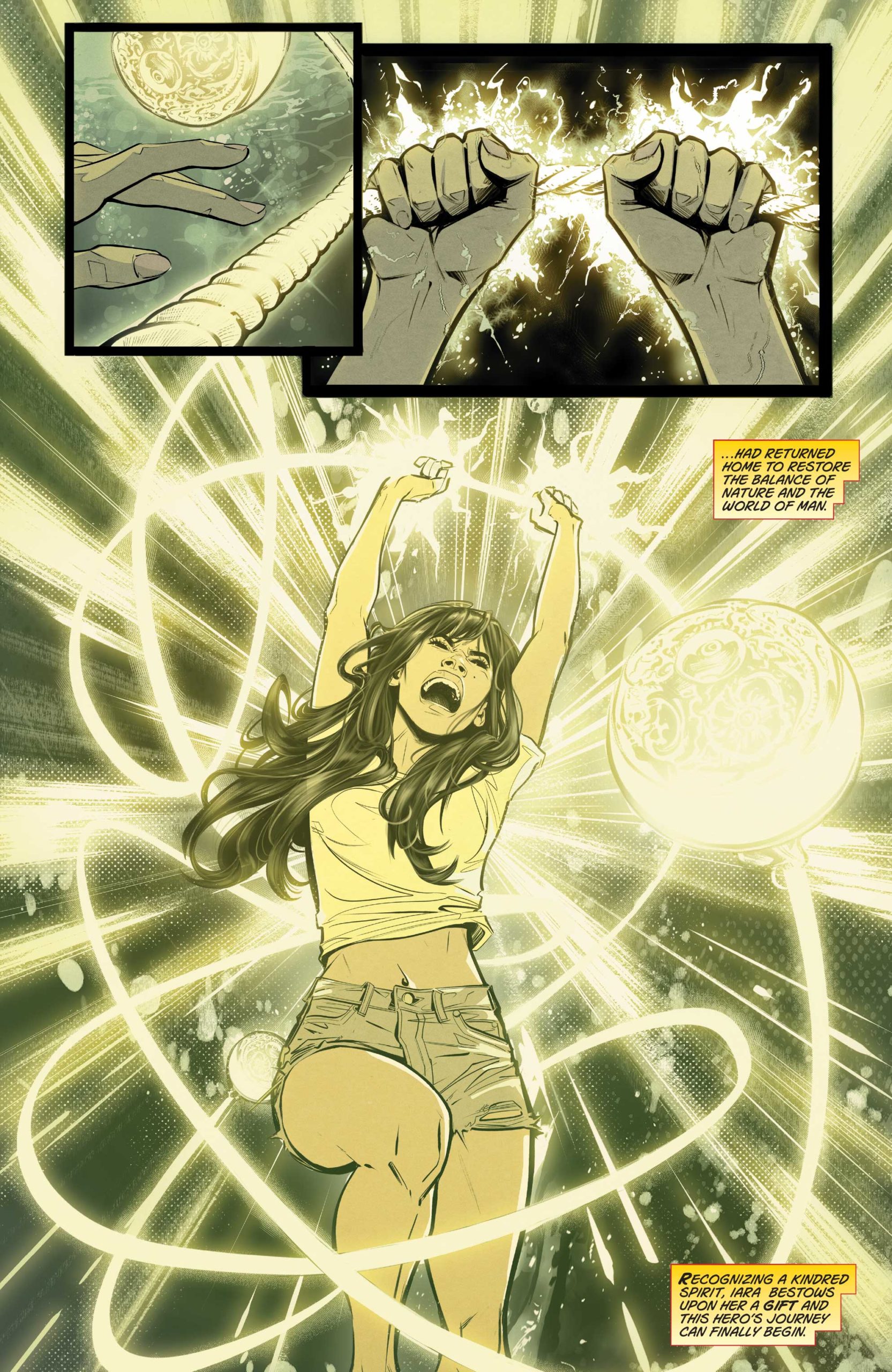 Verdict
Wonder Girl #2 is a great follow up to last months' premiere issue.   There's great storytelling, character development and an overall connection to the DC Universe invest the reader in what's transpiring on multiple levels.  Yara herself is still surrounded in mystery, but it's enjoyable to discover her Amazonian legacy as well as her native Brazilian mythological connections.  It's simply another great all-around issue.