Review: Wonder Woman #795

[Editor's Note: This review may contain spoilers]
Writers: Michael W. Conrad & Becky Cloonan and Jordie Bellaire
Art: Amancay Nahuelpan and Paulina Ganucheau
Colors: Tamra Bonvillain and Kendall Goode
Letters: Pat Brosseau and Becca Carey
Reviewed by: Matthew B. Lloyd
Summary
In Wonder Woman #795, Diana and Yara Flor take on Eros, while Steve and Sigfried have to face a surprising new player in Chapter Two of "Before the Storm."  And, Hera continues to raise the stakes!
Positives
I rarely start with "action" as a positive unless it's the only remarkable thing about an issue.  However, in Wonder Woman #795, the action really does stand significantly alongside the more subtle aspects and always important character moments.  Diana and Yara go face to face with Eros and with some teamwork, knock him down a few notches.  He's appearing as a giant statue of marble? that the duo physically bring down.  It's a fun sequence with nice visualas from Amancay Nahuelpan.  By the end, Yara delivers the coup de grace forcing Eros to physically appear.  Additionally, Eros's dialogue during the fight reveals the more personal aspects of the situation for him.  It's interesting because he seems earnest, despite his terrible behavior in the past which can be seen in Wonder Girl.  It reveals more about him, adding depth without making him empathetic or possibly redeemable.  And, that's ok.  It does make for engaging storytelling!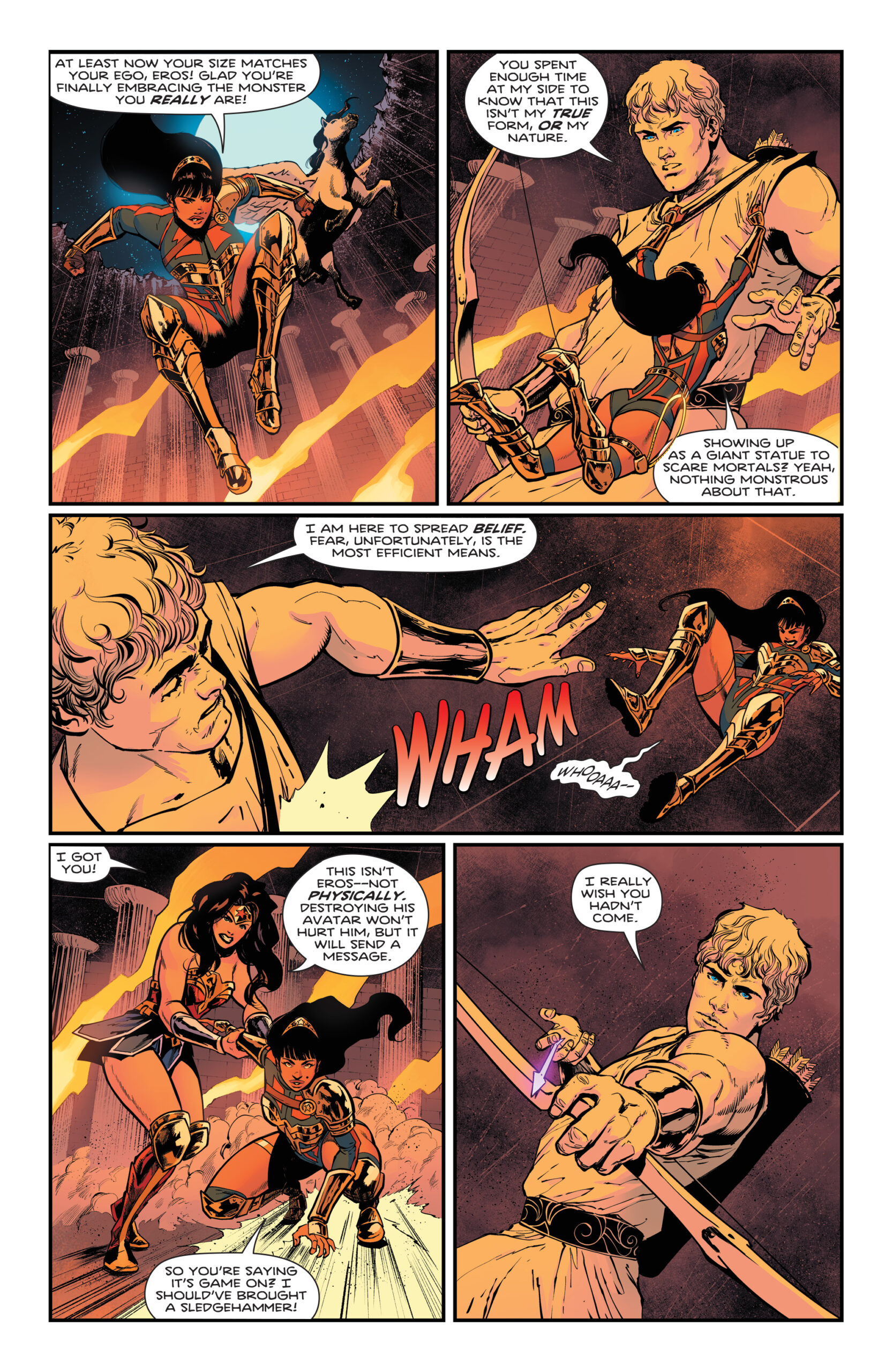 Positives Cont'd
The action continues as Steve Trevor and Sigfried put together a quick plan to address a newly arrived combatant, Hera's next move as it were.  Steve and Sigfried show their mettle and heroism as they face what Barbara Minerva believes to be certain death.  Her acknowledgement of what's transpiring is slightly humorous, stating she won't have time to avenge their deaths because she's too worried about her own revenge.  Again, a subtle moment that is telling not only of her own agenda, but more importantly that she is feeling a part of this "team."  I feel the full-on redemption coming, bring it now!
Throughout Wonder Woman #795, as Eros and Hera reveal the reasons behind their assault on the world, it becomes clear that Conrad and Cloonan are, in a subtle way, referencing our own world and the use of fear as a motivator for loyalty.  One can see this from any perspective, there's no specific political position.  It's always something special when writers are able to make a story work on another level that is relevant with our own world.  In this case it's done so well that it is unobtrusive and plays like a "truth,"  fear is no way to rule/ lead.  And, the real world relevance is something a reader could miss if it's not already on one's radar.
Negatives 
I don't find any negatives with this issue.
Verdict
Wonder Woman #795 is even better than last issue and this story arc is not only moving forward in an interesting and exciting manner, but the creators are working at a very high level to deliver balanced action and  character and something extra, too.   The surprise appearances in both the main story and the back up, Adventures of Young Diana, work well.   This issue should provide something for everyone!