[Editor's note: This review may contain spoilers.]
"Going Underground"
Writers– Gerard Way and Jon Rivera
Art– Michael Avon Oeming
Colors– Nick Filardi
Summary
Perhaps the one thing most surprising about the Young Animal line of comics is it's nostalgic affection for DC Comic's offbeat history. While Doom Patrol was the darling of Vertigo back in the 90s it has to be somewhat of a surprise to see anyone tackling new adventures of Cave Carson, who has only been seen sporadically in since his first appearance back in 1957. While this does allow for a wide berth in story options, for many it will feel like a brand new character. However, it is perhaps some of the guest appearances that contribute to the nostalgic feel as well. We saw Space Ranger in the back up story in Shade the Changing Girl #1, and in this issue we are treated to a cameo by Will Magnus and his Metal Men.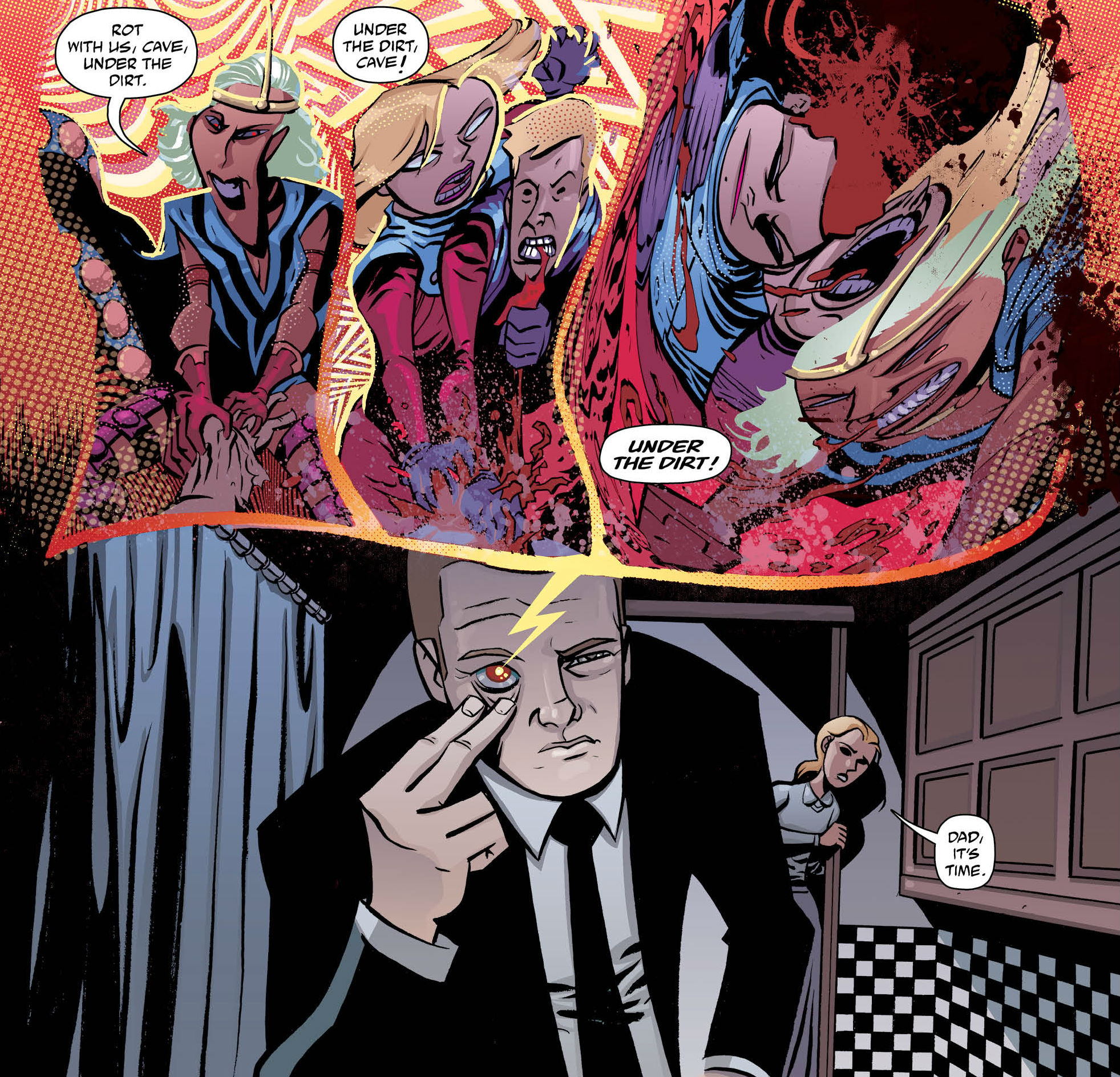 Cave Carson is dealing with the death of his wife, Eileen. After the funeral his daughter Chloe goes back to college leaving Cave quite lonely. He is dreading his trip to EBX the day after to check in with his team and their training. He manages to drag himself in only to find that his cybernetic eye is either malfunctioning or he's getting some messages through it. Or, wait, no it's real!

He leaves quickly and heads over to Will Magnus' place for a workup on his cybernetic eye. It's deftly established that Cave and the Metal Men have history and that Cave is well known for his spelunking. So much so, that Chloe's boyfriend seems a little weirded out by her and her adolescent adventures with Cave's team.
Chloe and Cave have dinner together and while this sequence is short, it is probably the best part of the book. After Cave's meeting with Magnus, he has an encounter that alerts him to trouble in Muldroog, one of the underground civilizations he discovered in the past. He reaches out for help to another offbeat character, this one from the late 80s/ 90s – Wild Dog!
Positives
This series gets points for the fact that Way wanted to resurrect Cave Carson in any fashion. This issue also gets points for its inclusion of Magnus and the Metal Men. Story wise, the first issue unfolds with a number of unanswered questions that should prove interesting as the answers are slowly revealed. Perhaps, the greatest success is the facility with which the creative team is able to create empathy for both Cave and Chloe at the same time while clearly delineating the differences between the characters. As a parent, it is so very easy to identify with Cave and his concern for his daughter, but at the same time, I can seem my own children in Chloe and her attitude. No matter how close parent and child may be, there will always be the generational differences, and this is apparent here, yet there is no doubting the affection and concern expressed between the two.
Negatives
This is really minor, but how did Cave go from scruff to a full beard overnight? That's a really weird and confounding super-power. While it was easy enough to infer what/who the Muldroog are a little bit of exposition would've been helpful just so it's completely clear what's going on. The ambiguity with Cave's cybernetic eye leaves enough ambiguity to make the story interesting.
Verdict
This is a true treat to longtime DC fans as well as younger readers who will easily identify with Chloe and her situation. Way, Rivera and Oeming have constructed a complex situation with a lot of potential in character, story and tone. It has a broad appeal, while being quirky at the same time. It's worth checking out and may be the best of the Young Animal line.
"Super Powers: The Wonder Twins"
Writer/ Artist: Tom Scioli
Summary
Zan and Jayna are chastised by their father for playing with unicorns. Batgirl (Barbara Gordon) assists her father (OOPS!) Commissioner Gordon in stopping the Joker, only to discover there's a new boss in town!
Positives
Using the Super Powers logo from the 80s toy line is certainly a nostalgic moment for readers of a certain age. This backup continues the offbeat content of the main story as well as visually looking like old newsprint.
Negatives
Unlike the unencumbered Cryll back up in Shade the Changing Girl #1, this feature seems to suggest something else. Only time will tell.
Verdict
A little weird, a little nostalgic, a little confounding.