[Editor's note: This review may contain spoilers.]
Writers: Keith Giffen and J.M. DeMatteis
Artists: Jan Duursema, Tom Mandrake, Andy Owens, Ron Wagner
Inker: Hi-Fi
Summary
After saving her from Velma's crazy megalomaniac brother, Daisy is a bit off. No shocker there. Velma and Daphne have an argument, but it s not hostile. Velma is convinced that there is a hive mind at work with all of the creatures affected by the nanite plague. Scooby, who knows a thing or 12 about being tampered with, agrees and he reveals he can hear a voice calling him. They figure if they follow the voice, they will find the monsters and hopefully, find a way to stop everything.  Shaggy has a tribal tattoo. It is not new, it just is a thing worth pointing out. Freddy is still hobbled, but luckily he can still drive.
Meanwhile, Scrappy-Doo and Cliffy decide to follow all the monsters who are heading somewhere, kind of like a hivemind. Oh. Wait. I see what is going on here.
Positives
This book is so layered. Generally, good apocalypse stories show the horrors of humanity and the monsters humans create when they did not think things through. Sometimes, there is so much hatred, blind ambition and greed that causes horrific things to happen in the world.  This series continues to peel off the band-aid slowly and painfully. The idea that Scooby-Doo could be social commentary might seem strange to the casual reader, but all one needs to do is look beyond the surface.
Scrappy-doo is always an anchor, and he is here too, but what is he? He is what happens to something innocent and good when it is mistreated. Velma is a genius who just wanted to help the world, but she is really an example of someone who lives in her head and not the world. We learn that we need to see the whole picture. Daphne represents the strength we all find in moments of pain and fear.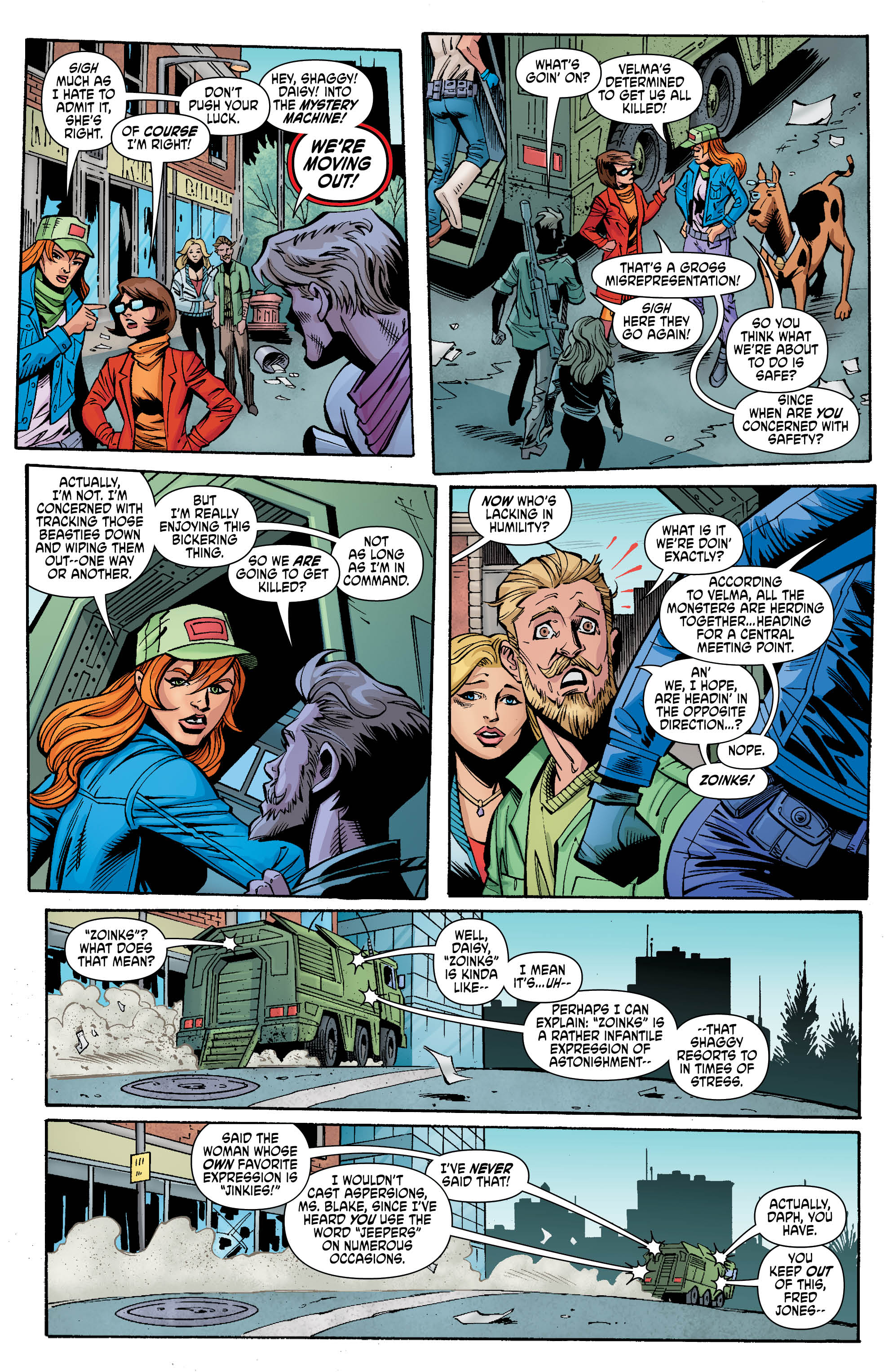 The team has really proven that regardless of who the characters are some stories are universal. The reason zombies, monsters and destruction stories keep being told is because we need to be reminded of our own limitations. We also need to be reminded that the apocalypse is a great social equalizer and maybe, just maybe, we shouldn't wait until the end of the world to express our feelings and look at people for who they are, not what they look like or where they come from.
Negatives
Scrappy-Doo and Cliffy. Ugh. Can we get this over with already? Ugh.
Verdict
The second book into year two continues with a cliff-hanger and a proclamation that everyone dies…maybe.
I suspect they will not. This is a fun, thoughtful, well drawn read. Pick it up.