[Editor's Note: This review may contain spoilers]
Director: Dermott Down
Writers: Todd Helburg, Andrew Kriesberg and Marc Gugghenhiem
Starring: Grant Gustin, Candice Patton, Carlos Valdes, Danielle Panabaker, Jesse L. Martin, Tom Cavanaugh, Stephen Amell, Emily Bett Rickards, Victor Garber, Caity Lotz, Chyler Leigh, Melissa Benoist, Jeremy Jordan, Paul Blackthorne, Juliana Harkavy, Wentworth Miller, Russell Tovey
Summary
Barry, Oliver, and two-thirds of the Legends are trapped in a concentration camp on Earth-X while Iris and Felicity strive to free the rest of the imprisoned heroes – as well as stop Overgirl's plans for Kara – on Earth-1
Positives
The best kinds of stories are the ones that stir emotions in the reader or the viewer. That being said, what worked in this episode are the elements that harkened back to one of the darkest periods in human history: The Holocaust. Barry and company are tossed into a concentration camp and the writers spared no expense in depicting the horrors of the Aryan vision. Religion, creed, orientation, all was stamped out that did not conform. The moment where the Nazi version of Quentin Lance noted how he executed his own version of Sarah for her lesbianism was a sharp divide to the Lance we all know.
Seeing twisted versions of heroes that we are used to seeing as pillars of strength, virtue, and hope were appropriately cringe-worthy, especially in the case of Earth-X Kara. The conversation between her and Earth-1 Kara showed off Melissa's range; she brilliantly played both versions of the same character with very subtle nuances. Seeing Tom Cavanaugh reprise his role as the original Reverse-Flash was great. Eobard Thawne as a Nazi scientist was a perfect fit and his moment where he threatened Felicity's life with both the vibrating hand and his knowledge of her future was the perfect blend of physical and psychological torture he's known for. The fact that they balance that with scenes that involve Harry and Cisco shows the distinction Tom conveys in both characters.
Overall, the way the crossover has handled the Nazi regime flies in the face of today's diverse audience and that is what writers have to do in order to engage the audience. The hero needs a worthy adversary or the hero looks like a bully, and there's no greater adversary than a nearly-racist world that stomps out anything unique. The ace in the hole being "Leo" Snart was unexpected. This lighter version of Captain Cold was funny in the interactions between he, Barry, and Oliver. Given this will be Wentworth Miller's final go as Leonard Snart, although this was not the now-deceased Earth-1 version, it was good to see the visual of Captain Cold with the right glasses.
Speaking of final bows, this episode also saw the (spoiler alert) demise of Professor Martin Stein. On Legends, they were already gearing up for a parting of the ways for the team that make up Firestorm, but the death of Stein was done in a way to show how much the character has grown since his introduction on The Flash in its first season
Negatives
The Iris-Felicity team up Die Hard style didn't really seem that believable; while it's cool seeing them pair up again like they did two episodes ago, the problem is you don't feel anything threatening to their person until they're confronted by the Big Bads. For supergeniuses like Felicity, their plan felt a little bit flimsy on her part. And why couldn't she open the pipeline cells? As for Eobard Thawne, I felt that there should've been an explanation for why he's suddenly back alive and wearing Harrison Wells' face again in this episode. If it was explained in Arrow, then those who didn't catch that part or don't watch the other Arrowverse series should have been clued in.
The treatment of Snart and making him a couple with The Ray felt just as forced as the Sarah-Alex hookup. There's such a thing as too much saturation; diversity has to be represented, but it does not have to be all about sexuality. We had situations where you feature a Felicity Smoak, who is Jewish, stand up to the Nazi Oliver Queen, while in Earth-X you see a brunette Felicity from concentration camps brought before Earth-1 Oliver incognito to be executed as a test of his identity. What about race? There was barely any mention of African-Americans, Japanese, Chinese, Indian, Afghan, and so on in that camp. Or was that their way of saying genocide was accomplished on such a global scale? Either way, sexuality and religion did not have to be the only diverse groups in this episode. I have scarce complaints about the episode aside from that.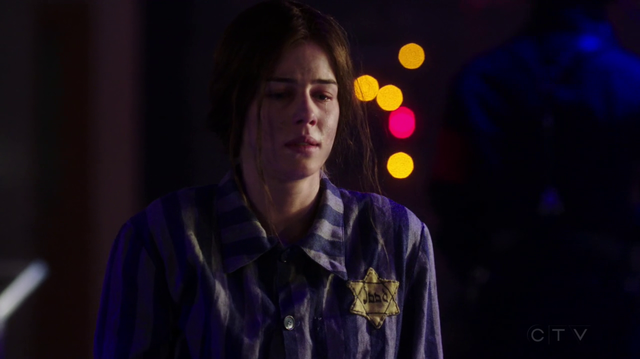 Verdict
You get the hopelessness of the Earth-1 heroes as they're scattered between two dimensions and pushed to their limits. You felt the pause as you saw the execution of Martin Stein as the episode ended. Overgirl's Nazi rant felt appropriately nauseating, as did Nazi Quentin Lance's rejection of his daughter. Again, good to see Miller but not a fan of the characterization. I look forward to watching the conclusion to this crossover that delivers on its promise of being bigger than last year's