[Editor's Note: This review may contain spoilers.]
Writers: Jeff Lemire, Denny O'Neil, Mairghread Scott, Tom King, Joshua Williamson, Christopher Priest, Dan DiDio, Shea Fontana, Scott Bryan Wilson, Greg Rucka, Mike Friedrich
Artists: Guiseppe Camuncoli, Cam Smith, Steve Epting, Phil Hester, Ande Parks, Francesco Francavilla, Neil Googe, Tom Grummett, Scott Hanna, Matthew Clark, Sean Parsons, Otto Schmidt, Nic Klein, Bilquis Evely, Neal Adams, Dick Giordano
Reviewed By: Derek McNeil
Summary
DC Comics' finest talents have assembled to bring you a holiday special like you've never seen before! Join Superman, Wonder Woman and the Flash as they deliver powerful messages of hope like only The Worlds Greatest Super-Heroes can! Plus: Sgt. Rock fights the Nazis on Hanukah, the Teen Titans take on the literal ghost of Christmas past, and Swamp Thing battles that creeping feeling of existential dread! And don't miss the legendary Denny O'Neil's return to comics with an all-new Batman story!
Positives
A major theme of DC's Rebirth initiative was the struggle between hope and despair, with Rebirth reclaiming the brightness and optimism that seemed to be missing from the comics. And what could better demonstrate the victory of light over darkness than a Christmas special? So it is only fitting that this year's holiday special is one of the first books to bear DC's post-Rebirth trade dress.
The framing story for this special features one Superman (as Clark Kent), a bastion of hope, and John Constantine, the epitome of cynicism. Clark is having a crisis of faith that is not aided by Constantine's pessimistic outlook. Bibbo Bibbowski disagrees with Constantine's assessment, leading into a collection of holiday stories that deliver a hopeful message.
As can be expected in a large collection of stories with different creative teams, the level of quality of the stories can be somewhat uneven. Fortunately, most of the stories are at least decent with a few gems.
Especially good is the story with Batman and Wonder Woman, where we find out that Bruce and Diana meet every year to celebrate the Winter Solstice together in the Amazonian fashion. Bruce asks why she doesn't celebrate with Clark instead, and Diana states that she and Bruce share a relationship with darkness and need a reminder of the light. Something that sets them apart from Clark.
Also, there is a nice story of the two Flashes, Barry and Wally. Since very few people remember Wally's existence, Wally has no one to spend Christmas with. But despite Barry's being busy as the Flash, he still finds time to spend with his former sidekick.
Also included is a reprint of the classic story "The Silent Night of the Batman" from Batman #219 (1969). This story reminds us that before Frank Miller turned the Darknight Detective into the Dark Knight, there was a time where Batman himself was a beacon of hope and optimism.
In this story, Batman sings carols with Commissioner Gordon and the GCPD, while waiting for an emergency to respond to. Batman's influence on Gotham City is enough to stop crimes, creating an uneventful night off for the Batman and the police. This is a story that hearkens back to an era when comics were a lot more light-hearted than they are today.
Negatives
Unfortunately, some of the stories aren't as good. I wouldn't call any of them terrible, but there are some that fall a bit flat.
One example is the Batman story, which despite being titled "'Twas the Night Before Christmas", doesn't seem to have much connection to the holiday at all. A criminal who is following the orders of the ghost of his grandmother has kidnapped two friends of Bruce Wayne. Batman easily stops him from killing his captives, at which point the criminal tells the vengeful spirit to take a hike.
That's the whole story – there's no depth to the story beyond that. There's no indication that the criminal has had any epiphany, an infusion of Christmas spirit, or even had his heart grew three sizes that day. All we get is "Go away and never come back. Bye, Granny."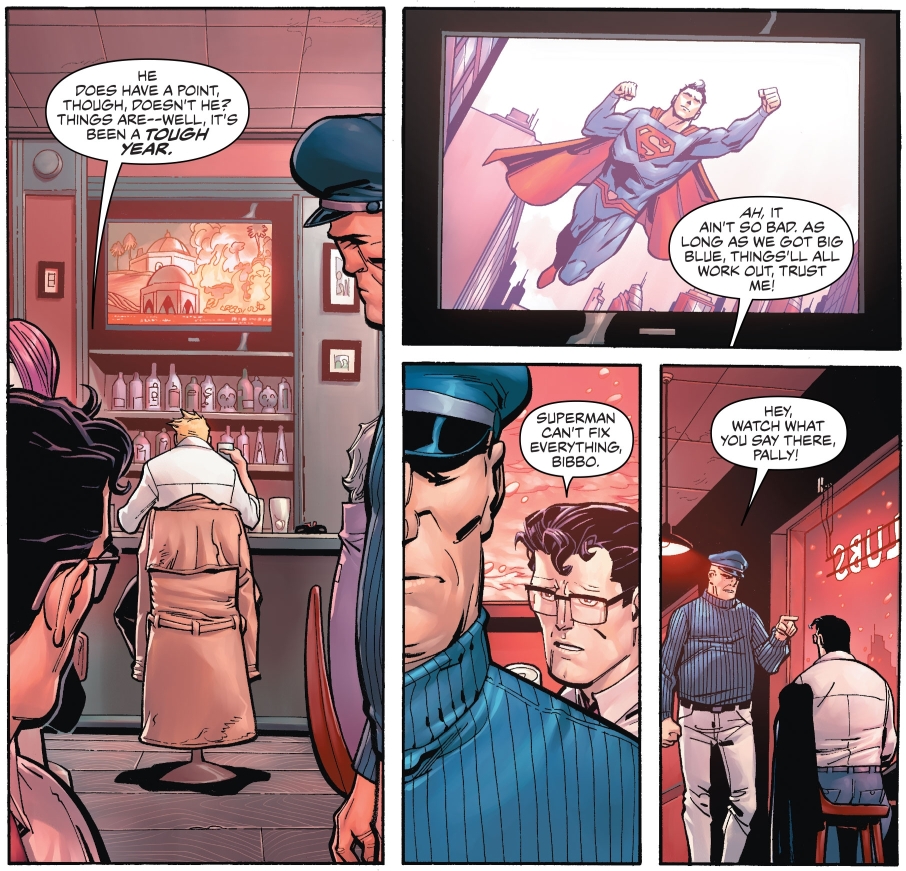 Verdict
On the whole, the stories are good, and the book does deliver a healthy dose of holiday cheer to get readers in the mood for the festive season. It also gives readers a unique chance to see a wide selection of characters from several different creative teams in a single title.