[Editor's Note: This review may contain spoilers.]
Writer: Christopher Priest
Artist: Pete Woods
Reviewed By: Derek McNeil
Summary
"JUSTICE LOST" part three! Footage of a major Justice League failure ends up on an extremist website, going viral across social media and prompting a Congressional investigation of the team. As public debate explodes over America's trust in the Justice League, the team faces a crisis of confidence in Batman and his methods, which ultimately highlights fractures within the team over civil rights and methodology.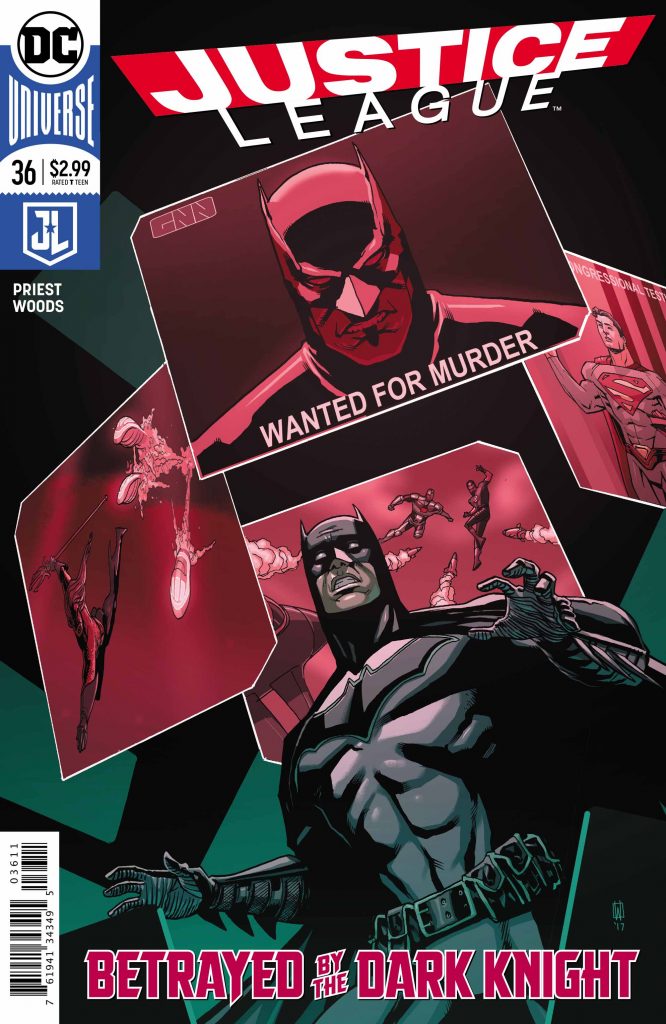 Positives
The Justice League is having a pretty rough time in this issue. First, a U.S. Congressional committee is looking into the problems with the legality of the League's operations. This raises a number of points that are usually ignored in comics, but would be major problems if the League existed in the real world: "certain surveillance techniques… civil rights violations… a private satellite… how do we know a masked avenger who saved the day yesterday is the same boy wearin' that mask today?" It will be interesting to see if these legal problems lead to ongoing problems for the League, or if they seem to disappear after the current storyline ends.
Also, there seems to be a serial murderer impersonating Batman. Interestingly enough, when we get a good look at the impersonator's Batman costume, it appears to be the classic pre-Flashpoint version, complete with yellow oval around the Bat-symbol and trunks over the tights. Is this a nod to DC's history, or is there a deeper significance to this?
And the League is besieged by doubts. Wonder Woman doubts that she belongs in the League, the other Leaguers doubt Batman's leadership, and Batman seems to doubt both his effectiveness and as the Batman. It's telling that Batman doesn't even appear in costume in this issue, even while directing the League's actions.
Priest seems to be showing the League as part of the wider DCU, rather than self-contained. Nightwing appears this issue (as Kid Flash did last issue), and speaks of how Bruce, himself, and Damian leading DC's foremost teams: the Justice League, Titans, and Teen Titans.
Negatives
Wonder Woman makes a reference to Aquaman as "Orin", which seems out of place. While this is Aquaman's Atlantean name, in the New 52/Rebirth continuity, Aquaman mainly uses his surface name "Arthur", and this is the name which the League knows him by. Is this a mistake, or is this a sign that pre-Flashpoint continuity is re-asserting itself? If this wasn't a mistake, then this isn't really a negative.
Verdict
Within only a three issues so far, Priest has breathed new life into Justice League. The League continues to fight the usual threats, but looming legal threats and a crisis of faith give the story a new dimension. And the threat posed by the ersatz Batman promises a thrilling conflict as the "Justice Lost" storyline continues.