[Editor's Note: This review may contain spoilers]
Writer: Simon Spurrier
Artist: Bilquis Evely
Colours: Mat Lopes
Letters: Simon Bowland
Reviewed By: Derek McNeil
Summary
From the upheaval of THE SANDMAN UNIVERSE #1 rises THE DREAMING—a kingdom in chaos.
There is a place where stories are born. Today its walls lie slashed and bleeding. Dream has abandoned his realm, and until he is found, its residents must protect its broken borders alone. But the most senior storysmiths are tormented by invasive secrets, the warden Lucien is doubting his own mind—and beyond the gates something horrific waits with tooth and talon.
Only Dora, the monstress, finds opportunity in madness, stealing dreams for the highest bidder. But she has no idea how deep the danger lies.
Meanwhile, in Dream's gallery, something new is growing…
Positives
The character of Dora is an intriguing new addition to the world of The Dreaming. We learn in this issue that at some point in the past, she was given sanctuary in the Dreaming by Dream. However, it seems that it has become more of a prison to her. We also discover that she is one of the few beings in the realm that actually sleeps – but she never dreams.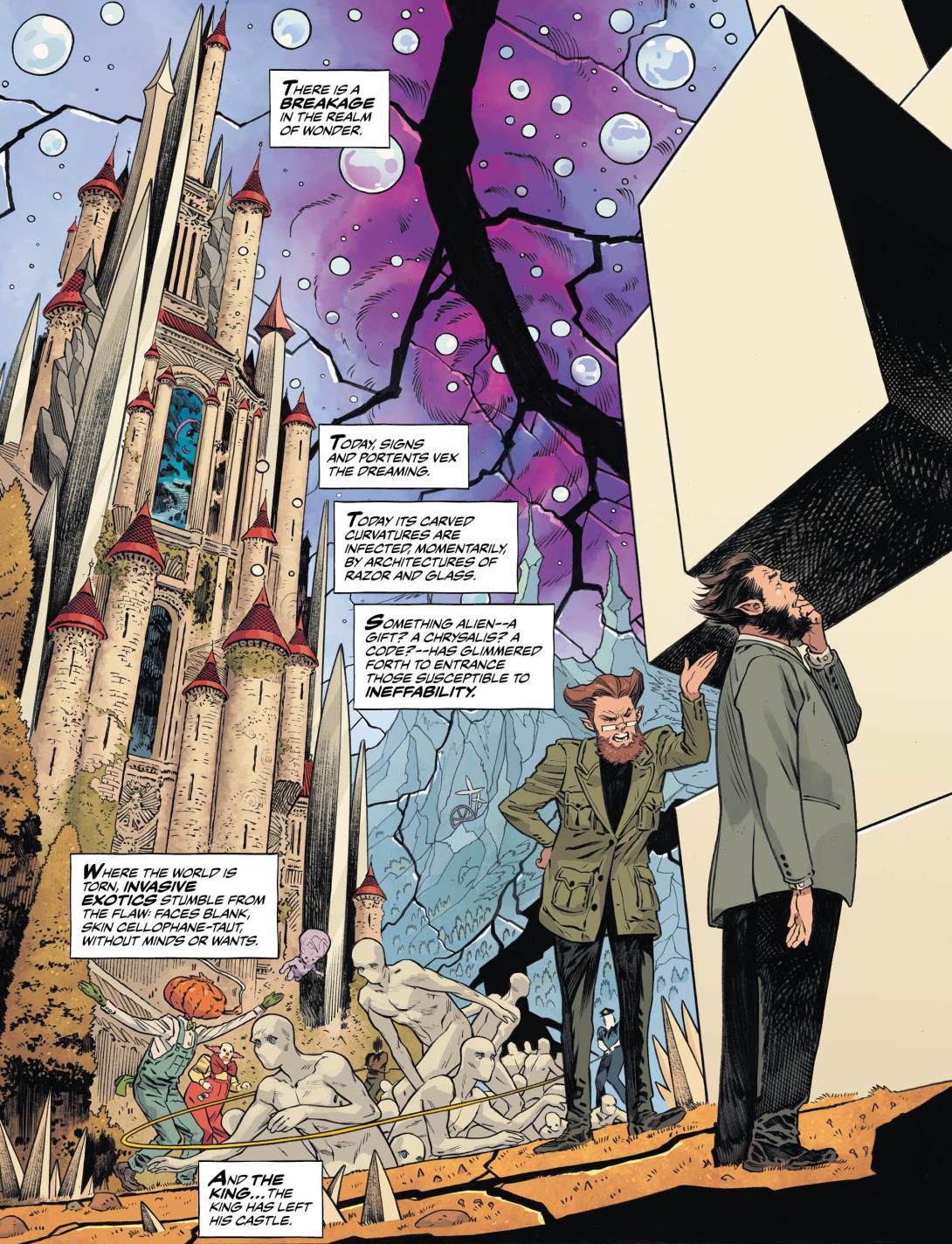 Is she a threat to the Dreaming or is she ultimately an ally? In this issue she is shown to be stealing stories from people's dreams, which she sells to a demon. This introduces a threat, when she accidentally gives the demon Balam entrance to the Dreaming. Balam attempts to claim the Dreaming for himself when he discovers that its master has left it undefended.
However, Balam is sent packing when Dream reappears to face him. But in actuality, it isn't Dream, but rather it's Lucien impersonating the Sandman. Lucien's impersonation is convincing enough to bluff Balam into fleeing and to convince the Dreaming's residents into believing their lord has returned. Only Lucien and the raven Matthew know of Lucien's deception.
The real star of this issue is Lucien, who is able to feign Dream's forcefulness well enough to fool the other residents of the Dreaming. Also, in a somewhat odd, yet appropriate device for a book about the realm where stores originate, Lucien narrates this title while also starring as a character in it.
Negatives
It's too early to tell if Dream's absence is going to be long-term or only temporary, but I hope it's the latter. However, this book is titled The Dreaming and not The Sandman, so I expect that the emphasis will remain on the denizens of the Dreaming rather than on its master. But hopefully he will be around to sometimes interact with the book's cast. But it does offer a fascinating mystery around where he is and what he's up to – and how the Dreaming will fare without him.
Verdict
This is a strong start for this title, and hopefully the level of quality established here will continue as it progresses. It is great to once again read new adventures set in the world of Neil Gaiman's Sandman