Reporter: Derek McNeil
Last weekend, Toronto hosted FanExpo Canada to celebrate multiple genres of fandom. One of these is comics, and DC Comics brought a lot of their big name talent to meet their Canadian fans.
Co-Publisher Dan DiDio himself was there, personally hosting panels with some of DC's hottest writers, artists, and writer/artists: Tom King, Scott Snyder, Peter Tomasi, Marguerite Bennett, Joshua Williamson, Steve Orlando, James Tynion IV, Frank Tieri, Greg Capullo, Jason Fabok. and Jock.
There were also other creators of past or present DC projects present at the convention: Jeff Lemire, David Finch, and Lee Bermejo, and Neal Adams. Plus, the man who redefined Superman in 1986, John Byrne was one of FanExpo's guests of honour.
All the talented people from DC were friendly and approachable. They were clearly delighted to meet and talk with their fans. Unfortunately, the lineup to meet some of them was quite lengthy, but they appeared to be genuinely happy to meet each person in turn.
There was an official DC Boutique where you could buy DC merchandise and pick up some freebie comics and posters. Plus, they had a green screen set up so that you could be inserted into a scene or comic cover with your favourite DC characters. For example, you could star on the cover of Action Comics with the Man of Steel himself.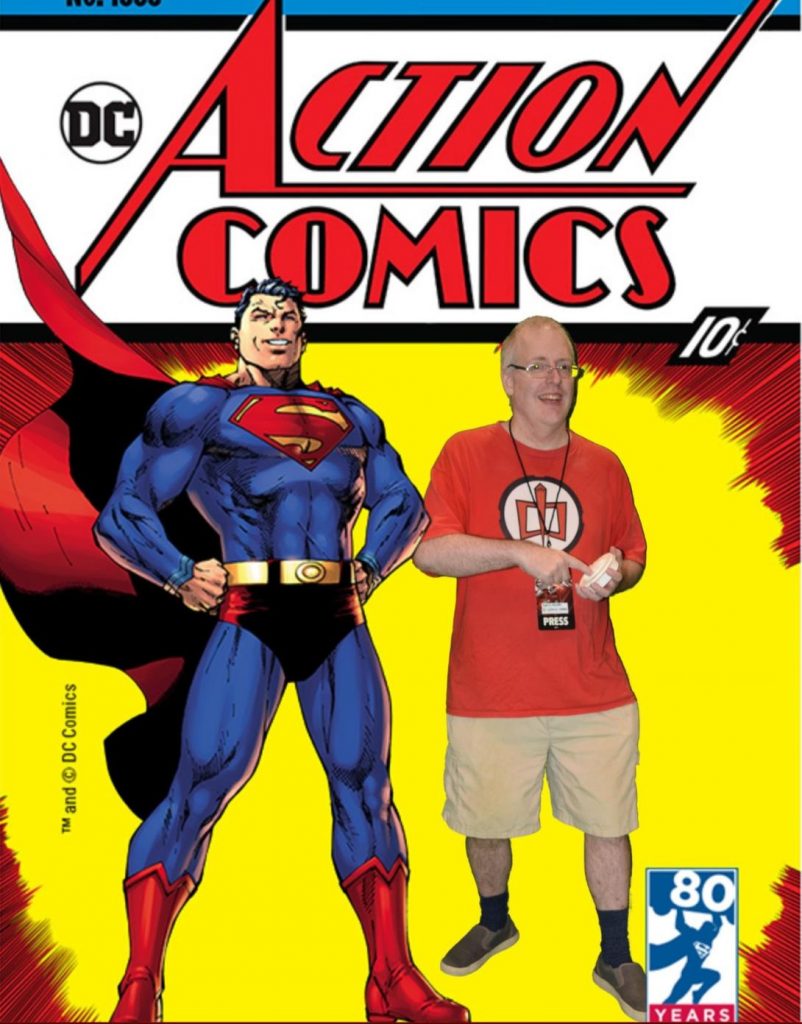 Also, Warner Bros. Entertainment was present to promote the DC Movies and DC's TV properties. Jason Momoa (Aquaman), Rose McIver (iZombie), and Robin Lord Taylor (The Penguin) were all present, but unfortunately the stars of Black Lightning had to cancel their appearances.
Also, WB Game was offering the chance for fans to try a level of the upcoming LEGO DC Villains game. In the level, you play as The Joker and Harley Quinn as they attempt to escape from the Gotham City Police.
And finally, many of DC's heroes and villains were themselves present in the form of cosplayers. Many of the costumes were quite well done and looked as if they had just stepped right out of the comics. Plus, many fans sported t-shirts with pictures or logos of their favourite characters. I was quite surprised at how many kids were apparently fans of the Golden Age Starman – until I realized they were actually Steven Universe fans.
Finally, there were a multitude of merchants, you can buy all the DC comics, toys, videos, games, or other merchandise they can afford – or if you're like me, more than you can afford. I was particularly pleased to find a copy of the tabloid sized MGM's Marvelous Wizard of Oz, which was the very first collaboration between DC and Marvel.
This was my first convention experience, and I found it a delightful, if somewhat expensive, weekend. I got to meet and talk to some of the creators of my favourite titles, and got to hear about some exciting projects in DC's near future. I eagerly anticipate going back next year.