[Editor's Note: This review may contain spoilers]
Writer: Mark Russell
Pencils: Rick Leonardi
Inks: Dan Green (pgs. 1-12, 15, 23, 29), Ande Parks (pgs. 13, 14, 16-22, 24-28, 30)
Colors: Steve Buccellato
Letters: Wes Abbott
Summary
A young John Stewart is completing his training as a Green Lantern, and his final test is to return to Earth and show restraint by not using his power.  Along the way, he runs across Huckleberry Hound, who comes from a much different set of experiences but can still relate to John Stewart in many ways.  The story is set in the context of the Nixon era and the Vietnam war examining familiar characters through unfamiliar lenses.
Positives
This comic has a lot to say, and it says it all very well.  There are lessons to be learned about power and restraint, injustice, corruption, and more, but at the forefront of it all is a masterful portrayal of John Stewart.  A lot of people don't think John Stewart has much to offer as much as some of the other Green Lanterns, but this comic proves them wrong.  It is an inspiration for how John Stewart should be as a character and for how Green Lanterns should be tested in future comics.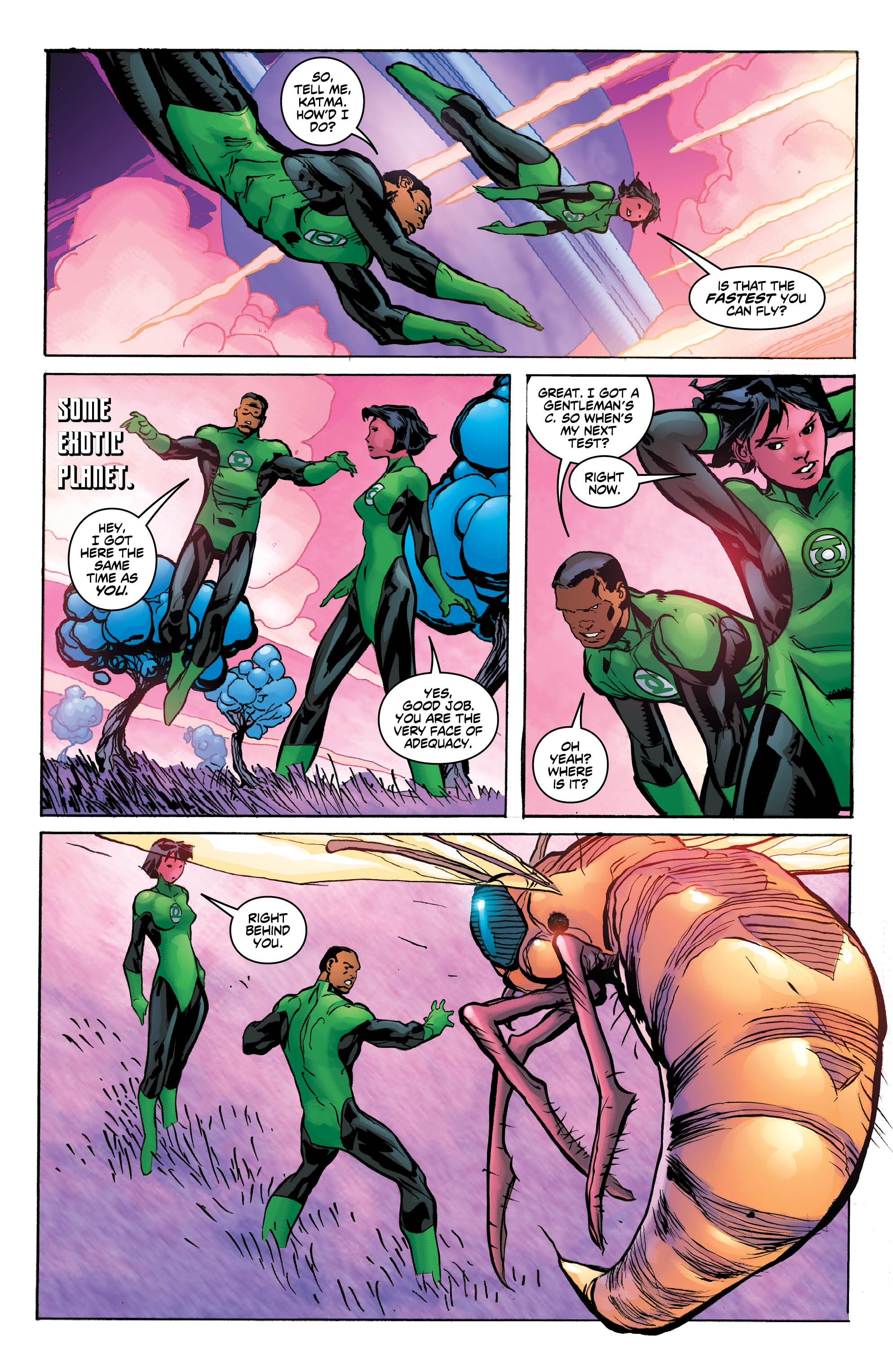 Mark Russell is able to pack in so many important lessons into one comic.  During the training scene, John learns from Katma that sometimes in a heated situation, its important to think about the other person, and not yourself, and that's before the main story begins.  When John comes back home, he deals with issues of culture shock and the difficulties of catching up and latches onto some nostalgia from when he was a child: Huckleberry Hound.  Russell sets the two characters up as fantastic foils.  John is young and eager to use his new powers to change things for the better.  Huckleberry is at the end of his career and too cynical to believe in change.  Despite one of the characters wielding a magical space ring and the other an anthropomorphic dog, they portray more about humanity in one issue than most can in an entire run.
Overall, the art sets a great tone throughout the issue and is very cohesive despite being split between two artists, and I appreciate how it is able to contribute to framing the story through multiple lenses.  Whether it be the historical lens of the Vietnam War, the contemporary lens of how the situation in 1972 relates to our government today, the lens of power and how absolute power corrupts absolutely, the lens of the oppressed, and many more.  Mark Russel delivers a great commentary in the package of a story you can thoroughly enjoy.
Negatives
While the art sets the tone well, some of the facial expressions appear a bit awkward.  Not much attention seems to be paid to the crowd or war seems, and there is detail lacking in certain areas.  Also, while Mark Russell packed a lot of commentary into one story, I almost wish he could focus on a few relevant issues because it currently feels a little scattered at times.
Verdict
While a little scattered and awkward at times, Russell crafts a masterful story that has something for everyone.