[Editor's Note: This review may contain spoilers]
Director: Kristin Windell
Writers: Sarah Tarkoff and Tonya Kong
Starring: Stephen Amell, David Ramsey, Emily Bett Rickards, Echo Kellum, Rick Gonzalez, Juliana Harkavy, Colton Haynes, Kirk Acevedo, Katie Cassidy, Vinnie Jones, Michael Jai White, Cody Runnels, David Nykl, Ben Lewis, Brendan Fletcher, Andrea Sixtos, Alex Paunovic, Holly Elissa, Miranda Edwards, Bruce Blain, Sheila Tyson
Summary
While Laurel tries to overturn Oliver's conviction against his wishes, the former members of Team Arrow collaborate on finally capturing Ricardo Diaz, and Felicity is tested as to how far into the darkness she's willing to travel to free her husband. Plus, Oliver investigates an in-prison murder that Stanley is blamed for, while, in the future, the mystery of Future Felicity Smoak deepens.
Positives
Everyone is on their A-game so far this season and tonight's episode was no exception. The breakout stars this week are Katy and Emily with their characters' respective arcs.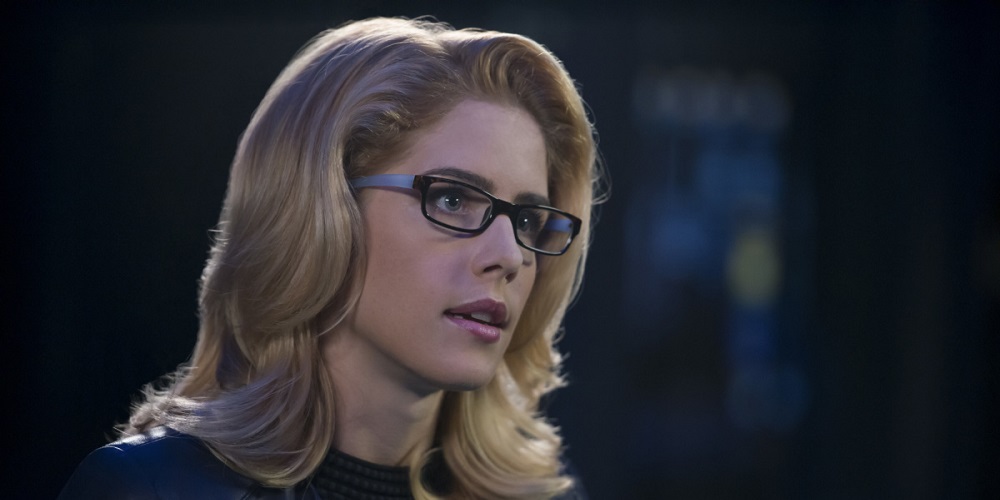 Just when, early on in the episode, we start to see a little of the old Felicity in her demeanor, everyone's favorite MIT graduate pulls out some very ruthless chops worthy of pre-season one Oliver with regards to Anatoly Kynazev. It was cool that Anatoly is known as "The KGBeast" to his friends. But what was even cooler was the fact the torture scene between he and Diaz really got the viewers expecting to see the final transformation into the UZI-armed mercenary comic fans know him as. It's not just the fact that Felicity deliberately puts him in harm's way to get the data from Roslov's laptop. The surprise is how she rationalizes her actions; Anatoly is a criminal and therefore it doesn't matter if he gets killed. She's tossing aside his connection to Oliver, and in that Anatoly sees a correlation between her current patterns of behavior and Ollie's Bratva-phase. She's even willing to risk her own freedom in the interrogation room post-capture prepared to shoot Diaz dead. She's presenting this remorseless gangster with a new version of herself she credits him for. If Laurel hadn't brought her out of her obsessive need with the news that Oliver may be released, she may have gone through with it. Still, the future threat of her descending into her father's madness as the new Calculate in the flash-forward sequences still looms. This means that this possible future is far from over.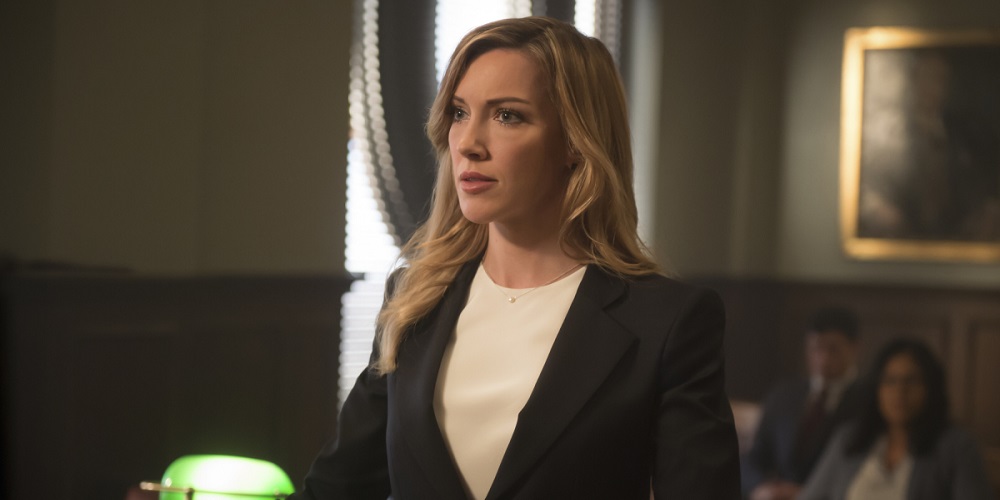 Laurel Lance of Earth-2 has hit Oliver where it hurt dozens of times since season six. Oliver had given her a chance in season six and she spat it back in his face and allied herself first with Damian Chase and then Ricardo Diaz. It's not surprising that once she presents him with the news of him trying to overturn his conviction he has little faith. If anything else, his condemning words to her only spur her onward after pleas from Felicity. The irony continues when, after her efforts prove in vain, it's Dinah of all people that appears out of nowhere to stop her from exacting revenge on the judge Black Siren style. Laurel had actually convinced Dinah through her actions that she had turned over a new leaf and Dinah was not going to let all that hard work to go out the window with a sonic cry. Laurel then both paid it forward by stopping Felicity from crossing the line with Diaz, and told Oliver the news that her efforts proved effective in the case of Level Two operations under full investigation. Her parting words to Oliver are poignant and as snarky as his. Cassidy and the writers go to great lengths to distinguish this version of Laurel from Earth-1's, but do so in that she's trying to send a message through her actions as opposed to her words. I can see where her journey is taking her but I don't want to say anything yet given it's too soon to tell.
Oliver's odyssey at Slabside Penitentiary continues as self-designated Green Arrow guy Stanley is allegedly framed for the murder of a former Brick-owned guard. Even though there were no big fight scenes for Stephen, it's cool to see him channel Bruce Wayne in his powers of deduction as he combs the shower for the murder weapon. I would never have thought to look in that spot in the wall behind the loose tile. However, the twist at the end when Turner is thrown in the hole for the crime threw both Oliver and myself for a loop. Throughout the season so far, Stanley was very much in the same vein as Oliver had been in his first year on the island. He wasn't a fighter, naive, and was scared out of his mind. The man he is today is the result of a decade of hardships and discipline, but also a lot of demons that have taken root. Oliver made the decision to investigate the guard's murder, but he did so in the belief that his friend was innocent. Stanley being privy to information that in no way could have reached his ears puts Oliver in a very precarious position. Could Stanley have been inspired by Oliver so much that he actually took a man's life because he had been associated with Brick? What's more dangerous is, unlike Oliver's, Stanley's first kill hasn't phased him at all. Further, by accusing Turner, he has made himself a target by Brick's people and wrecked any truce he may have had with Bronze Tiger.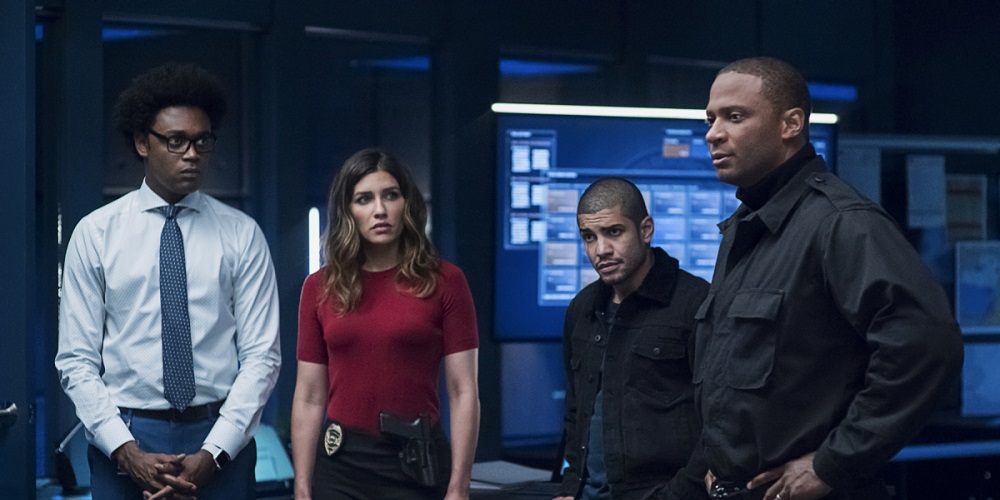 Negatives
I think the only negative detail this week is how easily Team Arrow managed to take down the Longbow Hunters. These are master assassins on the level of The League of Shadows that have bested them at every turn. I just feel that these characters are underused in this episode because Diaz seemed to be taken down too easily. A.R.G.U.S.'s best could barely best them twice and yet after one skirmish they bolt. The Silencer has a lot more to her backstory than what is being revealed so far and I think that it could add dimension to her character. So far she's only the girl that turns off the noise – literally – to help the others do their thing. Then there's the Flash-forward sequences; how could Zoe and William have kept in touch when they barely knew each other as kids?
Verdict
I'm giving this a solid 4 out of 5. Emily, Stephen, and company are at the top of their game this year and the tight writing really does the characters justice this year. The fact that Felicity may turn to the dark side as the new Calculator in the future adds a lot of dimension to her. Katie's delivery of her lines hides a lot of anger behind them, which makes her the perfect wild card. With Diaz behind bars and Oliver close to getting his freedom, you just feel there is another curve ball heading his way besides Stanley's possible guilt.
Rating: 4 out of 5.