[Editor's Note: This review may contain spoilers]
Writers: Ivan Cohen and Brett Lewis
Pencils: Walter Carzon and Anthony Williams
Inks: Horacio Ottolini and Dan Davis
Colors: Silvana Brys and Paul Becton
Letters: Saida Temofonte and Ryan Cline
Summary
Ivan Cohen's Boardwalk Vampire (you have to love the high-brow humor of all the Scooby authors) take Scooby-Doo and the gang to Boardwalk where a new ride is slated to open.  A cast of characters complete with a the old time feel of a carnival complete with walking on hot coals, sword swallowing, and a bed of nails.  Opening up the new ride for the midway is paramount to the success of the Boardwalk, but a vampire is causing concern among anyone who wishes to attend the carnival.  Fred, Daphne, Shaggy, and Velma put their investigative skills together to solve this one!  And what Boardwalk isn't complete without a hot-dog eating contest!  Scooby snacks anyone?
Brett Lewis' Good Ghost Haunting has the teens of  Mystery Incorporated exploring a Technology Fair at Plymouth Institute  where they are examining new tech to fight crime.  However, the Salem Witch Hunter has other plans to ruin the fair.  Science and Paranormal Phenomenon clash (as well as holograms of a buffet) as the gang work to solve this one!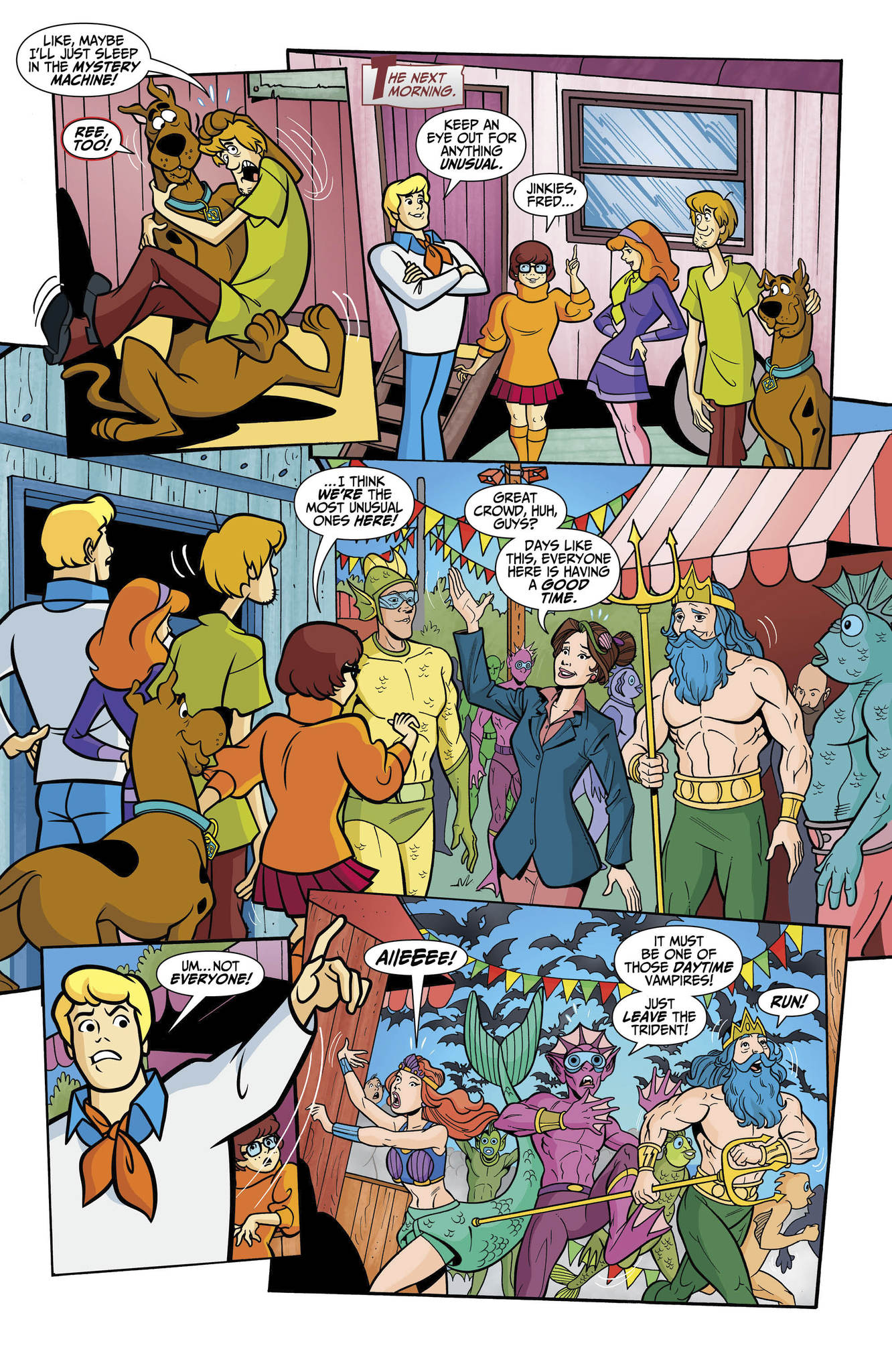 Positives
This issue puts the Saturday morning classic teen gang into more realistic current adventures.   Two stories populate this issue and the authors do a great job of creating homages to the past while keeping things current.  It's an age old formula for a Scooby story in that the mystery is always related back to host of suspects (both obvious and not so obvious), but it is a formula that works!  Both artists, Walter Carzon and Anthony Williams, do a great job of portraying the characters in their own way!
I loved the idea of two stories rather than three abbreviated stories as in some issues past.  This provides more homage to the Saturday Morning Cartoons.
Negatives
None as I am a big fan of using the older Hanna Barbara titles as intros to the comics.  And the authors get that the older readers crave both the stories of yesteryear and the new stuff that Scooby lends itself to with the Apocalypse series!  It's a win-win!  However, if older readers recall, the older cartoons had celebrity guest stars….. it would be great to get an appearance by Jimmy Fallon or Lady GaGa….just sayin'!
Verdict
As always, Scooby is a great buy for the nostalgic reader as well as the parent looking to introduce their kids to the Hanna Barbara simpler times of a good Saturday morning mystery!  And the countdown is on for issue #100.  Let's hope a lot of guest stars are in that one!