Editor's Note: This review may contain spoilers]
Writer: Darragh Savage and Todd McFarlane
Artist: Jason Shawn Alexander and Szymon Kudranski
Colors: FCO Plascenscia, Luis NCT, and Jason Shawn Alexander
Letters: Tom Orzechowski
Reviewed by: Carl Bryan    
Summary
Al Simmons/Spawn finds himself in Tokyo battling underworld and elseworld spirits that are tapping into his daughter's psyche.  Al not only finds himself working against the netherworld dwellers who are in a stranded existence between Heaven and Hell, but he is caught in his role as an "uncle" to his daughter and her now evolving powers.  Cyan now can see dead spirits, use energy bolts to knock down doors, and has invisibility.  This multi issue compilation (issues #276-283) sets the stage for SPAWN's record-setting 300th ISSUE.  Cyan (and Al) thinks that moving to Japan can provide her some rest as well as some aspect of being safe.  Considering that her mother has been recently killed, this seems like a no brainer for both her adoptive father Terry and her real Dad Al (who she thinks is his uncle).  However, with visions of evil spirits leading her to different parts of the city, and an underworld that knows that she is the "spawn of Spawn", this multi issue compilation explores a new dynamic between Cyan and Al, and Al's tenacity to do everything he can to make sure Cyan leads a normal life!
Positives
Jason Shawn Alexander and Szymon Kudranski give Spawn an artist rendering similar to DC's Sandman series.  There is no mistaking Todd McFarlane's fingerprints on this and it appears that 2019/2020 is going to be an incredible year for Spawn with the upcoming plans for a movie as well as Spawn #300 on the immediate horizon.  McFarlane is tying up some pieces of the overall story and preparing for an overall "retelling" to make sure fans have a jumping off point where they feel caught up.  That's a good thing as this reviewer has not seen Spawn in some time (circa issue #100), therefore, Al was still in Spawn form and not able to become Al.  And Cyan was a baby (you cannot forget the early issues and her eye color).  However, now Cyan is a full-blown teenager and discovering her powers.  That's a new twist as she didn't make a deal with the devil.  What gives?
This multi issue is a bloody mess of revenge and retribution.  Spawn is an adult read all the way!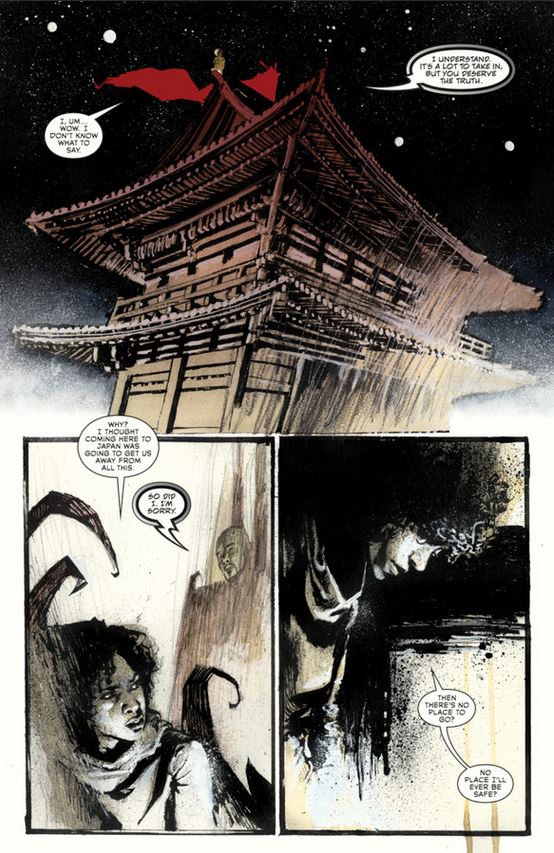 Negatives
It is always tough to jump into a comic without being privy to some recent history.  Cyan as an older teenage threw me a bit and also the fact she has powers now.  I'm taking that with a barrel of salt as I need to catch back up.  But the great thing is that McFarlane never disappoints.  His writing is always strong and he always has the thin line of throttle out violence paired with an overwhelming allegiance to family!
Verdict
This is a perfect 'side bar" book to get you in the mainstream Spawn issues with #300 coming up!  And if you haven't pick up a copy of Spawn #1.  You'll be glad you did as Todd McFarlane has evolved so much as an artist and a writer!