Review: ARROW 7×21 – "LIVING PROOF"
[Editor's Note: Arrow Review may contain spoilers]
Director: Gordon Verheul
Writers: Oscar Balderrama and Sarah Tarkoff
Starring: Stephen Amell, David Ramsey, Emily Bett Rickards, Rick Gonzalez, Juliana Harkavy, Colton Haynes, Sea Shimooka, Katie Cassidy Rodgers, Colin Donnell, Katherine McNamara, Ben Lewis, Kacey Rohl, Keven Dale, Danny Wattley
Reviewed by: Jason Larouche
Summary
As Oliver remains trapped, he sees a familiar, unexpected face; Team Arrow tries to recover from the explosion and survive the fallout; Felicity is issued a warrrant for her arrest from the SCPD.
Positives
One word: Wow. Just…wow. Okay, we're going to go in order. Central themes for this week: Ownership of one's actions, humility, consequences, and forgiveness. Let's hit it.
So….Tommy. This is the third post-humous appearance of Oliver's best friend in life, and second being in his head. The sequences involving Tommy and Oliver works in that his subconscious has drummed up the one person he can be the most honest with. Two years ago in Crisis On Earth-X, the writers got the chance to offer Oliver some cathartic moments with Tommy's doppelganger. Calling him his brother was that unsaid truth that every viewer knew, yet was great to hear. Nice downplay of Colin's beard (he couldn't shave because of his commitments to Chicago, MD); the humor works. Tommy is also the perfect soundboard for Oliver's rage against Emiko because, in life, he was as much a victim of the cycle of his own father's actions as Oliver was of Robert's. Further, it was his sacrifice that turned Oliver away from vigilante killer known as The Hood and towards a nobler road. The fact that he pictures Tommy both healthy and differently indicates he has overcome his guilt over what happened to him and envisions him in better circumstances. Perhaps the beard is a callback to the Braun Strowman-sized facial hair he himself grew in prison.
Either way, the trigger for this mental debate was, of course, Emiko's culpability in the sinking of The Queen's Gambit and the odyssey that ultimately turned him into The Green Arrow through sheer negligence. She knew it was wrong, and yet she damned herself anyway by giving in to anger and revenge. This was necessary because Oliver, as the hero in the piece, had to rise above his own personal feelings or he risked sharing the same vendetta road as Emiko. Donnell and Amell never had these kind of heated debates in season one, and it was good to see both brothers verbally joust amidst minor reminiscing. The framing of the debate, starting with him pinned and ending with him pinned, also silenced the naysayers that would object to how Tommy could interact with both inanimate objects and help Ollie put his shoulder back into place. Plus it's highly inconcievable for Ollie to fix a snapped compound bow to maximum efficiency, so yes it was a delusion. Spreading it out through the episode was good pacing as well. The Dickens touch of showing Oliver what his actions could lead to if he gave in to revenge was the perfect way to drive home "Tommy's" point. He needed to break the cycle of lies and anger and revenge or he would pass it on to William and his unborn child. Going back on his promise of transparency through covering up Roy's crimes, and the consequences that entailed, is the perfect example. Bringing Colin back for the second to last episode was brilliant and this reviewer sincerely hopes he comes back for the final season.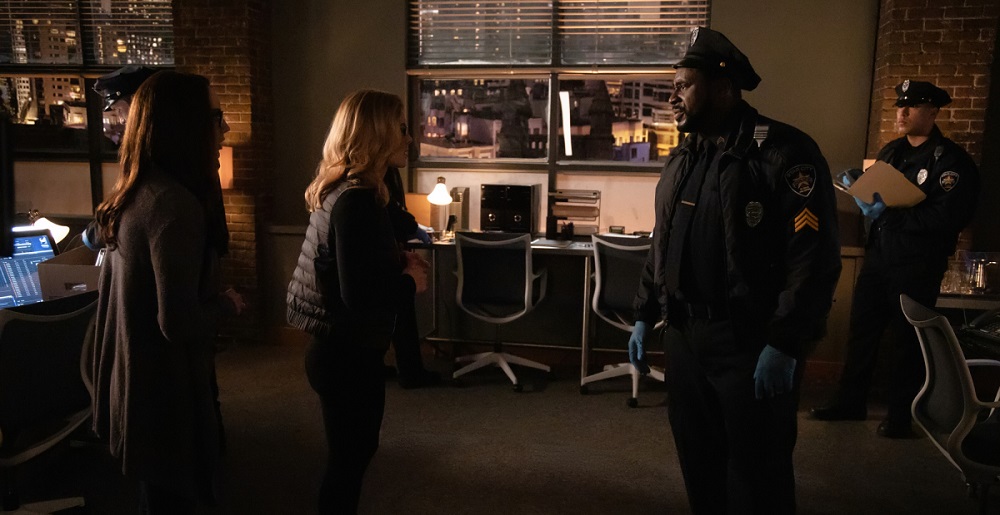 What made this episode work was the reality of the consequences of Team Arrow's actions. They deliberately left themselves open to fall by covering up the deaths of those guards and upset the delicate alliance with the SCPD. Having the most vulnerable of the team, Felicity, feel the effects of exposure was the best way to drive home this fact. The writers were smart to have Sergeant Bingsley front and center to bring the hammer down on the team; out of all of those objecting to the deputy status of Oliver and his team, he was the most vocal. The writers are also smart to show Felicity's refusal to be another damsel in distress through her countermeasures in her office. She's too smart to let herself be cornered like that; that timidity she left behind a long time ago.
The writers also extend that moment to reflect on this mistake by having the news – conveyed to them by Felicity from the bunker – affect Roy to the point he plans on turning himself in. It also gives the audience to see how much Roy has matured during his time away. Colton's conversation with Juliana works in that she tries her best to counter some very legitimate facts: Roy broke the law, and she compounded that crime in her capacity as Captain by conspiring to cover it up. He also goes so far as to balance the scales by sacrificing himself to shut down the dangerous generator in that cloud of Benzyne. The moment where Roy may be lost is strong not because a major supporting character is lost – he's alive in Flash Forward – but because of both the lengths he chooses to go, and whether his actions in the present influence his state in the future.
Speaking of Flash Forward, the penultimate plan of Keven Dale – using Felicity's Archer Technology to rally the public against vigilantes into his eventual realized police state – brings all of the facets of what the endgame is and makes perfect sense. This week we see William's pent-up anger towards his stepmother finally rise to the surface. Ben and Emily have great scenes together this week, as to he and Kat. That sense of family is naturally felt, and it gives Mia the chance to share insight on what she's learned during this season and imparts that to William. And I just knew that Elena would be the true cause of Archer's corruption from the moment she walked in through the doors of Smoak Technologies. Well, that and also her keeping the copy of Archer's programing after she destroyed it a few episodes back. The seed of Felicity's departure and leaving her tech bestie in charge are cleverly planted in prior to the revelation. Having Felicity stare at her with restrained contempt and wordless goes a lot further than just letting loose.  What also works in the Flash Forward is having everything go to hell simultaneously as the present-day events. Upping the ante with Team Arrow 3.0's plans exposed were a perfect parallel to what's happening in 2019.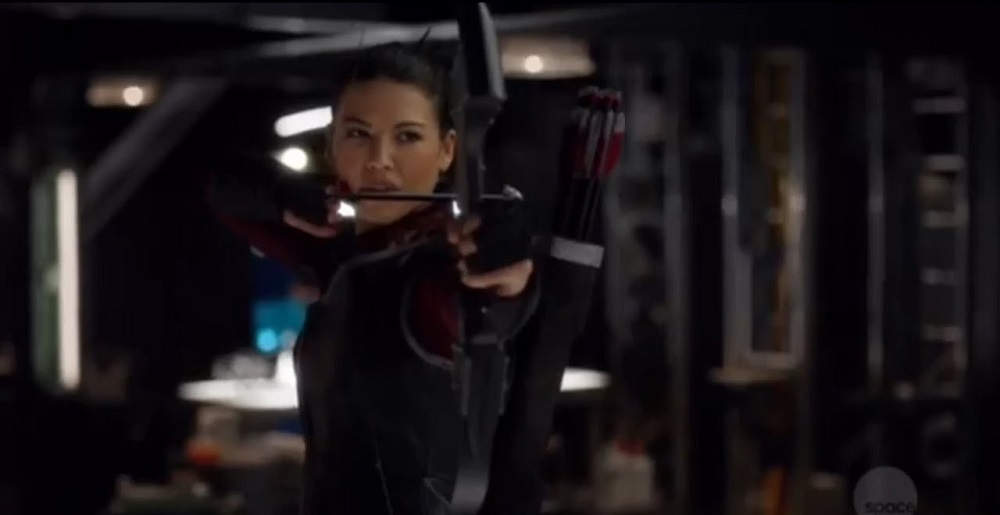 The extent to which the writers have Emiko's havoc is keenly felt. From threatening a pregnant Felicity to blowing her brother almost to kingdom come, Sea Schimooka conveys both the stoic and the vengeful tones beautifully. And you notice how Emiko is off-balance in the face of a possible reconciliation with the family that rejected her. She brings that outrage out every time Stephen's Oliver appeases to her pain. The writers have managed to craft a truly complicated antagonist that you never saw coming this year. To add insult to injury, she attacks the SCPD garbed as Green Arrow to further implicate Oliver in the oncoming disaster she has planned. Her level of ruthlessness seems to be increasing as we get to the finale. As mentioned earlier, to counter that, Oliver has to try and reach her in other ways. The odds are stacked against Oliver's chances, and yet he tries his utmost to reach Emiko in that final face to face without aiming an arrow at her. There has to be a distinction in approach; these two have beaten each other up for three episodes straight to a stalemate. Having her encounter Oliver in Green Arrow has a sense of full circle because she first appeared on the scene this season in that costume as a hero.
Negatives
"I thought it was you." Bingsley has worked closely with Oliver Queen – the original Green Arrow – for months and yet he can't tell subtle differences under the hood? It may have been the case when Emiko was wearing a full mask, but not when it's the trademark domino. Also, I realize that Emily has broadway lined up, but couldn't she have waited till after filming to start doing color treatment? There is a noticeable difference in color between last week and this week, and basically these events have taken place within the span of an hour. I know it's minor but sometimes the aesthetic matters for continuity.
Verdict
Colin Donnell's guest spot is always welcome and always works to keep Ollie on the straight and narrow. Tommy Merlyn was the right selection to help push him towards breaking a decade-old cycle. The writing was strong this week and it was smart to delay William having it out with Felicity for what she and Oliver did in the past till the finale. Good storyboarding and great balancing act. Both the present and future of the Green Arrow legacy are coming to a head, which will make for a fantastic finale! Peace out!