SDCC 2019: Joe Hill Announces "Hill House" Titles
Written By: Thomas O'Donnell
SDCC 2019 welcomed acclaimed writer Joe Hill, Mr. Hill attended the "DC Comics Publishers Panel" to announce the titles in his new "Hill House" horror line which will be published by DC Comics under the Black Label imprint. There will be 6 titles in all, but only 5 were revealed at the panel with a sixth mystery title to be announced! Basketful of Heads will the first title released in the line and will be in comic shops on October 30, 2019,
Basketful of Heads is written by Joe Hill with art by Leomacs.
A young couple are house-sitting a New England mansion full of Viking artifacts. A storm arises and brings with it some unwanted company in the form of a home invasion. The woman hides for safety, when she comes out of hiding, her boyfriend is nowhere to be found, but one of the assailants has remained behind. She has to fight for her life, she reaches for an axe on the wall and quickly learns it has supernatural powers. It can take off a head in a single stroke, but then the head continues to live and tells it tale of what they have done and why they had to do it. Think grindhouse Rashomon
Daphne Byrne, is written by Laura Marks with art by Kelley Jones.
Tells a supernatural story centering around one girl's reaction to the death of her father in 19th-century New York.
The Dollhouse Family by writer Mike Carey with art by Peter Gross.
A 19th-century dollhouse/family heirloom serves as an escape for a little girl named Alice, literally. She can go inside, and reality and the imaginary start to blend together. As she grows older, Alice realizes her dollhouse has taken control of her life.
The Low, Low Woods by writer Carmen Maria Machado and art by  Dani.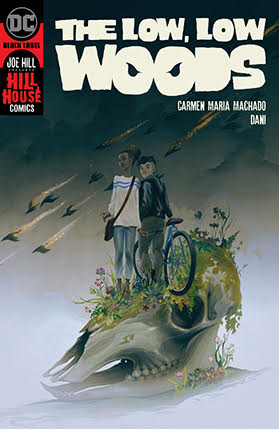 A mysterious town in Pennsylvania and a spreading plague of memory loss
Plunge will be written by Joe Hill with art by Jeremy Wilson.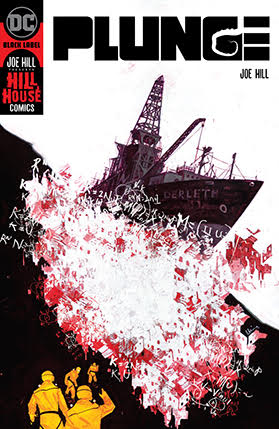 Back in the '80s, a highly advanced research vessel went missing near the Arctic Circle, only to suddenly reappear 40 years later, now sending a distress signal. So a team of American researchers is sent to salvage the vessel, even as a wintry storm approaches.
And all the titles will have a two-page back up wriiten by Hill called Sea Dogs.
Set during the American Revolution, Sea Dogs Finds the American forces up against the behemoth that is the British Navy, they form a  desperate plan, Allow three American werewolves to be impressed on board, and then eat the ship from the inside out.
Follow DC Comics News to get all the latest breaking news from the 2019 San Diego Comic Con.
Please comment below and don't forget to like, share and follow us on:
Facebook: https://www.facebook.com/dccomicsnews
Twitter: @DCComicsNews
Pinterest: http://www.pinterest.com/dccomicsnews/
Tumblr: http://dccomicsnews.tumblr.com
Instagram: @dccomicsnews