Review: The Ride: Burning Desire #2
[Editor's Note: This review may contain spoilers]
Writer: Doug Wagner
Artist:    Daniel Hillyard and  Chris Brunner
Letters: Ed Dukeshire
Colors: Laura Martin  
Reviewed by: Carl Bryan
Summary
"Go ahead and leave us alone.  Who knows.  Maybe we'll kill ourselves while you're gone!" – Ash's Mother.
"Burning Desire" – after serving a hard 15 years in prison on a murder plea, former Atlanta P.D. detective Samantha Vega now makes her living as a bouncer at an exotic dance club entitled Burning Desire. But life on the outside isn't easy, especially when enemies in the department have scores to settle with her.
Vega finds herself out of her house arrest zone with the threat of being arrested as she is helping her friend Sid out with his sister Nancy.  Nancy's history with Vega seems to be fraught with violence and drugs.  And to complicate matters, Nancy has a daughter she is trying to keep.  Vega, accepting that interventions are not her thing, sets out to help Nancy.  However, Vega has a nightmare that foreshadows that things will eventually go awry if she gets involved.  It's the second installment of "The Ride:  Burning Desire".
In "Ash", we find two oppressed girls by their Mom who appears to be .  The Mom is so distraught that her teenage daughter Ash is going to a school dance that she does the unthinkable.
Positives
The premise in The Ride is pretty simple in that it is a "vehicle/comic" for the comic industry's leading talent to spread their artistic and writing wings.  The car seems to be the harbinger of death or a Stephen King "Christine" type of fixer for a protagonist.  Vega's ride seems to be bent on eliminating problems/people from her life and this issue definitely sets the bait to find out what happens in the future. 
The Ride provides Vega's story as the anchor story to the comic.  However, "Ash" appears to be a one-shot that is a gruesome glimpse of a mother's control over her teenage daughter.  Whether it is a mental illness or simply a mother gone overboard, it's a horrific outcome for all involved. 
Negatives
This issue is dark.  Three murders and a suicide in one issue.  If this is your cup of boiling hot pulp fiction, then so be it!  It's a tough read with not much rich dialogue.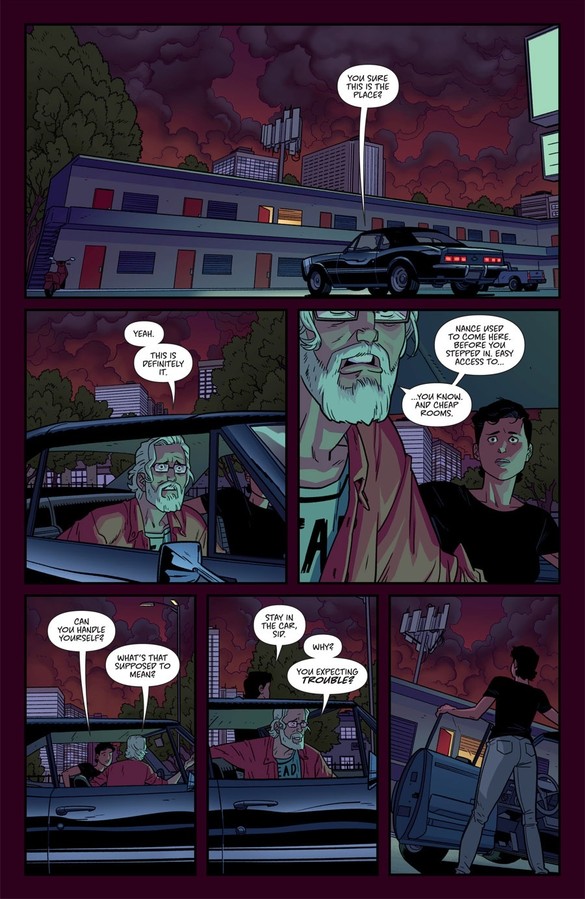 Verdict
It depends on your taste.  It lives up to its billing as it is definitely a way for artists to spread their wings a bit.  And it appears to be a playground for new writers, old writers, and a place where the pen and story are free.   Again, it's not Superman, but it's also not Knight Rider!  It's The Ride and it's your choice as to whether you want to get in or not!  As for me, I'm letting this car go by!