Review: BLACK CANARY: IGNITE

[Editor's Note: This review may contain spoilers]
Writer: Meg Cabot
Artist: Cara McGee
Colorist: Caitlin Quirk
Letterer: Clayton Cowles
Reviewer: Tony Farina
Summary
Black Canary: Ignite welcomes readers into the DC Zoom universe of DC Super Hero Girls. However, instead of spending time at Super Hero High, we are in Gotham City Middle School, where a young Dinah Lance is trying to find her voice, both literally and figuratively. All she wants to do is play in her band and join the Junior Police Force. Her father, Detective Larry Lance, will not let her join with the Joker on the loose.  Her mother, whom she thought was on her side, is not.  For some reason things keep breaking whenever she gets mad and the principal really, really hates her. Oh to be 13 in Gotham City.
Positives
Meg Cabot, who is no stranger to writing about girls who suddenly discover they are not who they thought they were was the only choice for Black Canary: Ignite.  The story is so natural that readers who are unfamiliar with the character will ease into it and those who do will have no reason to shout "Not My Black Canary" from the sidelines. This is so fun and funny. She captures the angst of being 13 perfectly. The super powers become just another "chore" that Dinah has to deal with every day and she doesn't even think they are very "cool."
Cara McGee and Caitlin Quirk have created a joyfully colored, beautifully drawn, book for young people. There is one image, maybe one third of the way in, where Dinah is so mad that there is literally fire in her eyes. It is a blink and you miss it moment, so don't blink. Pay attention to the wonderful work these two women are doing. It is quick read as it is, so take your time. Bask in the delightful work.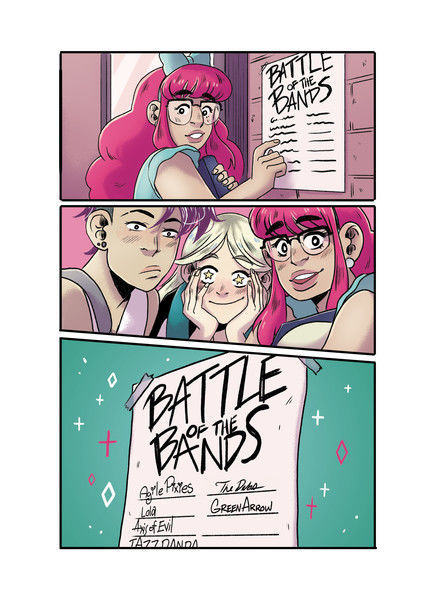 Negatives
This is really just a nit I need to pick. Overall, this is pretty perfect, but, for some reason when I first saw Larry Lance, I thought he was Jim Gordon. Seriously, it is too uncanny. We see Gordon later, and he is young and has red hair so I get what McGee was doing here, showing us age, but couldn't he have a full beard or different hair or not look just like Jim Gordon?
Verdict
DC Zoom has created a wonderfully delightful universe that is for CHILDREN. Yep. Comic books for kids. When I was a kid, there were no superhero comics for me. I was thrown right into the world of a dark and dirty Gotham City. I was 14 when I furious called into a 1-900 number to literally save Jason Todd's life. Spoiler alert, I was out some money to my parents and he didn't make it. The idea that kids can just be handed a book like Black Canary: Ignite or like any other Zoom title and feel safe in knowing that the action will be intense, but there will be no blood splatters or nightmare inducing villains. In a world where kids are not allowed to be kids, DC Zoom is a breath of fresh air. This book is near perfect. Give it as a gift to your budding superhero fan and get her or him started the right way. There is plenty of time for them to read Bird of Prey, for now, let this be their Black Canary.