[Editor's Note: This review may contain spoilers]
Writer: Sam Humphries
Artist: Joe Quinones
Colors: Jordan Gibson and Tom Fowler
Letters: Dave Sharpe  
Reviewed by: Carl Bryan
Summary
"Once I find all the cardinal H-Dials, I'll finally be able to use the Multiverse Dial"  Robby Reed
Dial H for Hero #8 adds more options to your cellular plan in this issue!  Sockamagee!  Robby Reed takes us down a memory lane trip and it looks like a phone store.  Four H Dials… or is it a Y-Dial, M-Dial, C-Dial or a K-Dial?  And what's this…Miguel is awoken by a new vision and another H-Dial… Apokolips here we come!
Positives
Writer Sam Humphries jumps back on the main story line, but Miguel takes a bit of a back seat in that Robby Reed is the main focus.  
Joe Quinones puts together art that is exemplary, but Humphries' story is taking a beating.  Things have gotten to be a bit more complicated as listed in the Negative section.  It's scattered between providing a background story and subsequently breaking down the wall between writer and the reader.  In some frames you are a participant, and in some you are the reader.
I am a Stephen King fan and if you look at his Dark Tower series, you can see how everything is connected.  I'm thinking Humphries wants us to go back to some of his prior incarnations of Dial H to connect some dots.  This issue gives us the Pit and the Pinnacle and a reference to the Speed Force.  
Whew…. I'm lost!
Negatives
I'm confused.  Are there four H-Dials?  Are their four phones with their own letters…Y, C, M and K?  What color is the K-Dial as the Y-Dial is Yellow and it may be a clue to the duality of Robby Reed.  And what about this new H-Dial that is black and located in Apokolips?
Roadmap anyone?  Humphries apparently was given an extension on this comic and subsequently the filler he provides is all over the place.  A reader cannot follow how many phones we have in this issue, and that becomes a problem.
Robby Reed is now the Operator?  But Humphries poses a question of "Who is the Operator?" on one of the final pages?  What?
This is Wonder Comics and I am now "wondering" what is going on.  Again, there is the duality of Robby Reed.  Is he a split personality from all of his transformations?  Is he the origin of the Multiverses?  Is this all a bad dream?  
Here's hoping Miguel can straighten all of this out.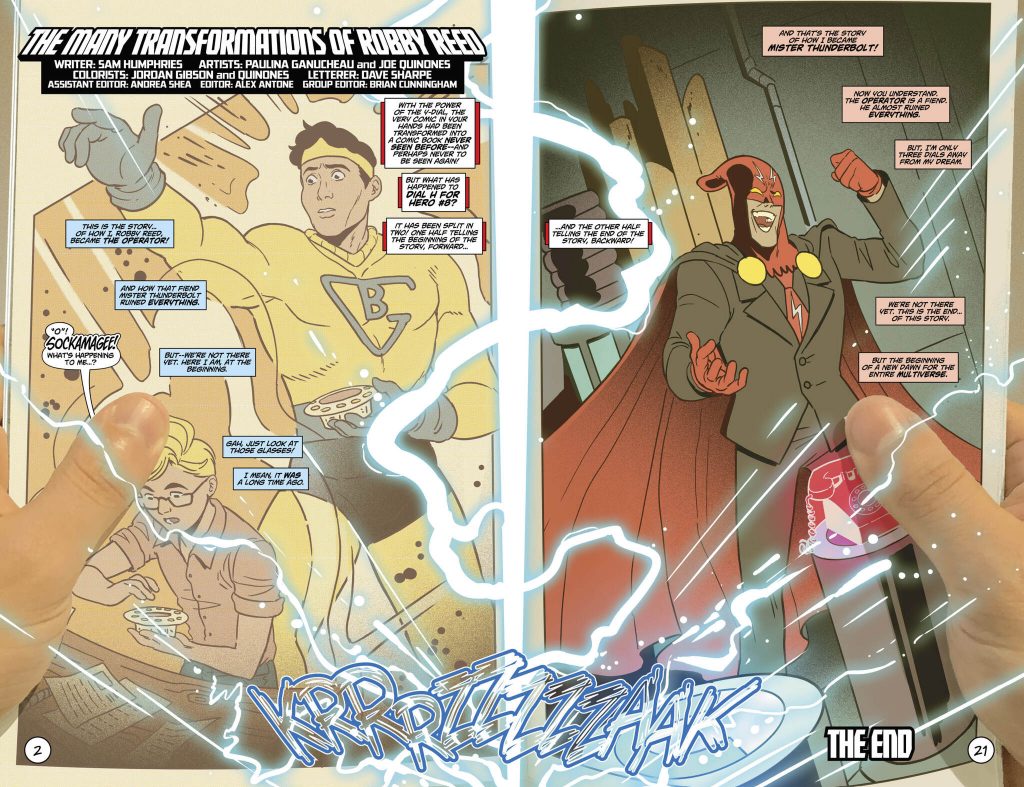 Verdict
I'm in too deep.  Once I start a story line, I cannot give it up.  And the past two issues have me scratching my head.  Somewhere Humphries put this on a shelf, and forgot where the story was going.  Shame on me if I am missing the clues, but there are more phones out here than a cellular store has to sell.