Review: Harley Quinn and Poison Ivy #4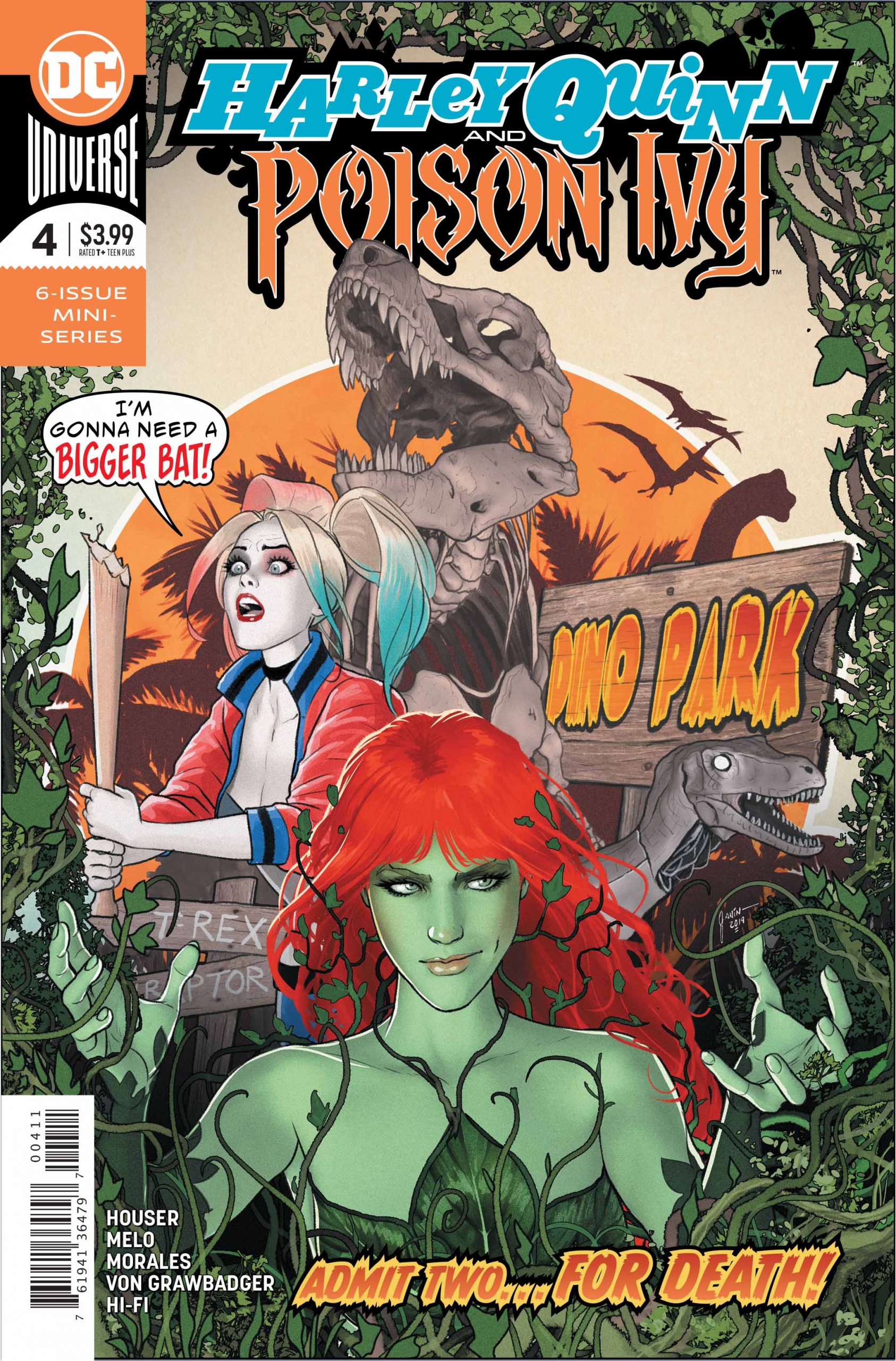 [Editor's Note: This review may contain spoilers]
Writer: Jody Houser
Pencils: Adriana Melo
Inks: Mark Morales and Wade Von Grawbadger
Colors: Hi-Fi
Letters: Gabriella Downie
Reviewer: Tony Farina
Summary
Harley Quinn and Poison Ivy #4 begin with our modern day Thelma and Louise on the run from the The Floronic Man through the desert. Harley spies a rest area that is dinosaur themed and convinces Pam to stop. Of course, nothing is what it seems as there is an evil overlord called Dracorex has taken over the rest stop, killed a man and taken hostages. The newly minted "heroes" Ivy and Harley are forced into action to save the day.
Anytime Pam uses her powers, that means Floronic Man is not far behind. He shows up. Harley lights him on fire, like she does. Ivy makes a startling discovery and asks Harley to do something awful (well, it is relative isn't it?).
Positives
I have yet to try singing the praises of Adriana Melo. Regardless of  what she does, it is good. There is an absurd villain (even more absurd than Floronic Man) in this issue and Melo goes all out. Melo has an opportunity to ham it up and not take the character seriously, but that is not what she does. She doubles down and makes her as scary and evil as possible. She even leaves a dead body at the bottom of one panel. It comes up later in the story, but we see that first and in that moment, through Melo's masterful skills, we see that things are really quite bad and this absurdist madwoman is dangerous. What a perfect touch.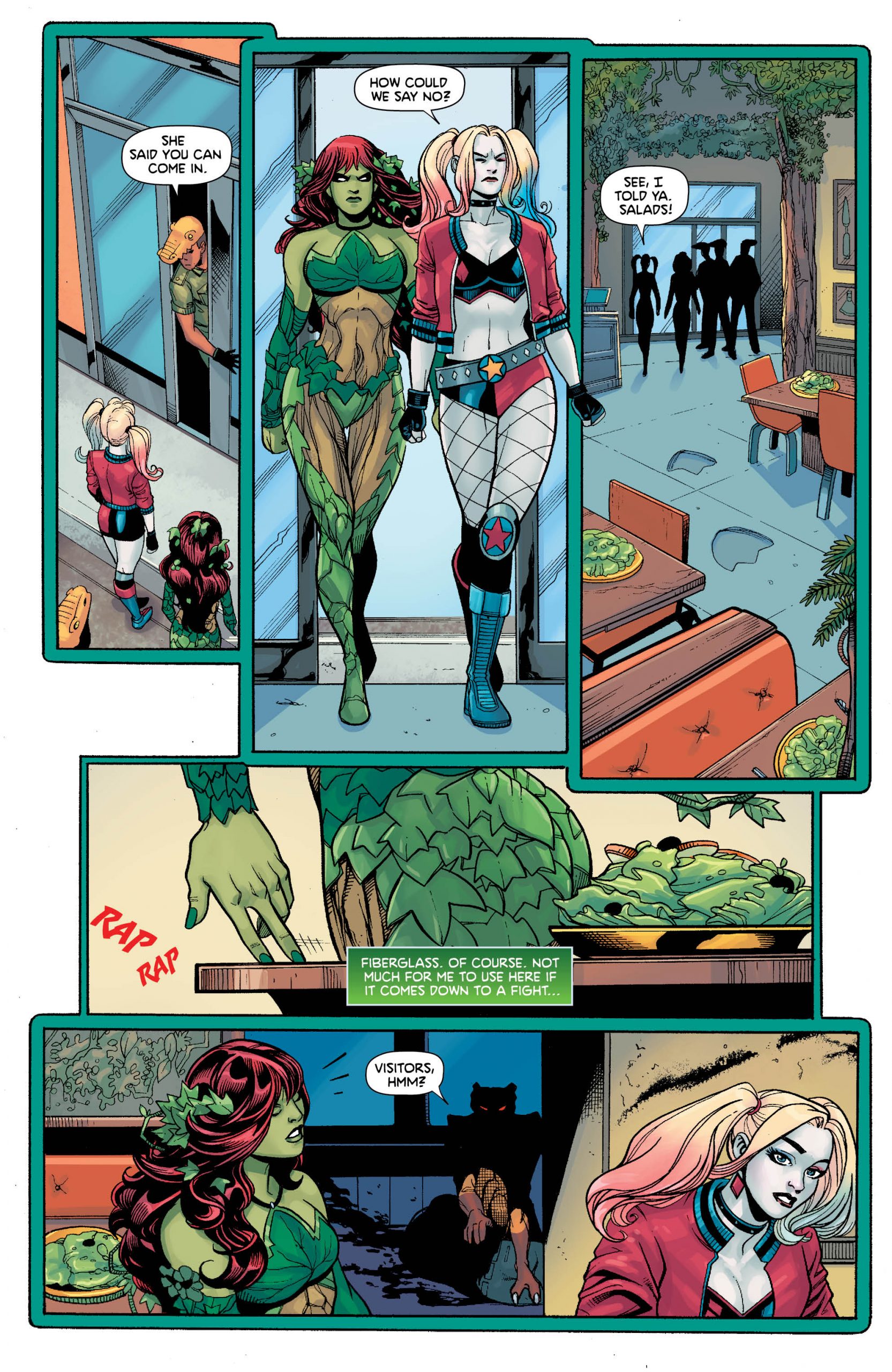 Jody Houser really does have a knack for capturing Harley's voice. There is a joke about the Eagles in this, the band and the bird, that is pretty funny. We are constantly reminded that Harley is brilliant and mad. There is often an easy way to write Harley which is just as a lunatic, but she has a PhD. She knows things even if her sense of reality is not always there. Houser always manages to capture the essence of Dr. Quinzel who is trapped inside the form of Harley Quinn.
Negatives
While I know that limited series need to have filler issues, last issue was that for this series. So, having another one was a problem. Also, Dracorex is just absurd. Yes, this is a comic book. Yes, Harley Quinn is somehow a gymnast and a Psychiatrist. Yes, Ivy is a plant based life form now. Yes. I get it. Still, for all the excellent jokes and all the brilliant artwork, this issue just falls flat. Satire is funny, farce is not. This walks right up to the edge of farce and lingers a bit too long.
Verdict
I love this creative team. I think Jody Houser is smart and Adriana Melo is a top 10 working artist. I enjoy the love and passion between Harley and Ivy. This is a good book and the characters are really wonderful. However, this issue just comes up short. I would not dissuade anyone from finishing up the series, but just know that this will be a quick read that will be easily forgotten.