Review: Batman/Superman #7
[Editor's Note: This review may contain spoilers]
Writer: Joshua Williamson
Artist: Nick Derington
Letters: John Hill
Colors: Dave McCaig  
Reviewed by: Carl Bryan
Summary
" This is not your fight Son of Jo-rel.  If you wish to honor the truce between us, you will join me against the Bat and the Demon." – Zod
Batman/Superman #7 – In the aftermath of "The Infected," the World's Finest create new measures to prevent hidden and dangerous super-villain plots in the future. Using new technology to track villains throughout the DC Universe, the Dark Knight and the Man of Steel are startled to discover that General Zod has returned to Earth and that his new target is…Ra's al Ghul!
What is Zod's plan, and what does it have to do with the destroyed bottle city of Kandor? Find out in the first chapter of a two-part epic featuring the work of artist Nick Derington!
Positives
Joshua Williamson provides a timeout for the World's Finest as Williamson breaks from  The Batman Who Laughs virus storyline.  This issue would be digested better if readers purchased Year of the Villain:  Hell Arisen #3.  
Editor Paul Kaminski alludes to that in that these next two issues precede the events of Year of the Villain.  So I will buy in to see how Zod and Ra's Al Ghul fit in.
First, it is wonderful that the Demon Al Ghul is back in action and not in Neal Adam's grasp as he has been lately.  Love Adam's art, but that script writing….whew!
This is a wonderful plot line.  Zod wants to build Krypton.  Ra's Al Ghul has Lazarus Pits.  What could go wrong?  Didn't anyone read Pet Cemetary?
Positives 2.0
Williamson's writing is strong and his work needs to be accompanied by James Tynion IV's recent work on Year of the Villain:  Hell Arisen #3.  These works need to be read in concert as both issues are pertinent in this storyline.  I do appreciate that Superman and Batman work in concert, and both are torn through their personal allegiances or disdain to their particular foes.
I am amazed how Batman can be in the same room with Ra's Al Ghul.  However, in-laws are in-laws.  And his exchange with Al Ghul…"You don't want to get in between two Kryptonians!"  Good comic gold!
As much as the writing is great, the art is superlative.  Nick Derington provides clean lines and attention to detail.  There's an old school charm to how he draws both Superman and Batman.  And I appreciate his scruffiness he provides with both Zod and Ra's Al Ghul.  Looks like the Demon needs to take a dip into this own Pit!

Negatives
It's hard not to ping-pong back and forth between this issue and YOTV:  Hell Arisen.  This comic stands alone, but Hell Arisen has plot implications here as well.  
So those of you invested into this World's Finest comic need to make the investment in the Year of the Villain series as well.  And that might be viewed as a negative on the wallet!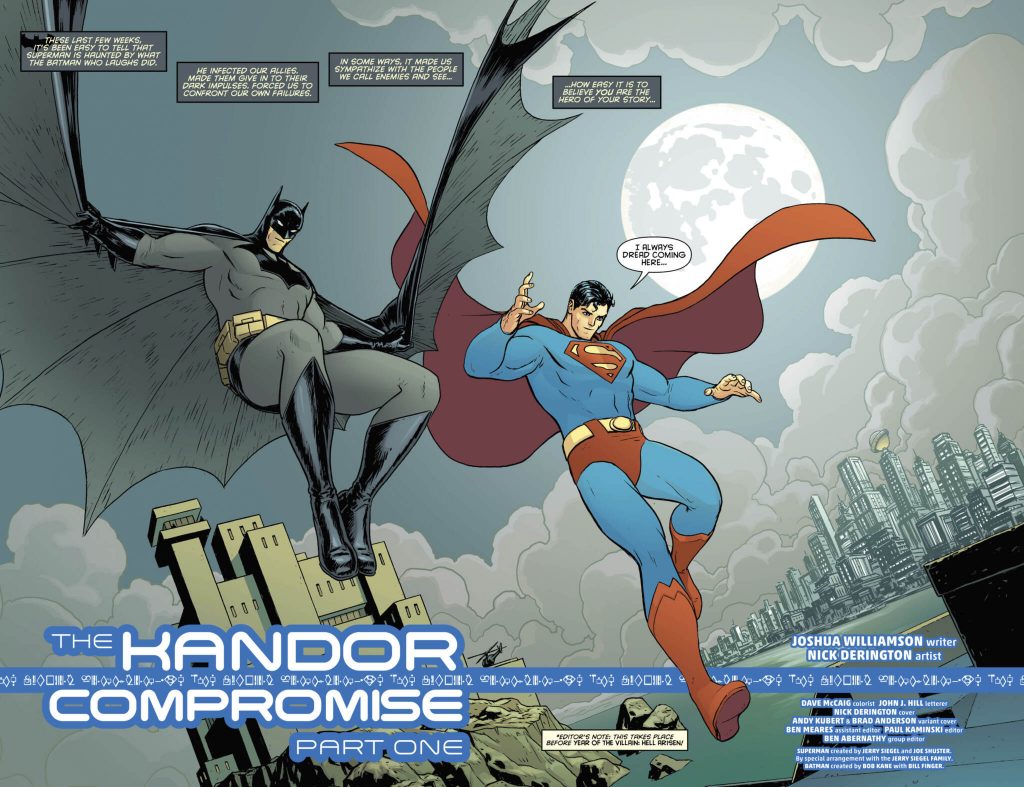 Verdict
Batman/Superman #7 – Just seeing two iconic villains come face to face with Superman and Batman really in the wings on this one, it just seems right.  I don't like that we have to wait to see what implications this may have for The Batman Who Laughs.  With a story line this important, it seems odd to take a bit of a time out.  But time will tell how important this story contributes to the demise or rise of The Batman Who Laughs!