DVD Review: Harley Quinn: The Complete First Season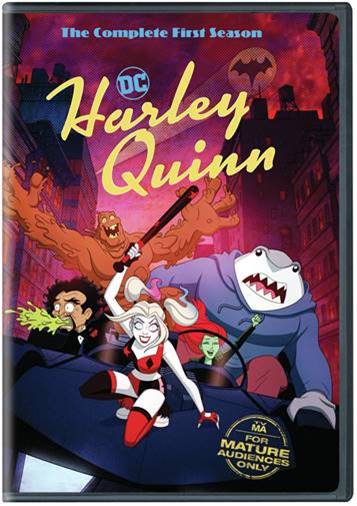 [Editor's Note: This review may contain spoilers]
Directed by: Various
Written by: Various
Starring: Kaley Cuoco, Lake Bell, Tony Hale, Alan Tudyk, Jason Alexander, JB Smoove, Ron Funches
Reviewed by: Eric Joseph
Summary
The Clown Princess of Crime finally brings her cult favorite headlining act to home video, thereby allowing the public at large to experience this mature-rated DC Universe original animated series for themselves. Although it's inherently not for younger viewers, Harley Quinn should no doubt prove to be a hit with those who don't mind irreverent comic book-based adventures chock full of F-bombs.
Basically, we join our gal around the time she and Joker go their separate ways. Not being one to go quietly into the night, Harley sets her sights on Legion of Doom membership in an attempt to one-up her ex-boyfriend with two middle fingers raised high. There's a lot of other stuff going on, obviously, but it's best you experience the specifics for yourself.
Positives
In truth, I actually may have enjoyed this inaugural season even more on my second time around. Having already seen all thirteen episodes prior to home video release, I knew what to expect in full. But going in already initiated increased my ability to enjoy this show's take on the DC Universe.
To be more specific in that regard, you can't look at this series as a comedy alone – you have to accept that many characters are amped-up caricatures of their usual selves. Imagine if LEGO Batman movies were R-rated and you would have a decent parallel.
Despite my original desire to see Jimmy Palmiotti and Amanda Conner's comic book run adapted – and the supporting cast that came with – I grew to enjoy the folks offered up here. Sure, Big Tony, Red Tool and the gang may be missing, but you'll likewise fall in love with fresh interpretations of Poison Ivy, King Shark, Dr. Psycho and Clayface. Sy Borgman is really the only one who carried over from the Palmiotti-Conner material.
As you could imagine, voice acting is Grade-A from the top down. Kaley Cuoco handily leads the charge with her exuberant take on Harley, but I can't help continuing complimenting Alan Tudyk's work. Even though he brings it as the Joker, it's his Clayface that gets me every time. Really, that over-the-top thespian is highly quotable, and I've come to love him just as much as the headliner.
The overall story arc likewise fits the intended tone. In other words, don't expect world-ending stakes like you would with Justice League Unlimited, nor should you anticipate any noir-ish mysteries as you would from a Batman show. Instead, the crew takes us on some wacky capers, as its matriarch embarks on an unavoidable collision course with the Ace of Knaves himself.
Negatives
If there's any "negative" to call out, it's that this DVD set has no real bonus features of which to speak (and yes, it's available only on DVD for the time being). Granted, there are trailers to be accessed from the menu on Disc One, but those don't count as bonus content. I really wish a featurette or two showing the cast and crew providing insight into the production were on hand but no dice.
As for the content itself, I'm still getting used to how Jim Gordon and Robin/Damian Wayne are portrayed. I know, I did say to expect parody-level depictions earlier, but those happen to be the two in particular that veered a little too far off, at least in my view. Regardless, they're hardly deal-breakers.
Verdict
If you fancy yourself a fan of Harley Quinn in any capacity and you're at least old enough to remember what a Playstation 2 is, then you owe it to yourself to pick up a copy of The Complete First Season. This show is a hell of a lot of fun and raw enough for my standards. Let's just hope that some featurettes are included when the second season inevitably hits shelves.