Review: Wonder Woman: Agent of Peace #15
[Editor's Note: This review may contain spoilers]
Writer: Danny Lore
Artist: Maria Laura Sanapo
Colors: Wendy Broome
Letters: Becca Carey
Reviewed by: Seth Singleton
Summary
In Wonder Woman: Agent of Peace #15, Diana travels to Las Vegas to enlist the help of Zatanna against Devastation. What starts as a miscommunication turns into a conversation about listening to what each person is asking. But will the confusion clear in time to save The City of Second Chances?
Positives
The appearance of Wonder Woman in Las Vegas. But it is not enough to turn many heads. But it is enough to steal the show and Zatanna does not mind sharing the stage and making Diana her featured finale. And we get the chance to experience Zatanna in 100% entertainer mode.
The miscommunication is over something that Wonder Woman needs Zatanna's help with facing. The problem is a villain named devastation. But when Zee here's the word devastation, she thinks Wonder Woman needs the same thing that she does, relaxation i.e. a spa day
This leads to a really wonderful exchange between Diana and Zatanna. The wonderful twist comes after the villain has been addressed and Diana and Zatanna have a chance to talk about something else related to one of their needs.
The colors are gorgeous in this issue. The shadows and shading peel back to illuminate the brightest moments. Whether it's a gorgeous robe that reminds me of all the best qualities and fashion of the Wonder Woman television show or the rainbow-colored rabbit sitting on the vanity in Zatanna's dressing room.
From cars into cards to timeout hidden zones, and giant roulette wheels Zatanna's magic is a joy to witness. It mirrors the best moments of nostalgia from the earliest days of comics. And as the issue points out, it's not a distraction when used with the right intention.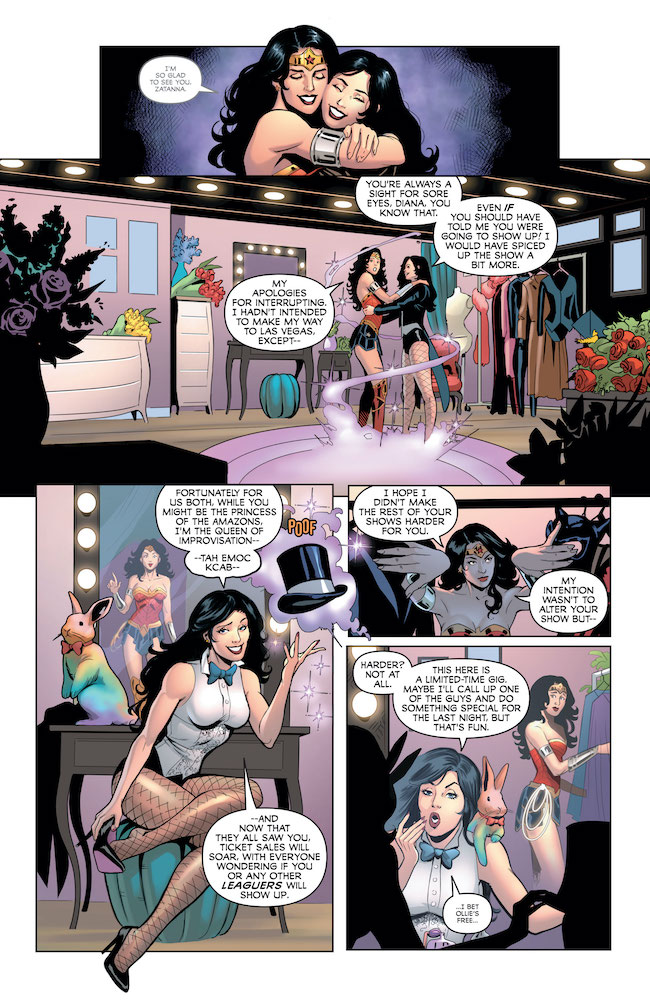 Negatives
It does feel like one moment was missed. It would have been fun for the reader to see Zatanna acknowledging some of the TDM's that come with being a Las Vegas stage performer. This could have been annoying knocks on the door, distracting emails text, or other media interruptions, or maybe even a slight change in her tone of annoyance.
Verdict
This 15th issue of Wonder Woman Dash agent of peace holds true to the name of the theme in this title. Diana could have defeated Devastation on her own. But she knew that in a crowded place like Las Vegas there would be an expected percentage of collateral damage.
The choice to ask for help from Zatanna is an example of Diana's experience with both her enemies and her teammates. It reconnects two great heroes that fans have enjoyed in the pages of Justice League and Justice League Dark. Together in the story, they are friends, sisters, and partners in self-care