Review: Harley Quinn: Black + White + Red #7
[Editor's Note: This review may contain spoilers]
Writer: Erica Henderson
Artist: Erica Henderson
Letters: Gabriela Downie
Reviewed by: Seth Singleton
Summary
The seventh chapter of Harley Quinn: Black + White + Red has arrived! Eisner Award-winning Erica Henderson shows how Poison Ivy meticulously plans their next heist while Harley Quinn drops bombs on the Joker's memory.
Positives
Ivy is pure joy in this issue. Erica Henderson starts this story with Ivy staring at a corkboard with diagrams for a bank robbery. Ivy's hair is the first introduction of the color red in this black and white story. Harley's sweater is also red and there is a red pot that is burning with flames from the fire that Harley started. But more on that later.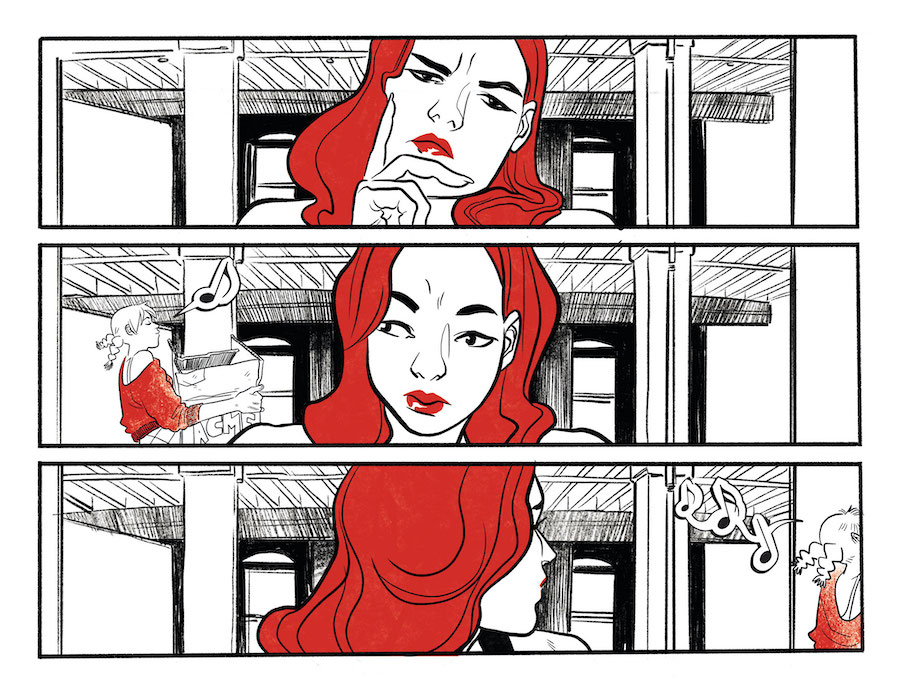 The main story is one that is very familiar to Harley fans and foes. Harley is done with Joker. She wants to do what she wants and that includes burning mementos that Harley once mistook for gifts of affection. Quinn also wants to fight crime, and not worry about rent. This all flies in the face of Ivy's plan to rob a bank because they are broke and need money to pay rent and eat. The red waves of emotion emanating from her are matched only by the explosion caused when Quinn tosses fake teeth, playing cards, a squirting flower, a crowbar, and fireworks into her burn bucket.
Harley gets what she wanted. Sure, that meant a red super plant attacking bystanders, and burning down the apartment, and some mild swordplay, followed by the appearance of Batman, but Quinn is goal-oriented. She keeps on the sunny side and this just makes Ivy livid. But it tickles the reader with the knowledge that Harley knows what she wants and always seems to get some version of that want.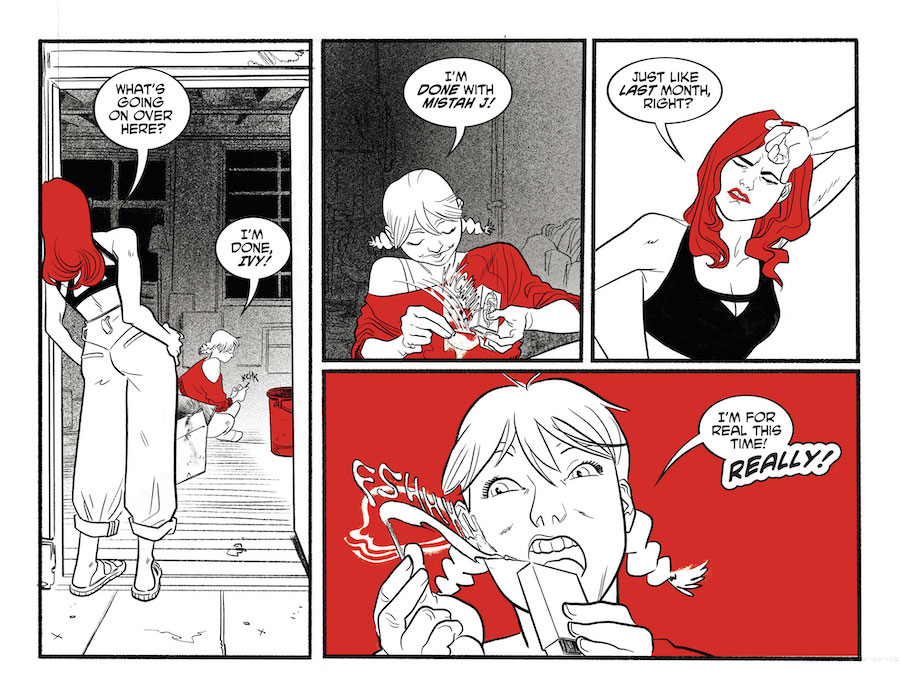 The pencil lines are a perfect blend of simplicity with thin accents around the details that matter. This includes facial expressions, muscle definition, and crooked smiles, and its something that feels like a cartoon strip from the 70s. It makes the expressive reactions from Ivy and the constantly shifting emotions that Harley experiences feel larger than life and outsized. The result is layers of beautiful minimalism that explode at just the right moments.
Negatives
The challenge here is that this is familiar territory. Ivy is always annoyed by Harley and Quinn is both innocent and destructive and childlike. In many ways, this is a reminder of every relationship that seems destined to be a conflict of opposing forces but survives in spite of those forces. Sometimes it lasts. More often, it frustrates the outsiders who are simply waiting for the final straw. Readers will have to decide for themselves if this is a story that does more than those that preceded it or a retelling that only changes the colors and not the content.
Verdict
Harley Quinn: Black + White + Red #7  is a great display of color and artistry. Quinn is precocious and a troublemaker who doesn't know her own strength. Ivy is quick to recognize a problem in the making and like us, she is too drawn in to do more than watch. The ensuing explosion is a catalyst.
In this case, there is one story before the explosion and a second story that follows the explosion. Both stories reveal the two states of Harley that are the most consistent. Harley is either creating trouble or cleaning up after it. In both instances, she is impulsive and stubborn. The result is a lesson in seeing what you want and sticking to your guns.