Review: Undiscovered Country #11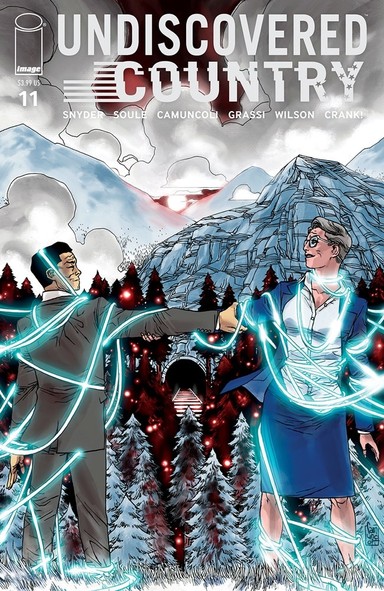 [Editor's Note: This review may contain spoilers] Writers: Scott Snyder and Charles Soule
Artists: Giuseppe Camuncoli, Leonardo Marcello Grassi
Letters: Crank!
Colors:  Matt Wilson  
Reviewed by: Carl Bryan
Summary
"America was a technological pinnacle and this place, Unity City, is its pinnacle " – Dr. Jan
New York Times bestselling writers Scott Snyder and Charles Soule team up with artists Giuseppe Camuncoli, Daniele Orlandini  and Matt Wilson to embark on an epic adventure in the brand-new ongoing series, UNDISCOVERED COUNTRY!
"UNITY" Part Five – Our team integrates further into the mysterious network of the second Zone of America. As they learn more about how this society came to be, will they themselves be changed as a result?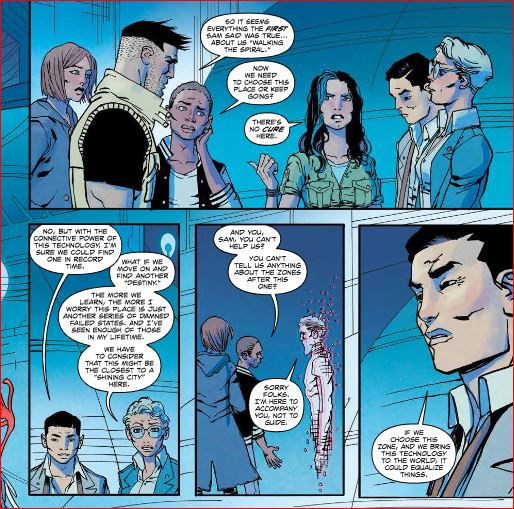 Positives
Scott Snyder and Charles Soule are giving pause in this issue about the philosophical issue of collective consciousness.  There is an image on the internet where a person's face is melting into a cell phone screen.  Snyder and Soule must have seen this image as this entire issue is about a collective consciousness fueled by the greater good  (Philosopher Immanuel Kant would be so proud with his greater good ideas).
Unity is under attack by the Destiny Man as we learn more about this technologically advanced part of the new America. This issue is interesting as it presents the action in the present while tying it into the revelations about the past. Echoing issue #10, Dr. Jan is still after the idea of  "forming a more perfect union" . 
She hauntingly extends technological tendrils at  the team encompassing them into some type of digital sleep where they experience the history of how Unity is powered.  Echoing themes from communist China, Unity takes the second born to any family and uses that infant brain to fuel its cause.  Snyder and Soule go deep in this one….Christopher Nolan deep. 
In fact, when Dr. Jan provides a choice to the team about staying in Unity or going further into the other lands, she doesn't accept their choice and forces them to stay in some sort of Inception like state.  On her terms, it is necessary for  them to stay in Unity.  
Snyder and Soule provide quite the cliffhanger for our team. 
Positives (even more accolades)
The art by Giuseppe Camuncoli and Marcello Grassi is fantastic. There's some imagery that'll give you pause with designs that feel both familiar and unlike anything I've seen. With Matt Wilson's mostly white palette and Crank!'s lettering, there's something unsettling about it all.  The "antisepticness" and "coldness" of this tech world is as vivid as the prior issues that featured a "Mad Max" feel.
Kudos to the keys to other worlds.  Snyder and Soule really give us a historical look at the United States.  From the prior issue #4's Golden Railroad Spike to the current key out of Unity…a First Generation iPod.  What a stroke of genius in taking something small yet so instrumental in tech savvy to be indicative of  a "Unity" land. 
Negatives (not really…just more accolades) 
What started out as what one would call a solid movie script has turned into quite the literary run for both Snyder and Soule.  I don't know what is better – the actual comic or the back story, letters, and interviews provided at the end of the story.  They are writing a warped history lesson. Again, it's scary the type of horror lens that Snyder and Soule have put on common themes from our past.  "Can't we all just get along?"….if we do, does that mean we have to have common thoughts?  A collective conscious? Once this run of the entire series finishes, I would use this entire comic in a philosophy class.  It's just that good!
The letter that the authors and creators provide at the end to we as readers is as poignant.  Their acknowledgement of how current events resonate in the United States now with some of the events in their book gives readers a "behind the curtain" view of what these creators pour into their art and writing!
Verdict
What?  It's not already on your shelf?  Buy this book!  This is still in its infancy and every issue should be gobbled up! It's ground floor original stuff! I'm both excited and somewhat scared of what is next in terms of time flow within these borders of the US.   This is a really well written and illustrated comic. Finally, look for the commentary within these pages and heed the warnings.  It's pretty entertaining on the first go through, but pretty sobering on the second.