Review: Undiscovered Country #12 
[Editor's Note: This review may contain spoilers]
Writers: Scott Snyder and Charles Soule
Artists: Giuseppe Camuncoli, Leonardo Marcello Grassi
Letters: Crank!
Colors:  Matt Wilson  
Reviewed by: Carl Bryan
Summary
""It has to be a song right?  Has to be something that makes sense for this zone…have to pick the right one " – Ace
New York Times bestselling writers Scott Snyder and Charles Soule team up with artists Giuseppe Camuncoli, Daniele Orlandini  and Matt Wilson to embark on an epic adventure in the brand-new ongoing series, UNDISCOVERED COUNTRY! "UNITY"
Undiscovered Country #12 – Conclusion – Destiny manifests in Unity City as a sacrifice is made, and our intrepid heroes face some hard truths about their mission.
Positives
Scott Snyder and Charles Soule ends the teams' stay in Unity with a question.  Perhaps it is not really best for America to be unified in EVERYTHING?  Or is it?
Snyder and Soule have provided a real page turner philosophically as you read through the travels of the team.  What started out as a search for a cure for a world virus and a JJ Abrams admission that time doesn't work the same within the walls of the US now after the great closure has now been turned into somewhat of a video game.
Our team is charged with going through thirteen territories (no word if all of them will be explored as I am sure sales of the comic may drive that factor).  Given the historical Easter Eggs of artifacts that the authors provide as either clues or keys in the travel of this team, this comic is quite intriguing to any history buff.
Positives (even more accolades)
The art by Giuseppe Camuncoli and Marcello Grassi is fantastic. There's some imagery that'll give you pause with designs that feel both familiar and unlike anything I've seen.
With Matt Wilson's mostly white palette and Crank!'s lettering, there's something unsettling about it all.  The hive mindset that this and the past issue imposes is down right scary and a commentary on our country at this time.
We appear to all be divided the media's depictions on the news so there doesn't look to be Unity in our future.  Or maybe there is given the cliff hanger statements that the authors provide.  I think we may see this land again within the pages of UC.
Kudos to the keys to other worlds.  Snyder and Soule really give us a historical look at the United States.  That  current key out of Unity…a First Generation iPod.  They don't know how to use it at first…how funny! 
What a stroke of genius in taking something small yet so instrumental in tech savvy to be indicative of  a "Unity" land.  Perfect use of an old song as well.  Clever tongue in cheek writing in this issue.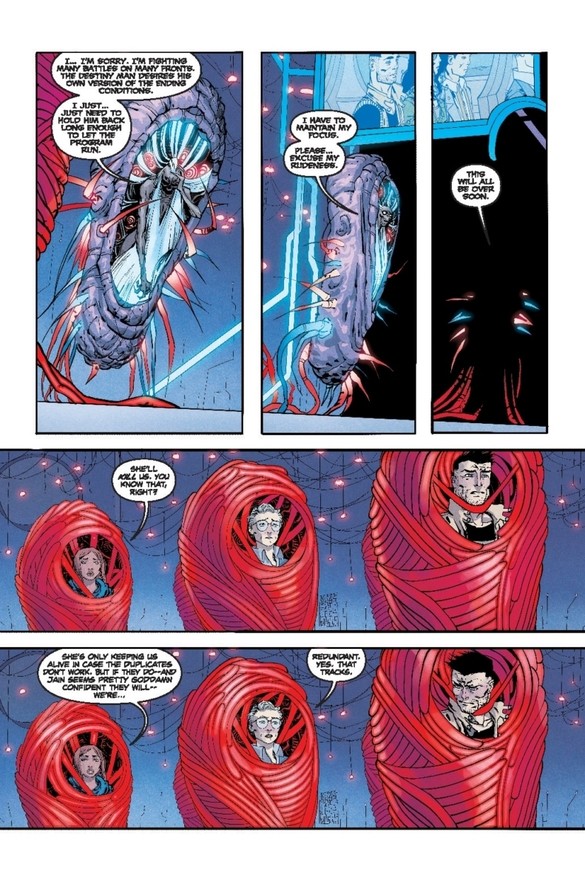 Negatives (not really…just more accolades) 
I enjoy the fill ins at the conclusion of the story as much as the actual story itself.  The time line inserts are very Stephen King-like in their quotes and descriptions.  It's The Stand and Under the Dome all in one!
Verdict
What?  It's not already on your shelf?  Buy this book!  This is still in its infancy and every issue should be gobbled up! It's ground floor original stuff! I'm both excited and somewhat scared of what is next in terms of time flow within these borders of the US.   This is a really well written and illustrated comic.
Finally, look for the commentary within these pages and heed the warnings.  It's pretty entertaining on the first go through, but pretty sobering on the second.