Review: Action Comics #1032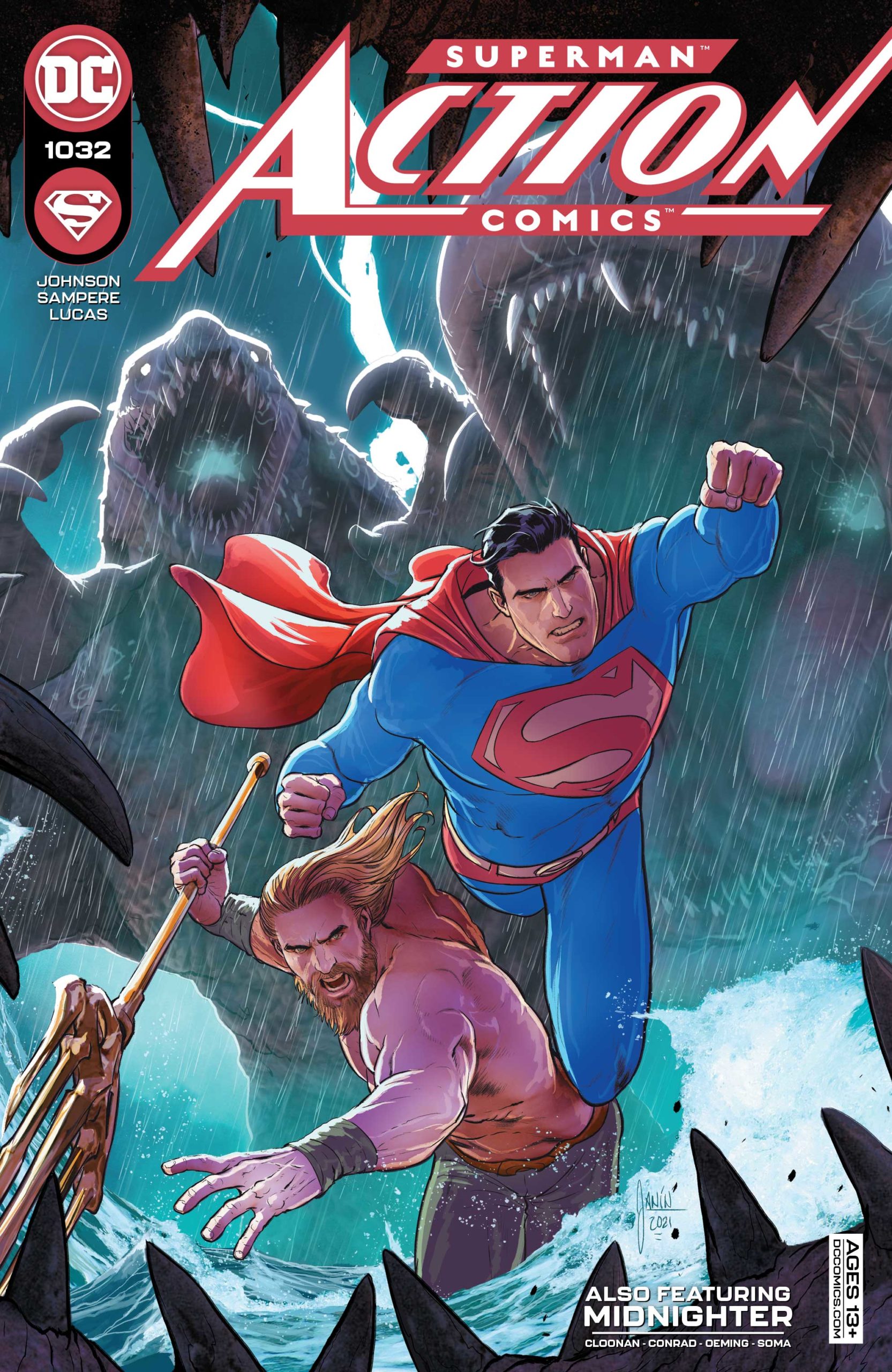 [Editor's Note: This review may contain spoilers]

Writers: Phillip Kennedy Johnson and Becky Cloonan & Michael W. Conrad
Art: Daniel Sampere and Michael Avon Oeming
Colors: Adriano Lucas and Taki Soma
Letters: Dave Sharpe

Reviewed by: Matthew B. Lloyd
Summary
Lois provides a key to understanding the Kryptonian refugees that have been rescued and Midnighter's plot is revealed to be  even more intricate.
Positives
This may be a strange way to start this section, but one of the best things about Action Comics #1032 is the almost complete absence of Jon Kent.  That's not to say I don't like the character, it's just that his role in the series over the past two years has been more problematic and distracting than entertaining.  More importantly, Phillip Kennedy Johnson has a really interesting plot developing and the character moments are golden.  The Midnighter second feature is just as entertaining and Cloonan and Conrad add another level to the plot that raises the threat level for Lucas.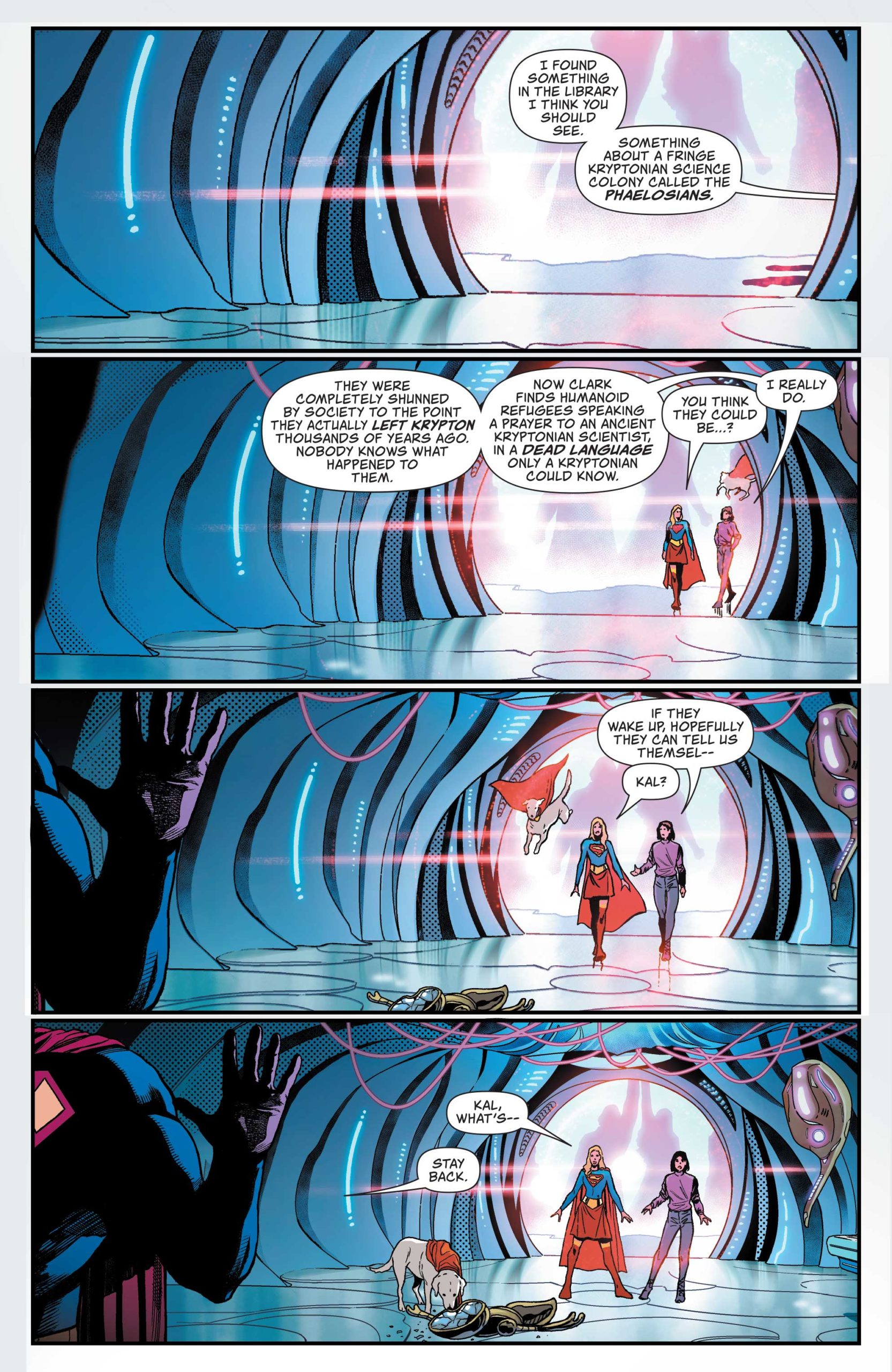 Action Comics #1032 opens with Superman, Lois and Supergirl attempting to get through to the refugee that's awakened at the Fortress of Solitude.  There's a lot of restraint in the sequence as it doesn't devolve into a massive super-powered battle.  It's commendable for that alone.  However, in it we get Lois's researching skills providing a possible answer to part of the mystery and the empathic/emotive side of the Superman family of characters.  No one flips out and responds irresponsibly when the refugee's fear gets the best of her.  When written well, Superman's patience and empathy are one of the character's hallmark's.  Johnson allows this to shine through.
Utilizing this refugee as the entry point into the lives of these Kryptonians is a clever approach.  What the Superman Family learns is just as important as how Johnson chooses to reveal it to the reader.  It's a thoroughly enjoyable manner in which he slowly reveals bits and pieces.  It's a mystery worthy of Batman's detective skills.  
Positives Cont'd
Midnighter gets an added wrinkle to his storyline that raises the stakes for Midnighter and this feature also benefits with an emphasis on character.  Even if it's Trojan's conceit that he's got Lucas figured out, Cloonan and Conrad use this to explore not only Midnighter's mental and emotional state, but it also also Lucas to soliloquize beautifully on his relationship with Apollo.  How many of us actually understand that much about our own relationships romantic or otherwise.  Some really insightful and beautiful writing from Cloonan and Conrad.  Interestingly, with Trojan's critique of Midnighter's plan, one has to wonder if that's foreshadowing that Midnighter has it all wrong.  This level of complexity makes the entire plot even more interesting.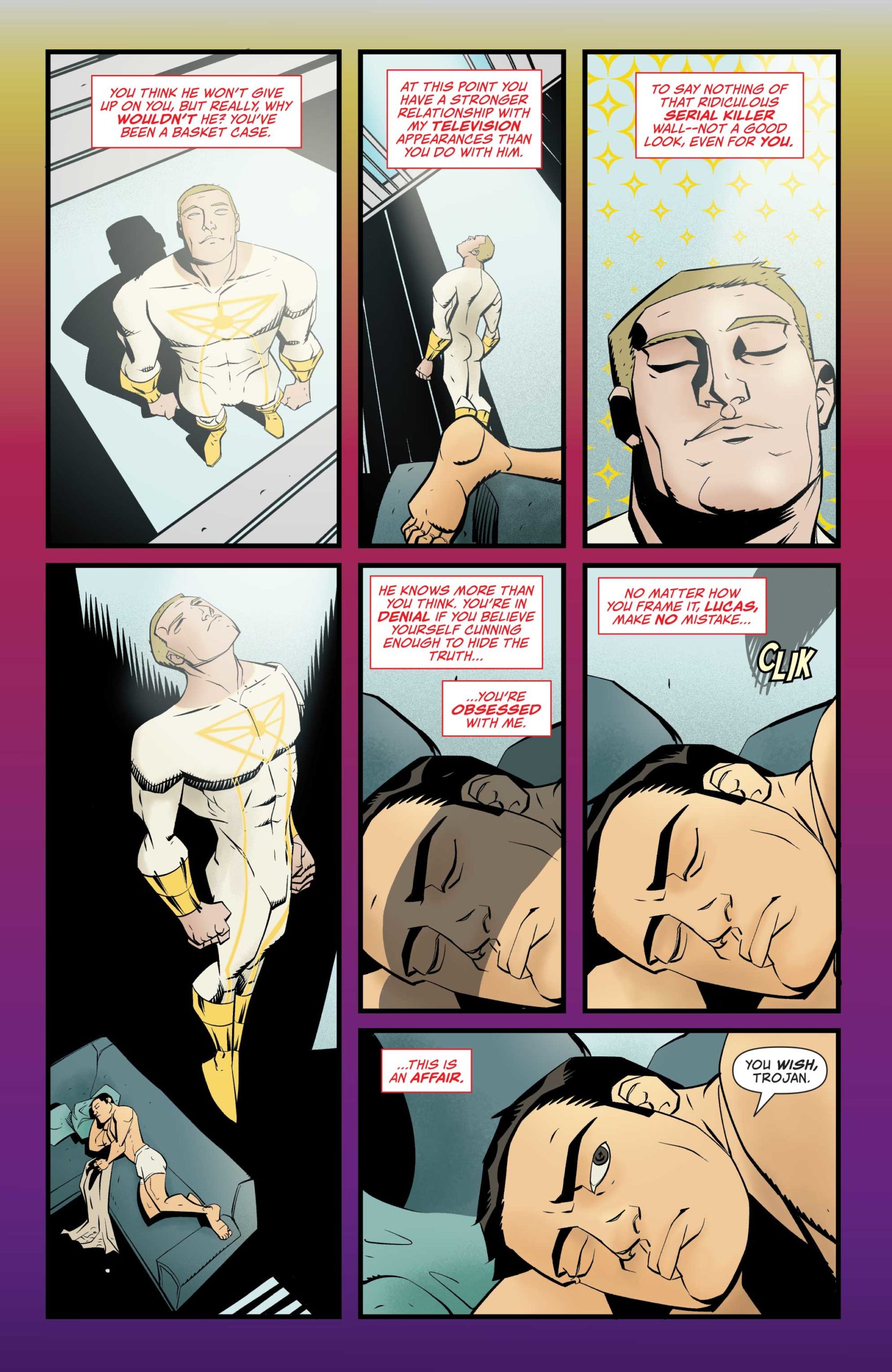 Both writing teams are blessed with some truly inspiring art in two different style, each one remarkable in its own right.  Daniel Sampere and Adriano Lucas channel a little bit of that Alex Ross iconic/heroic style and at the same time communicate the subtlety of emotions in the characters.  Michael Avon Oeming keeps the spirit of Jack Kirby alive with some dynamic layouts and wonderful Kirbyesque landscapes and machinery all the while depicting the emotions beneath the surface in the characters.  Taki Soma selects just the right color pops in Midnighter that provide wonderful accents that suggest the sci fi quality of Oeming's design.
I usually don't comment on covers, but the variant cover is absolutely exquisite, evoking George Reeves as Superman from the 1950's Adventures of Superman television show.  It's one of those rare occasions that are worth an extra purchase.
Negatives
DC has to decide if they are going to tell stories about their characters and set the standard or if they are going to let the movies dictate depictions of their characters.  This is notable in this issue because again we have to suffer an Aquaman that is more film than comic.  Geoff Johns and Ivan Reis took Aquaman back to his classic look and characterization when they reintroduced the character in "The New 52" back in 2011.  While they added a few new twists, the King of the Seven Seas and his partner, Mera hadn't received such quality storylines in years.  Unfortunately, once Arthur made his appearance in the the 2017 film, Justice League his comic book appearances have suffered in an attempt at creating synergy with the film version.  
While Jon's near absence in this issue is notable, it actually makes it a better issue.  Oddly, it's a double edged sword because Jon had been such a great addition to the Superman Family.  This issue inadvertently makes a good case for sidelining him until DC can bring the magic back with the character that is only currently available in Challenge of the SuperSons.
Verdict
Phillip Kennedy Johnson seems to have his writing on firm footing with Action Comics #1032.   As long as Johnson stays on this track, he will provide readers a really great run on the Man of  Steel.  A focus on character create a truly engaging experience for the entire book.  Additionally, fantastic art accompanies both the Superman and Midnighter stories making Action Comics an exciting and clever read.