Review: Batman/Catwoman #5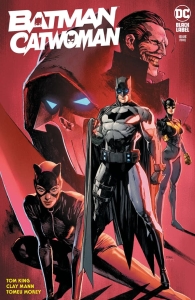 [Editor's Note: This review may contain spoilers]
Writer: Tom King
Artist: Clay Mann
Colours: Tomeu Morey
Letters: Clayton Cowles
Reviewed By: Derek McNeil
Summary
Batman/Catwoman #5: Batman's two loves collide, and the smash-up could be dangerous not just for the Caped Crusader, but for The Joker as well. In order to prove her mission is righteous, Phantasm takes Catwoman out on a hit against one of the men responsible for the disappearance of her son. Unfortunately for Selina Kyle, this isn't the first time she's gone behind Batman's back to try to do the right thing, so she's far too aware of how bad a turn this whole affair could take. Also, in the future, it's Harley Quinn, ready to avenge Mistah J!
Positives
With Selina having killed the Joker, it seemed likely that Harley Quinn would make an appearance before long. And sure enough, Batman/Catwoman #4 begins with Harley coming to seek revenge on Catwoman. My first reaction to this was a bit of dismay, as it appeared that in Tom King's future was going to see Harley's most significant character development undone. It was a monumental step forward for the character to get past her infatuation with the Joker. So, it was disheartening to see her still fixated on him in this future timeline.
However, it's a little more nuanced than that, as we find out the specific source of Harley's anger. This is revealed when she yells at Selina, "You killed Mr. J! You killed the love of my life… before I got to!". Harley has gotten past her love for the Joker, but she hasn't gotten past her hatred for the Clown Prince of Crime.
Selina also gives Harley an insight into why Harley never was able to actually kill the Joker but Selina was. She states, "why you couldn't do it, why you never did it– you're too good to be bad. And I'm,.. I'm to bad to be good". She also states that this makes Harley like Batman – basically a good person, but unable to admit that to themselves. This hints at the idea that Selina is more like the Joker – or at least she sees herself that way. Or is she also denial about her own essential goodness. It seems that at the core, this series is an exploration of whether Catwoman is a heroine or a villain at her core. I am curious to see which answer King is leading us towards.
Positives Cont.
The events in the present timeline seem to point more toward a villain. Phantasm executes a Joker henchmen in front of Selina, and Selina doesn't intervene. Did she just freeze at the crucial moment? Or did she ultimately feel the henchmen deserved to die?
In the past timeline, we see a drunken Selina make a botched attempt at a robbery, leading Batman to come to her rescue. The most interesting bit is seeing Selina's fight with an irate bartender, which clearly shows that her fighting skills are still formidable, even when stumbling drunk.
The issue ends with Helena walking in on the aftermath of the battle between her mother and Harley. Helena already seems to suspect her mother had something to do with Joker's death, but Harley Quinn coming gunning for revenge will dramatically heighten those suspicions. I suspect that this series is leading to a major confrontation between the mother and daughter.
Negatives
King's story is becoming a fascinating exploration of the character of Catwoman. However, the focus on Selina seems to be driving Batman into the background of the story. I had been hoping that this would be more on the lifelong romance between the characters. However, even as a Catwoman story, it's an extremely compelling story, so I really can't complain. But I hope Batman does have a larger presence in the future issues.
Verdict
Batman/Catwoman #5 is another great chapter of this damn fine series. King's telling a masterful tale, and Clay Mann's art is gorgeous. In my opinion, this is the best Batman book DC currently has in their lineup.