Review: Supergirl: Woman of Tomorrow #2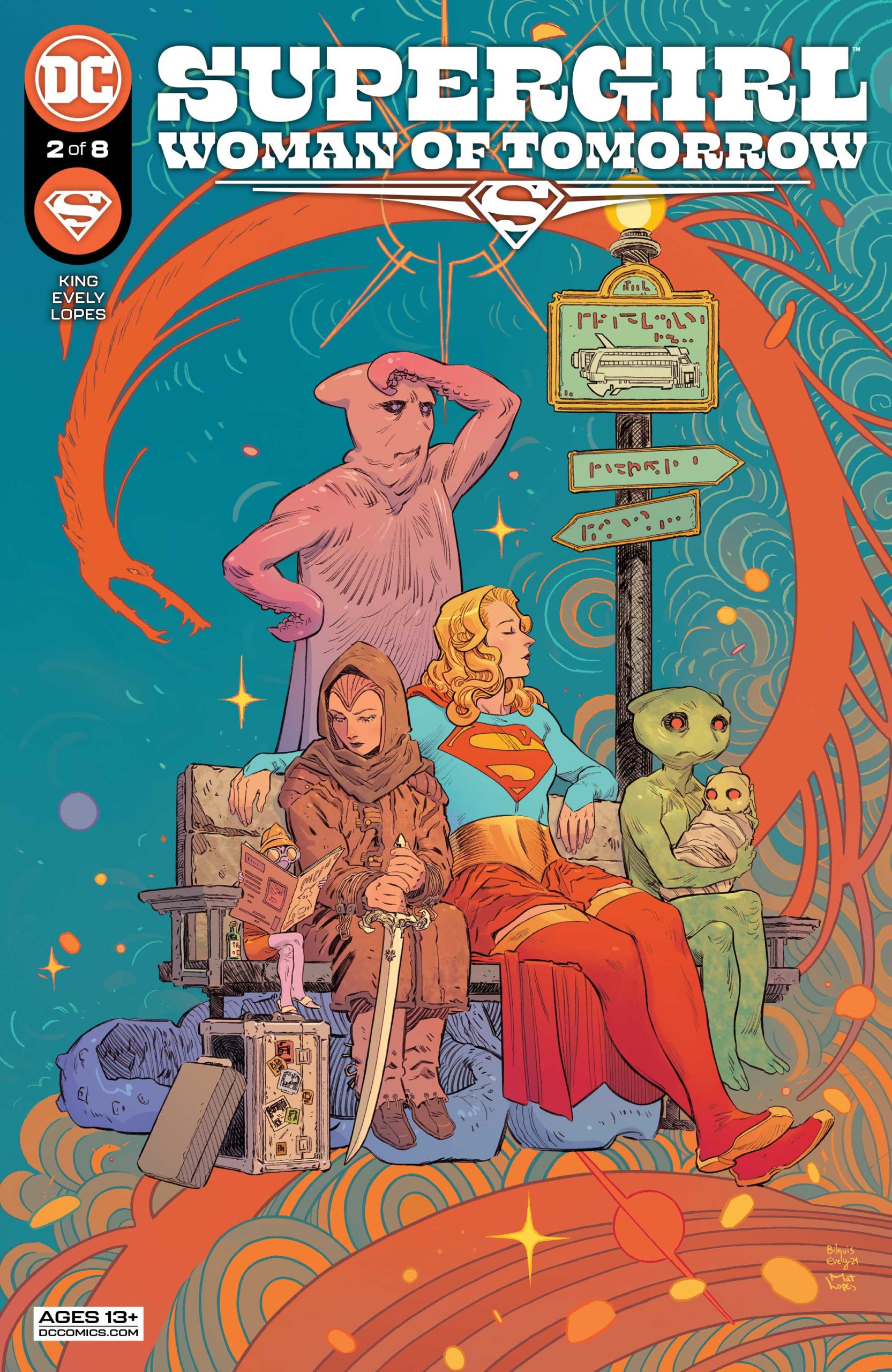 [Editor's Note: This review may contain spoilers]

Writer: Tom King
Art: Bilquis Evely
Colors: Matheus Lopes
Letters: Clayton Cowles

Reviewed by: Matthew B. Lloyd
Summary
What will it take to convince Supergirl to accept Ruthye's offer?  And how will their journey go?  Supergirl's journey though space continues…
Positives
The art of Bilquis Evely and  Matheus Lopes in Supergirl: Woman of Tomorrow #2 is simply beautiful.  There are textures and subtleties that they bring alive in the cabin of a dirty spaceship or the face of an alien.  It's the speed at which Supergirl moves or the caring in her face as she teaches a young girl how to wash her hands properly.  It's also the way  this scene is slowed down with expert pacing.  It's the way the light and the colors dance and shine inside and outside.  Even if the story weren't worth reading, the issue would still be a triumph of the highest caliber of comic book art.
Additionally, there's a particular sense of wonder they evoke as they depict the sci-fi/outer space scenes.  They strike a balance between the beauty of the inky blackness and stars against the (man)made crafts and structures that Supergirl and Ruthye visit.  Even the lavatory in which Ruthye washes her hands is of a particularly engaging quality.
Positives Cont'd
King utilizes this issue to build the characters of Ruthye, Supergirl and their relationship.  Like last issue, Ruthye is the narrator and indeed she will most likely narrate the entire series.  King has Ruthye telling the story from some point in the future as she looks back on the events and it allows the story to be told in a non-linear way, but not necessarily a confusing way.  It's a different approach to storytelling and it's very effective, quite literary even.  It's not clear, but there is the suggestion, though subtle, that since we are seeing everything through Ruthye's eyes and after a time, it's possible that she doesn't recall everything exactly.  It almost feels like it is a legendary account of Supergirl's adventures.  It adds an extra dimension to the story.  
The details of Supergirl teaching Ruthye how to wash her hands definitely feel truthful because of the precision of the execution of the scene.  Other broader depictions may lend themselves to interpretation.  Interestingly, the scene works on a metaphorical level.  This also adds another dimension as it suggests that Supergirl is in a way a surrogate mother to Ruthye teaching her how to do the things her own mother taught her, passing it on to another generation.  It's an incredibly powerful scene and quite touching as well.  
Negatives
If there's a negative for Supergirl: Woman of Tomorrow #2 it's the ambiguous fate of Krypto.  King has claimed he didn't originally intend to kill Alfred Pennyworth.  One wonders if we are on the same sort of path with Krypto.  Surely this sort of thing of killing off a beloved supporting character is related to the "Women in Refrigerators" trope that has been so rightly criticized.  I'm not suggesting that characters aren't allowed to die, it just seems that these meaningless deaths take the reader out of the story because they feel so contrived.  There's still hope for Krypto in this series, though for a couple reasons.
Verdict
Supergirl: Woman of Tomorrow #2 is a stunningly good issue.  The art by Biquis Evely and Matheus Lopes is beautiful and stunning and worth the cost of the book alone.  Capping it off is Tom King's untraditional writing approach that allow for multi-level interpretation.  If you choose to skip this series you are really missing something remarkable.