Indie Comics Review: Basilisk #3
[Editor's Note: This review may contain spoilers]
Publisher: Boom Studios
Writer: Cullen Bunn
Artist: Jonas Scharf
Colors: Alex Guimaraes
Letters: Ed Dukeshire
Reviewed by: Carl Bryan
Summary
"They will leave someone behind.  Someone to tell the tale.  Someone to follow them.  To worship…like you.– Regan to Hannah
Basilisk #3 – Is redemption possible if it is coerced?
Forced to confront the horrors of her past, Regan hits the road with Hannah – a victim from her past – who has her own set of secrets.
Is there no end to the Chimera's reign of terror?
Regan, a former member of the Chimera, and her past victim Hannah continue the hunt for Regan's brethren, but the shared memories that haunt them both may put an end to their quest.
Meanwhile, cornered, the other Chimera may have met their match…
New York Times bestselling horror writer Cullen Bunn (Harrow County) and artist Jonas Scharf (Avengers Of The Wasteland) reunite to unleash a supernatural horror series for fans of Killadelphia and Stillwater rooted in the way we process the world – our senses.
Positives
Writer Cullen Bunn and artist Jonas Scharf have tapped into a flash forward/flashback story fest that keeps the reader intrigued about how we got to this point.  Even though Regan has been abducted Hannah, that doesn't mean anything as the story develops more and more about what these five gods/creatures/people are capable of. 
I am unsure if this is not a set up for Hannah as Regan appears she could readily escape at any moment, but chooses to see this story out.  Regan has been communicating with the Chimera and it appears that there is some bigger role for Hannah among the Chimera.  However, the key to good story telling is to keep the reader guessing and Bunn certainly does that in his script!
The art in Basilisk #3 is perfect in that the present day scenes are full of color and pop off the page.  The past scenes are painted in such a way that you are watching the history of these five through a crystal ball or a murky Harry Potter dream.  This is an artist making the script work hand in hand with their skill set!  Great stuff!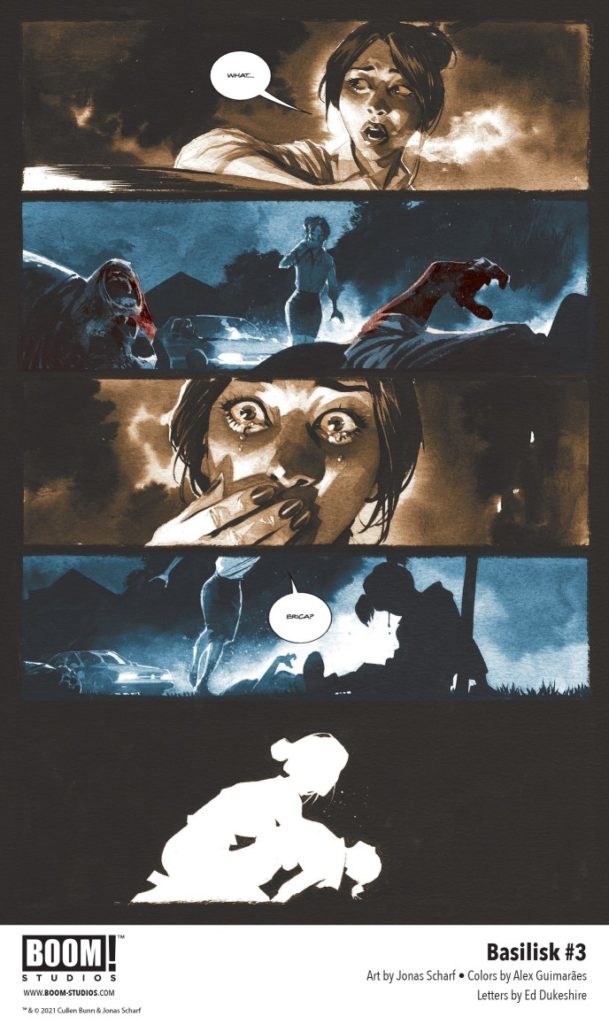 Positives 2.0
Bunn has a movie on his hands.  Of the five Chimera, Jimmy-Boy scares me the most.  He reminds me of the character portrayed in Cape Fear by Robert Deniro.  He is that unsettling personality who knows no boundaries.  However, there is a pecking order among the Chimera.  It is subtle, but you can tell there is a quiet respect for each others' powers.  
This comic creates an "on the edge of your seat" type of read.  I love reading it late at night as it really is like watching a horror movie that will surprise you.  A lot is inferred in the theater of the mind, but that is okay!  Bunn is minimalist at times with this words, but Jonas Scharf bats cleanup with storytelling through his art!  This team is unstoppable!
Negatives
Nah…you as a reader have the great opportunity to still get issues 1 and 2, and now with issue 3, this comic is reaching a fever pitch for conflict.  These sides are marching towards each other and I am anxious to see the main event!
Verdict
This comic has the right amount of horror, dread and Tarantino-type story telling (that's a compliment) that can easily be translated to the big screen as a movie.  These kindred of the senses are scary.  I am not sure how this vengeance tale is going to play out, but it definitely makes me more appreciative of all my senses.   The "clean up" minister Barret at the end is scary.  "There is always one left to tell the story…."     Read this comic on the edge of your seat as it is written for you to do so!