Review: Green Lantern #6

[Editor's Note: This review may contain spoilers]

Writer: Geoffrey Thorne
Art: Marco Santucci and Tom Raney
Colors: Mike Atiyeh
Letters: Simon Bowland

Reviewed by: Matthew B. Lloyd


Summary
Jo Mullein goes to New Korugar to convince Sinestro to let her retrieve Keli peacefully and in deep space John Stewart and the other Lanterns make a fateful decision.
Positives
There are times in comics when characters are depowered, killed or just step away to make way for something new.  It's usually temporary, and usually it feels temporary and tedious from the very beginning.  This Green Lantern series has certainly attempted to shake things up.   This journey seems to be rooted in a solid story idea that isn't designed to recast anyone or redefine the Green Lantern Corps.  It's a good story that's interesting and should provide plenty of ground to explore the characters.  Geoffrey Thorne doesn't seem to be in a hurry to get things back to the normal ring-slinging, and that's ok, because in this case what he's doing is actually interesting and brining a different approach to the Green Lantern Corps.
Green Lantern #6 begins to show what heroes do when they have to face the world (universe) from a different perspective.  John, Salakk and crew finally are forced to take action.  We get to see them still as heroes, but in an exploration of their approach to things without the ring.  If you're here for character you should be enjoying this, if you're just here for the power set, it might not be what you were expecting.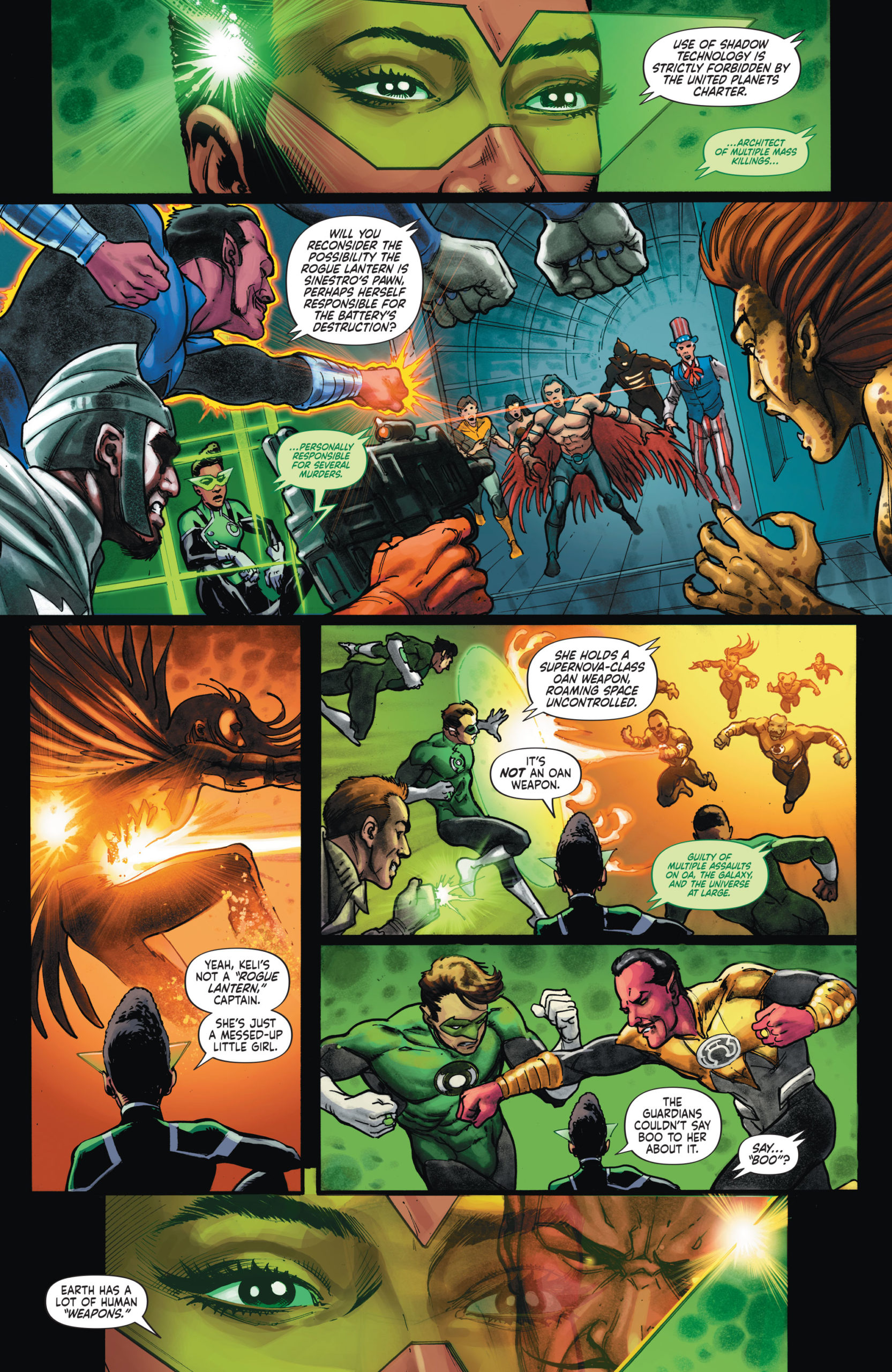 Positives Cont'd
That's not to say there's no ring-slinging!  Jo Mullein and Keli have their own devices that don't work like traditional power rings so they remain powered up and they are the focus of the first half of the book.  It's interesting that Green Lantern is split into two stories like two individual tales instead of intertwining.  This is a neat approach that is working well so far.  When Jo confronts Sinestro, it's all about character.  While she's trying to get Keli off New Korugar safely, the interaction between the two is full of character moments that that are just as interesting as the potential fireworks.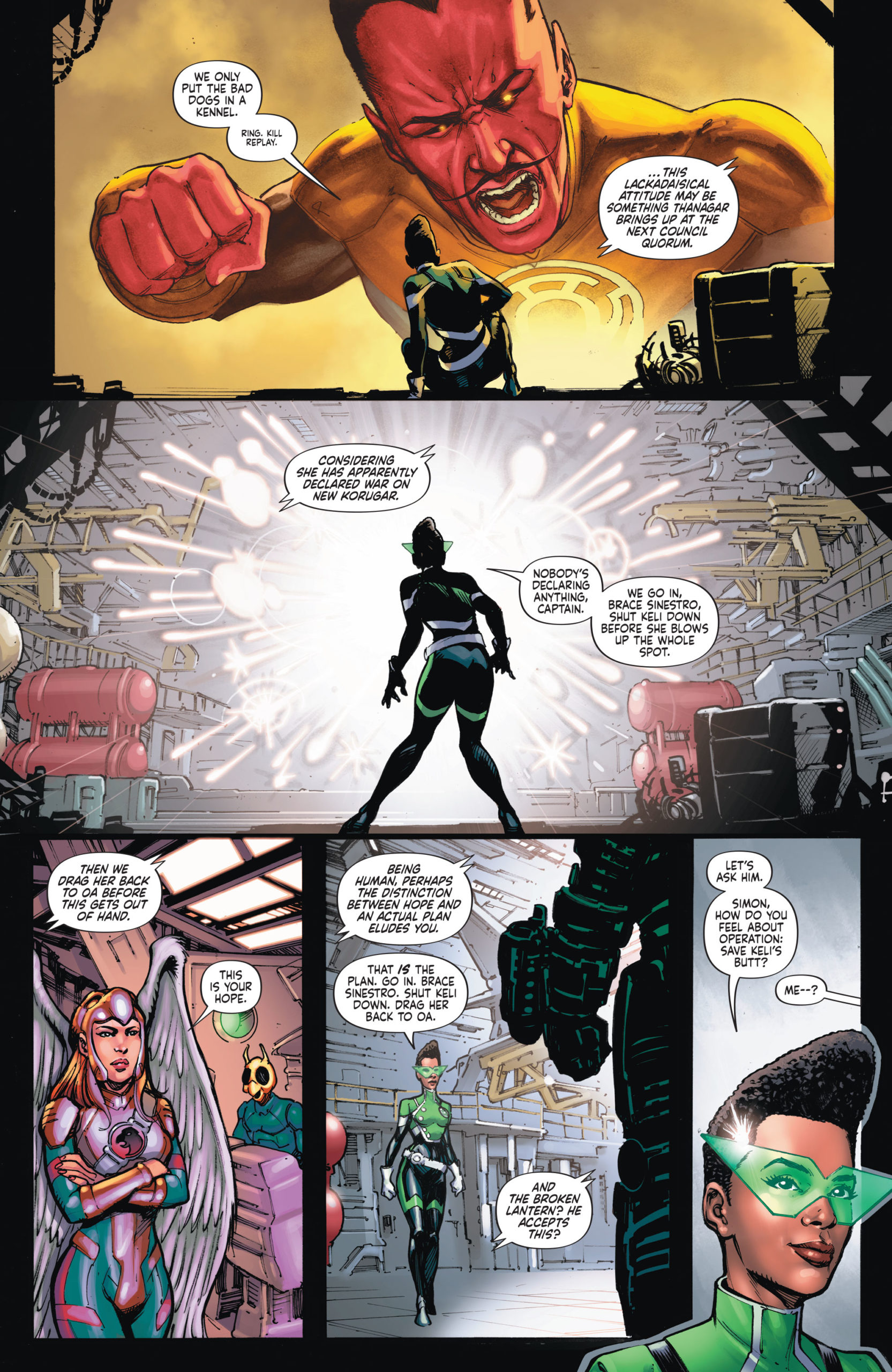 This is accentuated by the depictions of Jo and Sinestro by Marco Santucci.  Santucci brings an individuality to the look of these characters that suggests he's drawing real people.  It adds to the intensity of the discussion as well as revealing some of the humanity inside the characters.  There are subtleties in Tom Raney's art that add something extra as well.  Saqari's prehensile hair appendages move in a way that indicate her affection for John Stewart.  This is a great example of why one should slow down sometimes and enjoy the scenery as one reads.
Negatives
There's just a little bit of confusion as this issue appears to take place during the last issue, at least the Jo/Keli/Simon bits.  Wasn't Keli stopped from her rampaging last issue by a mysterious yellow lantern?
Verdict
New approaches work on classic concepts- sometimes!  Green Lantern #6 is the latest instalment of an example that works very well.  There's no shortage of character work or engaging art, either.  This has been a great new title since issue one and this issue promises there's even more to come.  Don't miss out!