Blu-Ray Review: THE SUICIDE SQUAD
[Editor's Note: This review may contain spoilers]
Director: James Gunn
Writer: James Gunn
Starring: Viola Davis, Joel Kinnaman, Margot Robbie, Jai Courtney, Idris Elba, Peter Capaldi, Nathan Fillion, Sylvester Stallone, John Cena
Reviewed By: Derek McNeil
Thanks to WB for the free review copy.
Summary
The Suicide Squad: The government sends the most dangerous Super-Villains in the world – Bloodsport, Peacemaker, King Shark, Harley Quinn, and others – to the remote, enemy-infused island of Corto Maltese. Armed with high-tech weapons, they trek through the dangerous jungle on a search-and-destroy mission, with only Colonel Rick Flag on the ground to make them behave. As always, one wrong move and they're dead – whether at the hands of the ultimate Kaiju; Starro the Conqueror; a teammate, or Waller herself. If anyone's laying down bets, the smart money is against them. All of them.
Positives
Warner Bros. has released James Gunn's The Suicide Squad in the three standard formats: A 4K/Blu-Ray combo pack, a Blu-Ray/DVD combo pack, and a DVD pack. Each of these also includes a digital copy code redeemable through Movies Anywhere. The review copy supplied included the 4K and Blu-Ray versions of the movie.
While I enjoyed the first Suicide Squad movie, it clearly had some issues. Gunn's sequel is a big improvement over its predecessor. It would almost qualify as a reboot. However, it does acknowledge and build on the previous movie. A number of important characters return, namely: Harley Quinn, Rick Flag, Captain Boomerang, and Amanda Waller.
It also introduces a lot on new characters to the Squad. Gunn is clearly a fan of the comics, and has done some deep dives into DC Comics history to fill out the team's ranks. Many of them look like they stepped right off the comic page, and Some of them have established history with the Squad in the comics. We get the likes of King Shark, Weasel, Ratcatcher, the Thinker, Mongal, and others. One of the weirdest is TDK, a.k.a. The Detachable Kid, based on the Legion of Super-Heroes reject, Arm-Fall-Off-Boy.
Positives Cont.
It turns out that the Suicide Squad needs a large roster, as the movie lives up to its title. This mission is indeed a suicide mission for most of the cast. I won't get into specific spoilers about who dies, but Gunn killed off some characters that I thought for sure would come through alive. This really drives home that none of the characters are indispensable. The first movie attempted to do this by killing off Slipknot. But Gunn succeeds by actually wiping most of the team out.
In my opinion, the two stars of the movie are Bloodsport and Peacemaker. Tension is built up between the two, having very similar skillsets, but radically different attitudes. The pair spend a lot of the movie bickering and engaging in competitive behavior.
In many respects, a lot of Deadshot has been transferred over to the character of Bloodsport. They're both incredibly skilled marksmen, and Waller uses Bloodsport's daughter as leverage to get him to obey her orders, much like she has done with Deadshot in the comics and Idris Elba is definitely a major upgrade from Will Smith.
I didn't expect much from John Cena at first, but I have to admit I was pleasantly surprised with his performance as Peacemaker. Unlike the comics, where the character was originally played seriously, Gunn has discovered a wealth of humor in the character. The whole idea of a man who loves peace so much that he's willing to fight for it is a strange contradiction. This version of Peacemaker suffers from a condition that renders him unable to see that contradiction. And Cena sells that insanity in a hilarious manner.
Positives Cont.
I absolutely love that James Gunn actually using Starro the conqueror – exactly as he appears in the comics – the major villain. That would have fallen flat with any other director, but Gunn makes it work. Gunn's love of the comics shows through in this movie. He even includes characters from the title's minor supporting cast like John Economos and Emilia Harcourt.
The Suicide Squad looks and sounds great on Blu-Ray, but if you have a 4K player and compatible TV, then it's worth the extra cost to see it in full 4K Ultra HD. On the other hand, if you're not fussy about picture quality and don't mind missing out on the special features, the DVD is a decent budget option.
There are a wealth of special features, which are primarily found on the Blu-Ray disc. There's the standard Director's commentary, deleted/extended scenes, and gag reel features. There are also scene breakdowns and mini-documentaries. Of special note is the feature "Gotta Love the Squad", which focuses on how Gunn stays true to John Ostrander's Suicide Squad comic. It really shows how much love Gunn tried to keep his movie true to the spirit of John Ostrander's original vision.
I also loved the inclusion of three "retro trailers". Each is a 70s or 80s style movie trailer for the film done in a different movie genre: war movie, horror movie, and buddy cop movie. These are all hilarious, but they also underscore that there are elements of those genres present in Gunn's movies. While these trailers are hilarious, they do draw attention to those facets of Gunn's movie as well.
Negatives
On the subject of trailers, I have to say that there is no excuse for not including the actual teaser and theatrical trailers for the film among the special features. In my opinion, every home video movie should include all the official trailers. However, this is a rather minor disappointment.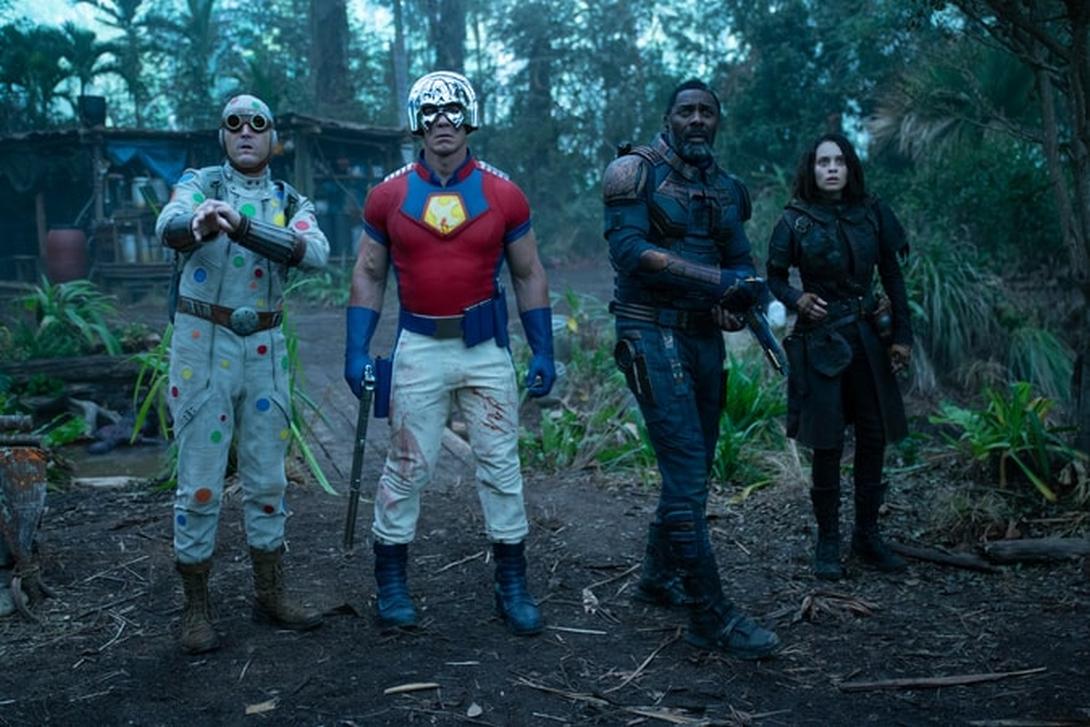 Verdict
There are some doomsayers that are declaring the DCEU a failure and that the Snyderverse is effectively dead. James Gunn's The Suicide Squad utterly refutes that idea. It shows that with the right creative talent, there is still a lot of life left in the DCEU.