Review: BATMAN: BEYOND THE WHITE KNIGHT #1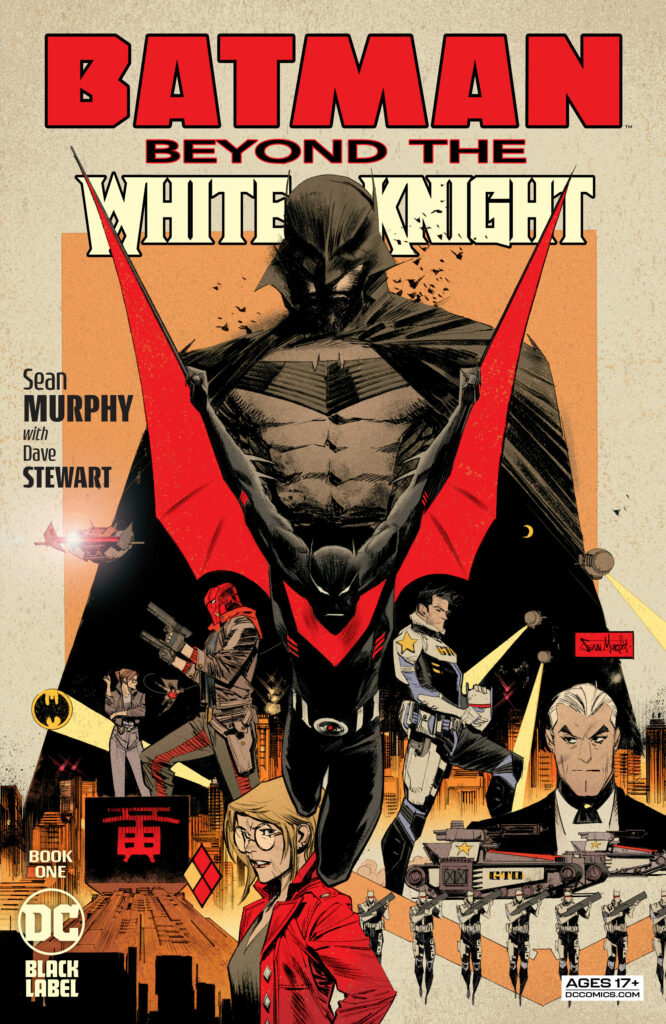 [Editor's Note: This review may contain spoilers]
Writer:  Sean Murphy
Artist:  Sean Murphy
Letters:   AndWorld Designs
Colors:  Dave Stewart
Reviewed by: Carl Bryan
Summary
"It's impossible.  She killed you…" –  Bruce Wayne
Batman: Beyond the White Knight  #1 – A lot can change in 10 years, especially in Gotham! Batman, a.k.a. Bruce Wayne, may be behind bars, but the real criminals are still out there.
Gotham Motors CEO Derek Powers has seized control of the Wayne family's assets and is using them to transform the GTO and the city they've sworn to protect. Crime is down, but at what cost?
A new Batman has emerged in Powers's city, and only Bruce is fully aware of the dangers to come. It's time to destroy the mantle for good, but he'll need one of his forgotten sons' help to do so.
Enter Jason Todd…the first Robin?!
In this thrilling sequel to the blockbuster comic book hits Batman: White Knight and Batman: Curse of the White Knight, writer/artist Sean Murphy invites the audience to go beyond the Gotham they know to discover an engrossing new take on the city and its heroes. Welcome to Neo-Gotham and the world of Beyond the White Knight!
Positives
Sean Murphy… Black Label…a perfect pair.  The Murphyverse is strong and arguably the only author that can provide the appropriate time jump that can not only make Bruce a relevant character but also blend the other supporting characters come together with Batman Beyond's Terry McGinnis.
The more Hollywood movies about Batman that are pumped out and the more comic books produced on Batman provides Murphy with a kitchen of ingredients that make a richer Batman storyline for his Murphyverse.
Take Dick Grayson and Jason Todd for instance.  Or rather, flip the script.  The meeting between Jason and Bruce in prison allows the reader to discover that Jason was actually the first Robin.  Holy Family Dynamic!  Spoiler Alert… and there are more spoilers but you shall not get them here.
Well – one more.  Harley and her twins… She is quite the hot mom, and as you can expect in the duality that one would normally expect from a Harvey Dent/Two-Face dynamic, these kids are all about the Jack Napier/Joker life.  No coins are flipped here, but a Punchline would be in big trouble with Jack/Joker's daughter!
It's Easter and Spring time and there are more Easter Eggs in this book than I want to provide to you.  Murphy makes reading a Black Label comic really really fun!
Shades of Tom Taylor's Nightwing book abound as we see frames of Bruce escaping prison.  The several same character panels are yet another Easter Egg (sigh…that's three I have revealed) that are homages of authors, books, and movies.  There is probably something in the Snyderverse that celebrates a Batman Lunch Box too.
Positives 2.0
Art…Murphy pulls off the hardest double double in comics.  Todd McFarlane had weak scripts but superlative pencils.  Neal Adams cannot write his way out of a paper sack, but his art for Batman is so great!  Legendary!
Sean Murphy not only is blending elements of all things Batman, but his turn on the Batman costumes…especially that of Batman Beyond is terrific.
His work with shadows…or rather silhouettes behind our characters.  This gives new meaning to foreshadowing…or perhaps "post shadowing".  Harley…a midriff adorned Mom…beautiful!
Negatives
The only negative is that the book indicates that a Batman: White Knight Presents Red Hood #1 is imminent. Sigh – we want that now!  That's the only negative is that we don't have that or the next issue in hand!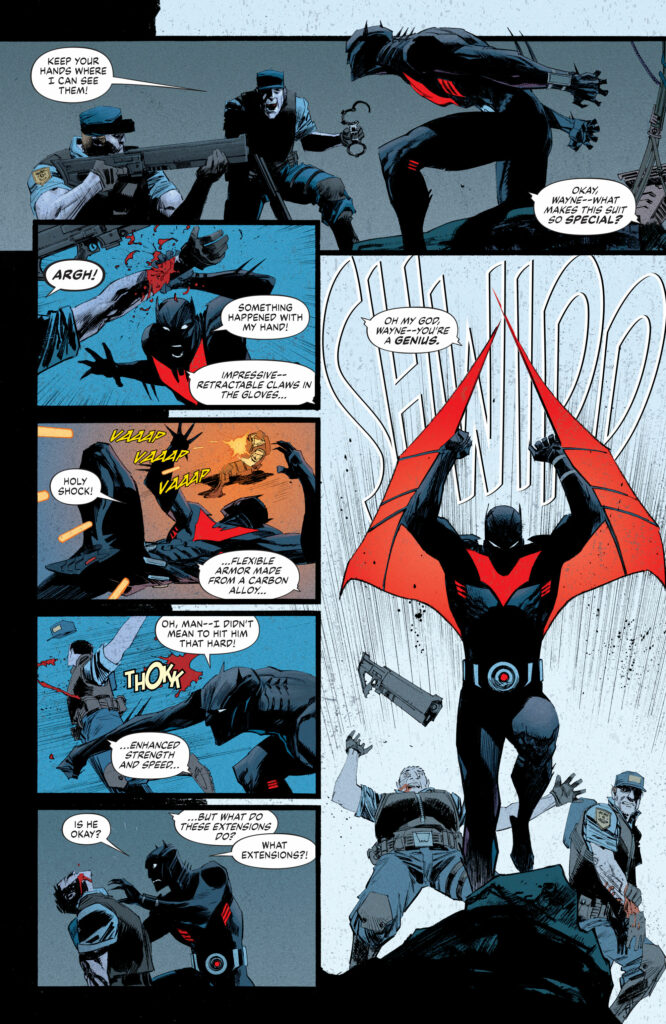 Verdict
Sean Murphy has tapped a vein in Black Label by rewriting the Batman legend in his own way.  He trimmed where he needed to, mixed around some characters, and strayed enough from Batman canon to make this all new and fresh.  This Batman timeline is worth every penny of your hard-earned cash!