Review:  The Joker #14
[ Editor's Note: This review may contain spoilers]
Writers: James Tynion IV, Alex Paknadel, Sam Johns
Artists:  Belén Ortega, Vasco Georgiev, Giuseppe Camuncoli
Letters: Tom Napolitano, Becca Carey
Colors: Arif Prianto, Luis Guerrero
Reviewed by: Carl Bryan
Summary
FINAL ISSUE All the hunters converge on the Sampson estate as the brutal conclusion to the first "season" of The Joker is here!
Bullets will fly, blood will be shed, and will James Gordon be forced to make the choice he's been dreading since issue #1?
Punchline Backup: Punchline walks free, and the Royal Flush Gang is desperate for a new queen. The underworld of Gotham City is going to change forever, and this last chapter of "Punchline" is only the beginning.
Positives
James Tynion IV has taken on a bit of a journey through Jim Gordon.  Who knew that we would see Bane again much less his daughter…..? 
To see the Joker and Bane in a few frames together given the history from City of Bane and Joker War, how can Joker even survive this encounter? Given Jim's history with the Joker, how can Joker get out of this conundrum?
The one thing that this Joker comic has done is introduce us to the Sampson family – a brood of wealthy cannibals from Texas who has a beef with the Clown Prince.
Enter in Bane and his daughter Vengeance who has sworn to kill Joker in revenge for her father's murder.  Compound that with Jim Gordon's contract to kill Joker and you had quite a clown hunt.
But Joker is too good a villain to have on a constant rotation. Given his "overexposure" at the start of this adventure with the cinematic presence, as well as the Joker War and Punchline replacing Harley as his main girl, he is becoming watered down a bit. 
It is best that Joker go away for a while…albeit Jim may have eliminated him entirely.  Tynion IV leaves the audience at a standstill on this one!
Positives 2.0
Punchline appears to have come into her own.  Her time behind bars as well as seeing Joker for whom he is may have given her the platform to be a major Gotham player in causing anarchy.  Again, Tynion IV created her as sort of the anti-Harley.  Let's see if she can stand the test of time with this comic's back story launch!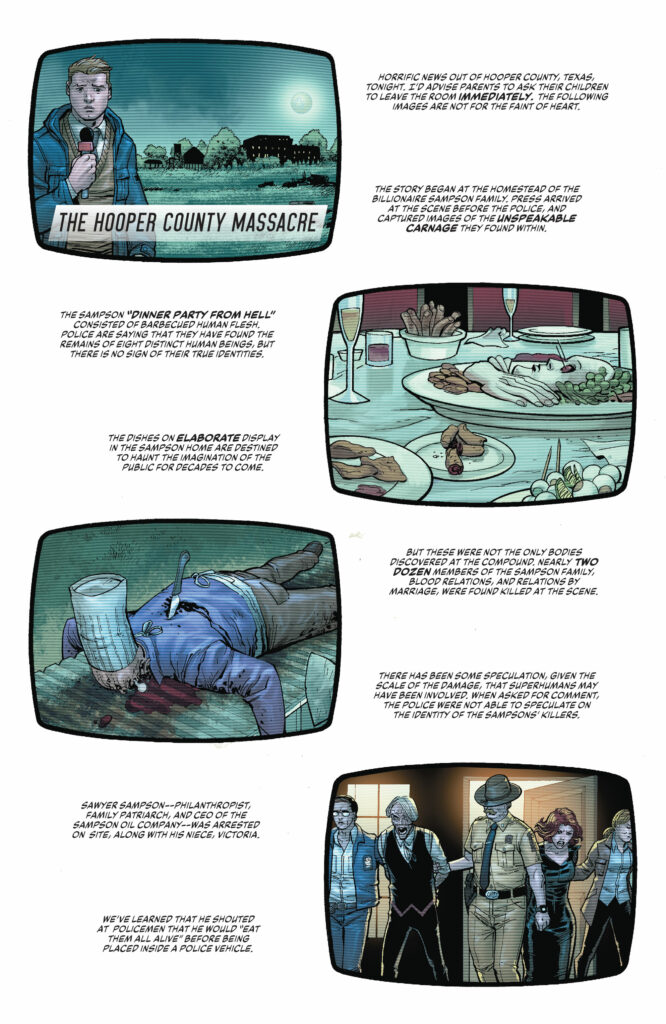 The Art
While often in my reviews, I focus on the authors and their storylines, however, this issue is to be celebrated for this art team that melds two different stories seamlessly.  From flashbacks to  Vengeance's and Bane's bodybuilding physique to the color explosions in Punchline's chapters, this team of artists and colorists should be applauded.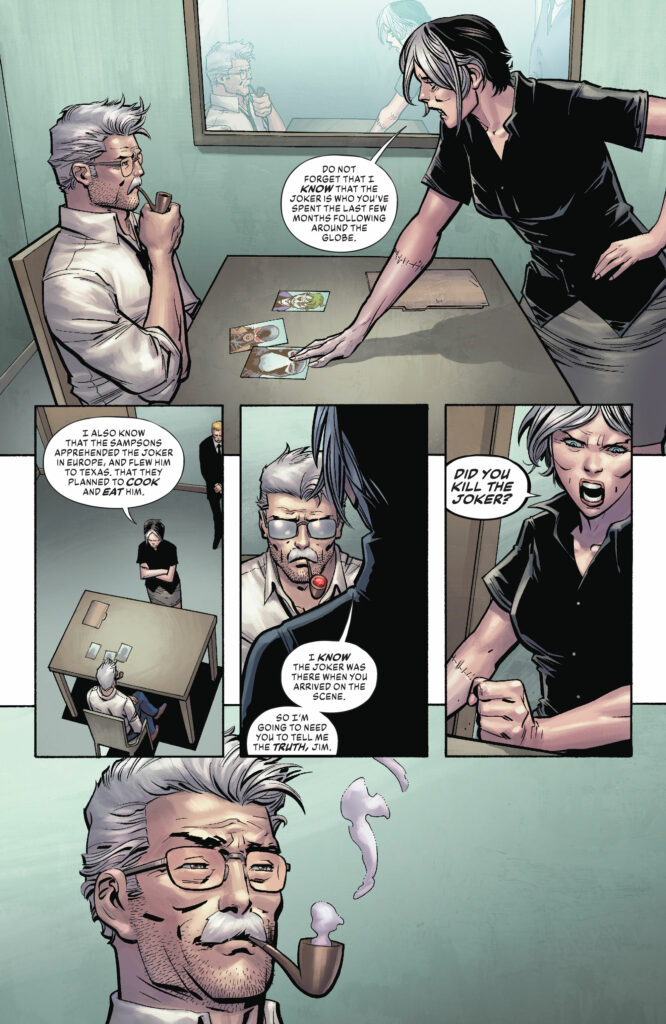 Negatives
Where is Julia Pennyworth?  You cannot just drop that on us in issue #7 and then there's no follow-through.  This comic's biggest flaw throughout is the lack of allowing us to see where she comes into play…after all, Bane killed her father. 
As I did not know that Dick Grayson had a half-sister, I was not aware of Alfred's daughter. Come on DC…what happened to Julia?
Verdict
Get the last taste of Joker for a while.  He needs to be relished and not overplayed like a pop song for the 400th time.  Joker War was outstanding, but he needed to have slinked away.  Albeit there should be closure for Jim Gordon, but let's see what else comes out of the woodwork.  Joker needs to go and work on his tan!