Review: Legion Of Super-Heroes (2023)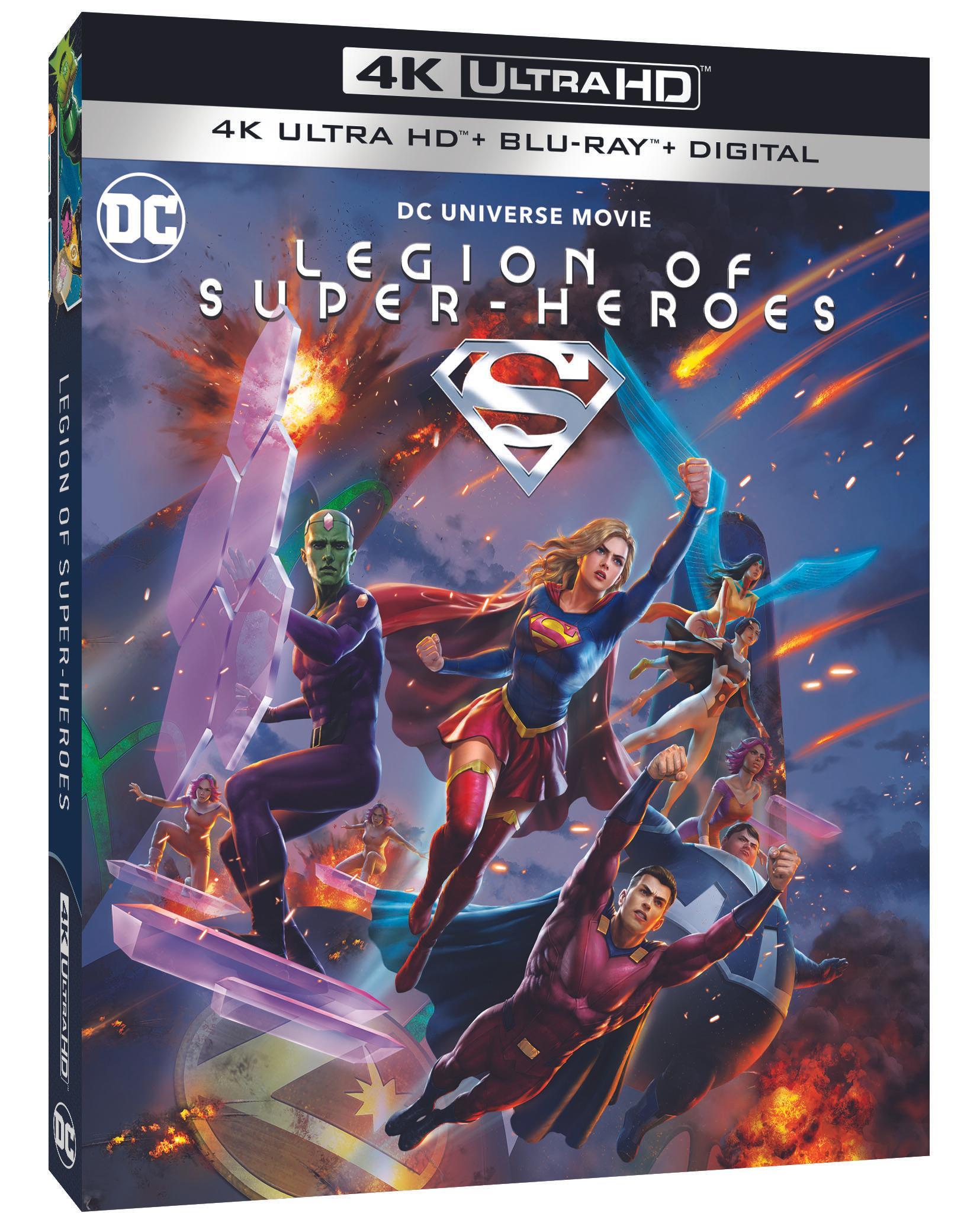 [Editor's Note: This review may contain spoilers]
Directed by: Jeff Wamester
Written by: Josie Campbell
Starring: Meg Donnelly, Harry Shum, Jr., Yuri Lowenthal, Ben Diskin, Ely Henry, Cynthia Hamidi, Zeno Robinson, Gideon Adlon, Daisy Lightfoot, Jensen Ackles, Darren Criss, Matt Bomer, Darin De Paul
Reviewed by: Joshua Raynor
Summary
Welcome to the 31st century and the Legion Academy, where a new generation hones their powers with hopes of joining the Legion of Super-Heroes. Devastated by tragedy, Supergirl struggles to adjust to her new life on Earth. Taking her cousin Superman's advice, Supergirl leaves their space-time to attend the Legion Academy. There, she quickly makes new friends, as well as a new enemy with old ties: Brainiac 5. But a nefarious plot lurks in the shadows – the mysterious group known as the Dark Circle seeks a powerful weapon held in the Academy's vault.
Positives
After the disappointment from the last DC animated movie in the Tomorrowverse line, Green Lantern: Beware My Power, I was thrilled to get a story that worked well and focused on the story being told.
Right off the bat, I gotta say, I love this animation style. The soft tones and crisp linework really make these characters pop in the best ways possible. It gives a more realistic look, instead of leaning into an overly exaggerated style. And the backgrounds are beautiful as well, at times almost looking like a painting, while at others, being as crisp as the characters that are living there.
The movie starts off with the origin story of Supergirl. We see some of her time in Argo City as she interacts with her mother. It was a great way to quickly become familiar with Supergirl, if you weren't already. We get a sense of her personality, and it gives us an understanding as to why, unlike her cousin, she becomes more jaded during her time on Earth and has a harder time acclimating. She lived a life on Krypton, has memories of it, and to be completely uprooted from that home and that life is not an easy thing to get over.
We get a couple of cool scenes with some of the members of the Justice League – specifically Batman (Jensen Ackles), Superman (Darren Criss), and The Flash (Matt Bomer) – including a heartfelt scene between Superman and Supergirl, which really shows how differently they view their new "home", and why it's been more difficult for Kara. The inclusion of these characters helps to keep the connection to the Tomorrowverse, as they continue with the same voice actors, linking them nicely before moving into the part of the story with completely new characters.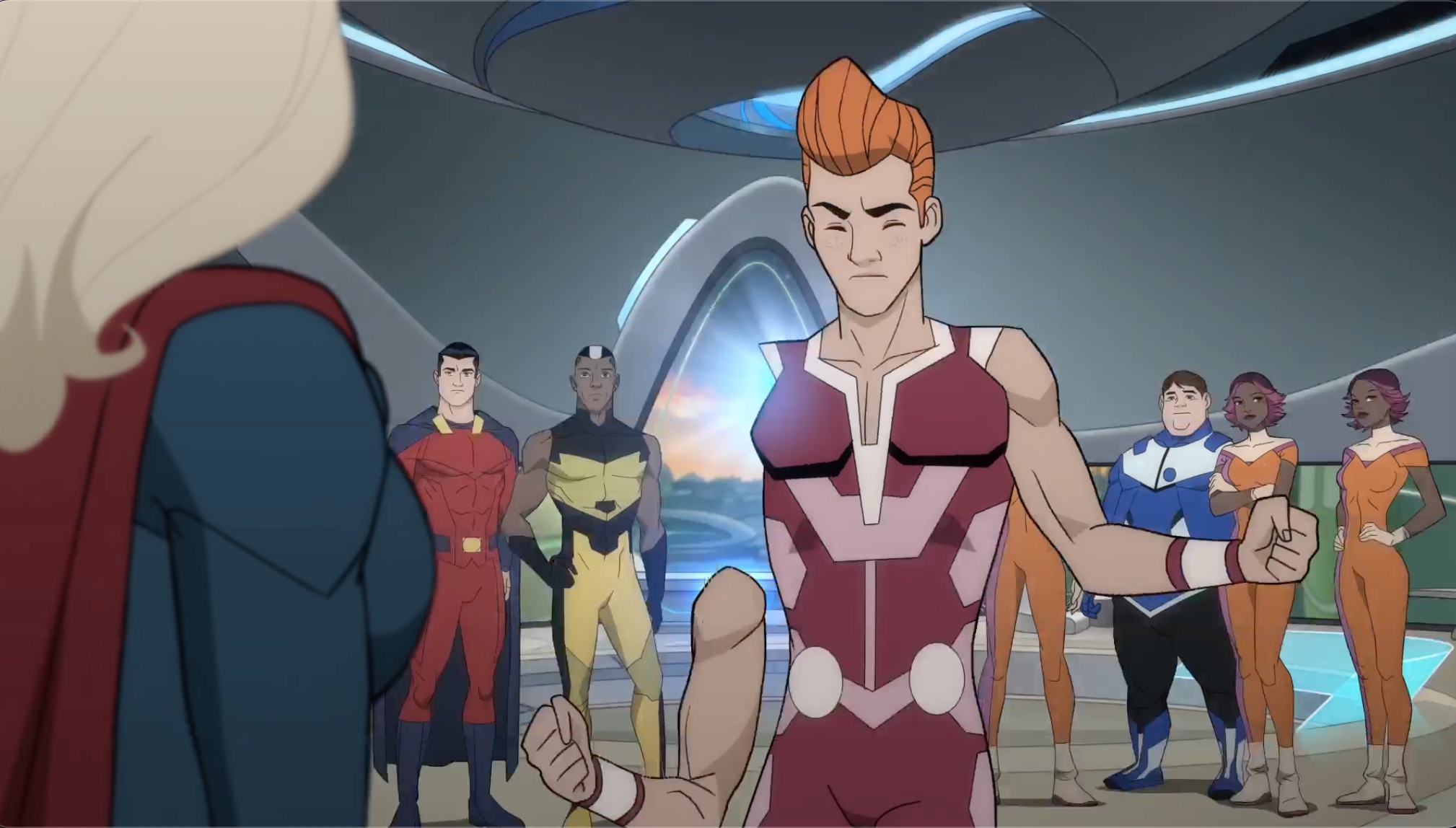 Then there's the Legionnaires. We get introduced to several great heroes from the 31st century, including Mon-El, Arms-Fall-Off-Boy, Triplicate Girl, Bouncing Boy, Dawnstar, and of course, Brainiac-5. Some of these are characters we almost never get to see in anything outside of the comics, so it's great that they're getting a chance to be showcased a bit. I was happy they mentioned that Mon-El actually changed his name because of his love for Krypton, and wasn't actually a member of the El family, which I think many people don't know.
I don't want to spoil too much, so I'll refrain from saying who the big bad of the movie is, but what I will say is that they did a fantastic job with this character, giving us a unique version that was both amazing and terrifying at the same time. And there's also a post-credit scene (so be sure to stick around) that ties directly into the next Tomorrowverse film, Justice League: Warworld.
Negatives
My main negative is that I wish we had actually gotten more of Kara's time on Krypton. That opening scene was great, but I wanted more. And, as with most of these animated films, I would love to see them be a little be longer.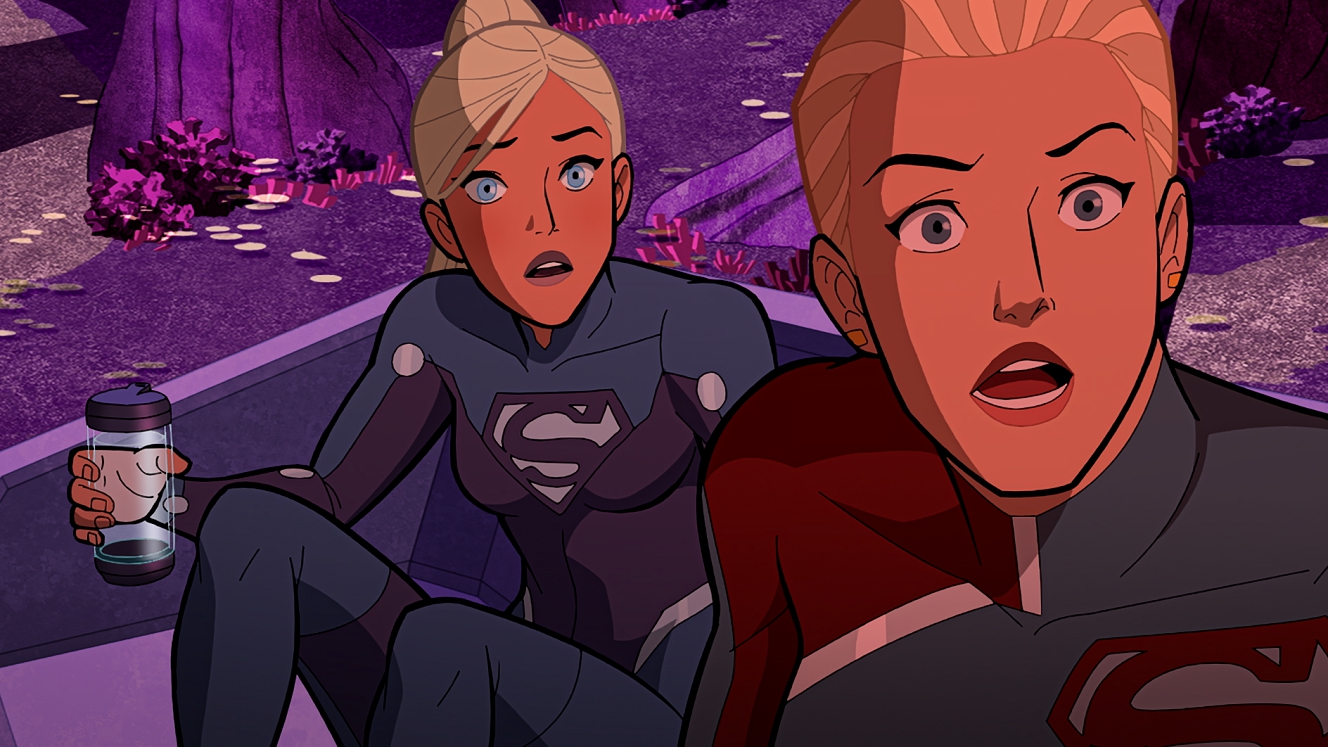 Blu-ray Special Features
The home release includes four wonderful featurettes that dive into different aspects of the film, as well as two episodes of Superman: The Animated Series. In "The Legion Behind The Legion", the cast and crew talk about the making of Legion of Super-Heroes. We also get some really cool glimpses of pre-vis animations and a peek into some of the writing process.
"Down to Earth: The Story of Supergirl" takes a deep dive into the character of Supergirl, why she was chosen to be the focus of this Legion story, as well as her journey up to now, including her relationships with Superman and Brainiac-5. And speaking of Brainiac-5, "Brainiac Attack: The Intellect Behind the Super-Villain" tells the history of Brainiac, leading up to this incarnation, and why he is the way he is.
Then we have "Meet the Legionnaires", which tells us about the Legion and the Academy, spotlighting some of the main members of the Legion that we meet – including Timberwolf, Chemical King, and Shadow Lass – as well as the group of new trainees that make up the focus of this story. One of the best parts of this featurette is producer Jim Krieg dressed up as Matter Eater Lad throughout the whole thing.
Finally, within the special features were two episodes of Superman: The Animated Series from the DC vault – "Little Girl Lost – Parts 1 & 2," which is the introduction of Supergirl to the series. These are the perfect episodes to include, and they do a wonderful job of telling Supergirl's origin story.
Verdict
Overall, this was a great addition to the pantheon of DC animated films, and makes me want more of these characters. I hope they do follow-ups with the Legion and Supergirl, as this told a great story and really fleshed out some amazing characters that need more time on screen to shine. We also got some great special features that everyone should take the time to watch.
Legion of Super-Heroes is available to buy digitally and on Blu-ray right now.
Score: 4.5/5
LEGION OF SUPER-HEROES and all related characters and elements are TM and © DC. © 2023 Warner Bros. Entertainment Inc.