Review: Wesley Dodds: The Sandman #1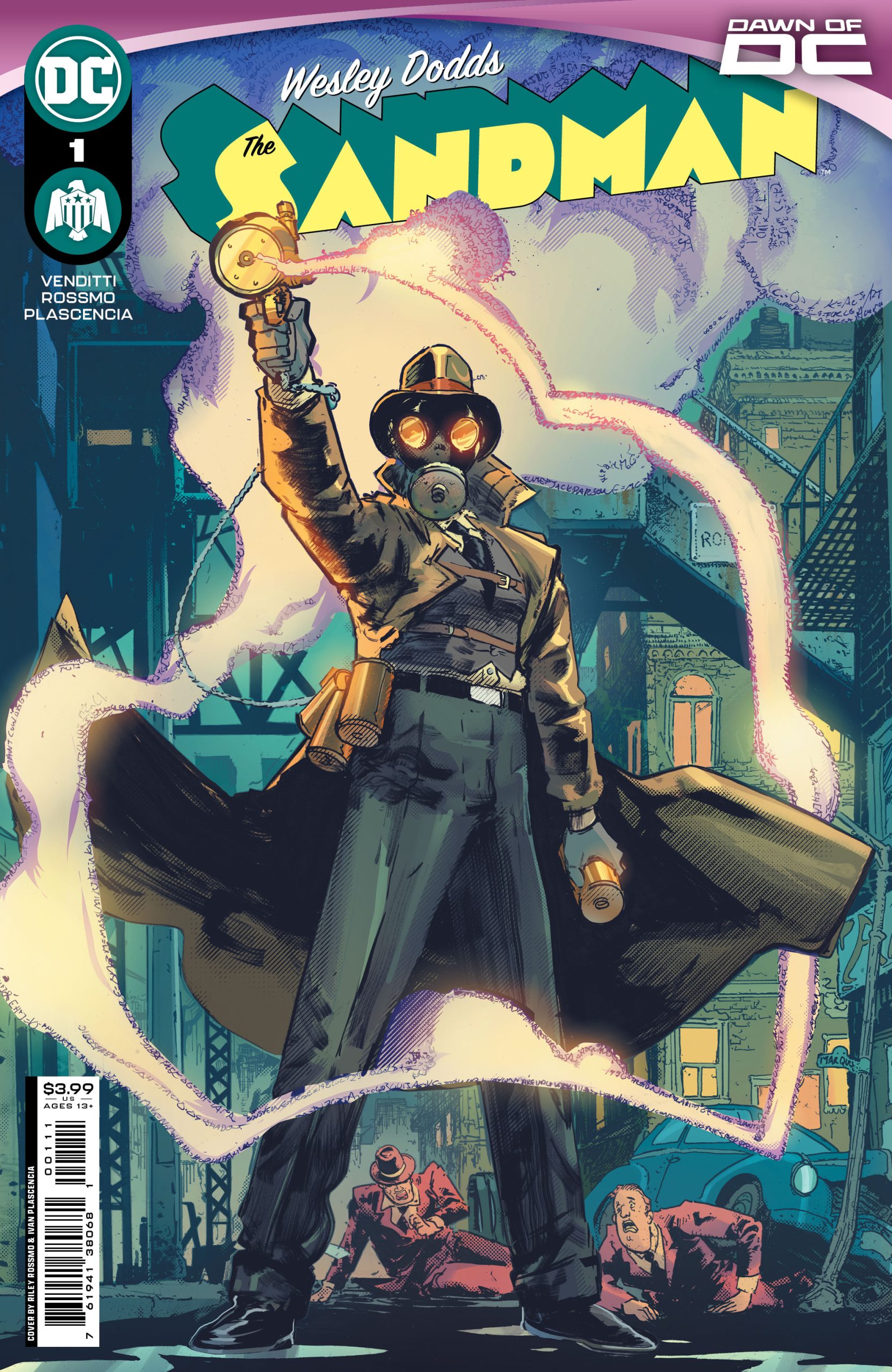 [Editor's Note: This review may contain spoilers]

Writer: Robert Venditti
Art: Riley Rossmo
Colors: Ivan Plascencia
Letters: Tom Napolitano

Reviewed by: Matthew B. Lloyd
Summary
It's 1940 and Wesley Dodds is trying to get the government to use a knock out gas instead of bullets and bombs.  It seems to work for him as the Sandman…though still plagued by prophetic dreams.
Positives
Wesley Dodds: The Sandman #1 is a character focused introduction to the Golden Age Sandman and his world.  If you went in blind this issue would tell you all the important things you need to know about the character.  Venditti gives us the essential supporting cast, Dian Belmont, her father and Dodds' Butler, Humphries as well as a quick look at the dreams from which Dodds suffers.  Venditti bases this on the critically acclaimed Vertigo series Sandman Mystery Theater which ran from 1993-1999.  Venditti references The Tarantula from the first story arc, as well as finding a very similar feel for the issue.  Riley Rossmo uses that design for the Sandman as well, wisely not trying to reinvent the wheel.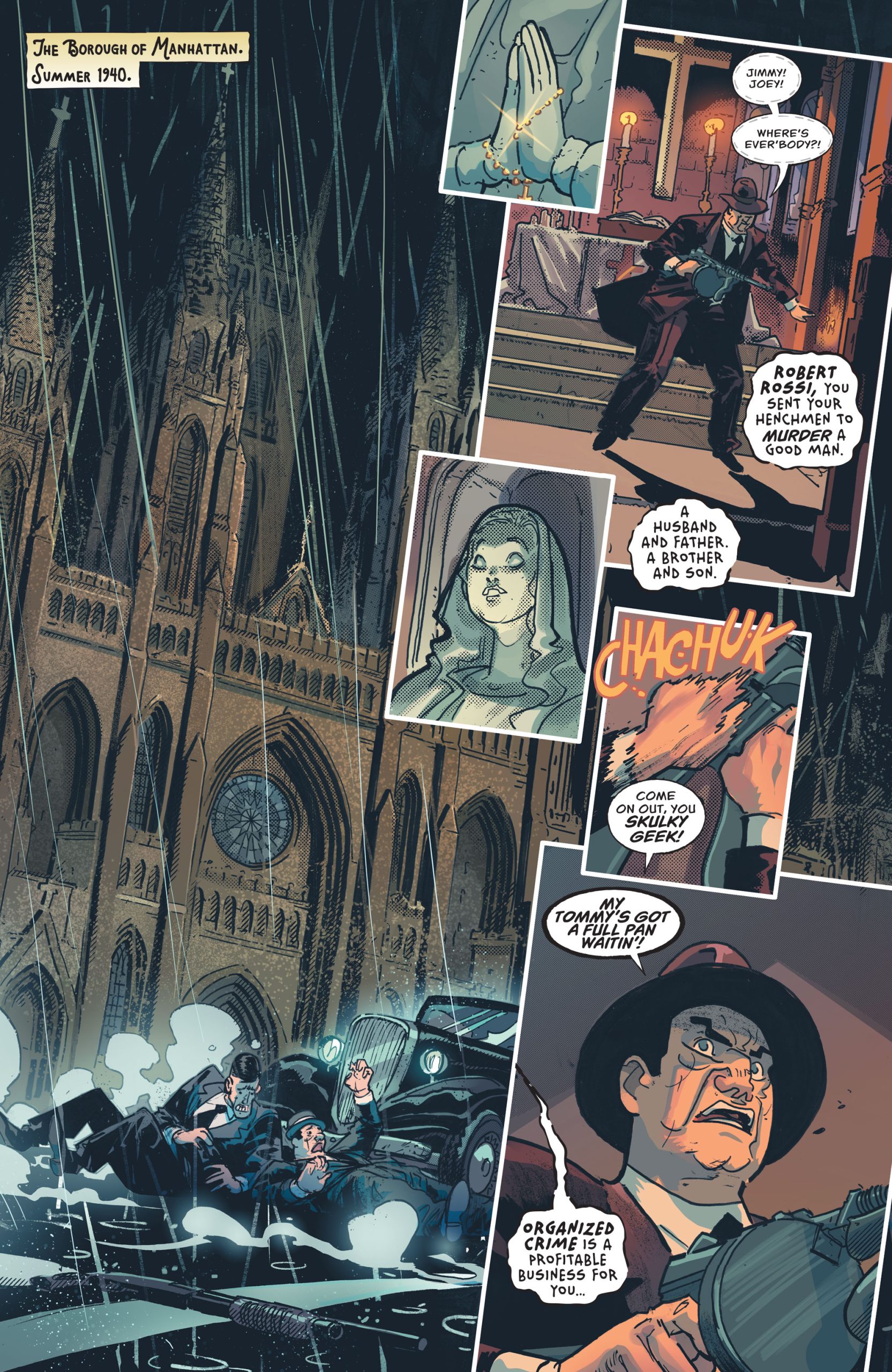 What's really at the heart of this series and Sandman Mystery Theater is Dodds' relationship with Dian Belmont.  It's great to see it in Wesley Dodds: The Sandman #1!  Venditti has a track record with work on Hawkman and Green Lantern for writing character focused stories.  The emphasis on Wesley and Dian in the first issue in this issue as well as a story that tells us what Wesley is like should be prophetic enough itself for the the promise in this series.
Readers may recall that Sandman Mystery Theater had a quirky artist in Guy Davis.  Riley Rossmo is also a quirky artist and for this first issue he makes the Sandman look great.  He channels a little bit of Howard Chaykin in his faces, but his layouts and storytelling are the real standouts visually.  Plascencia chooses to follow in the path of Sandman Mystery Theater as well with his color choices.  Plus, there's just enough purple and yellow to remind the reader that Wesley Dodds eventually ended up in standard super-hero togs when Joe Simon and Jack Kirby took over his adventures.
Negatives
Some may not see as gritty and adult an approach to Wesley Dodds: The Sandman #1 as Sandman Mystery Theater, but we've only gotten started and it may make the book more accessible.  
Verdict
Wesley Dodds: The Sandman #1 is just about everything a first issue should be, especially when there's a previous well-liked and critical lauded preceding series.  It doesn't matter that Sandman Mystery Theater ended 24 years ago, it's a series that people remember and if people pick up this and this new series reminds them of that it's a good thing.  It feels like Wesley in this series is the same Wesley Dodds that readers are familiar with.  That's not something that can be said for all the books in the Dawn of DC initiative.  Venditti understands that it's important to put character first instead of altering a characters just to tell the story the writer wants to tell.  On top of that, the issue hits all the points needed in a first issue.