The Titans are trying to let off some steam, even…gasp… Tim Drake, when things go incredibly wrong. There is a pretty wicked villain who is out for blood. The team and the readers are reminded that taking things that are handed to you at a club is a terrible idea.
The Good:
If you have not been reading Teen Titans, it would be OK because Scott Lobdell is the king of getting you up to speed. One of the cool tricks Lobdell uses is the narrative asides. We see the characters, in this case out of uniform, and we get a bit of background on them. Those who are up to date can skip it, those who are new, do not feel left out.
As this is the most multicultural team who happen to wear drastically different colors in the DC Universe, colorist Dean White has his work cut out. It works out really well. After you are done reading it once, go back and just check out each panel. Artist Cory Smith has some really cool stuff going on in the background. Since the book takes place in New York, the book needs to feel crowded, and it does.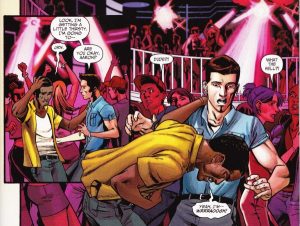 Red Robin fans will not be let down. Tim's sleuth skills are on full display. In the Rebirth story line, he is in Detective Comics. That is not an accident. Gar gets a few laughs while Raven gets to show her face. It is a nice look at what is the end of the era as this is the last book with this lineup before Rebirth.
The Bad:
Because of the fact that Lobdell has to get it all wrapped up, the story feels a few pages too short. While Smith's backgrounds are really nice, his detailed shots of the characters out of costumes are sparse. One can see how this could be a welcomed, but for fans who like a lot of sharp lines, you are not going to be thrilled.
The ending is a cliffhanger. That would be great if we knew there would be more books with this crew, but we all know there isn't. That is not Lobdell's fault. That is just how Rebirth is going down.
The Verdict:
If you have been reading Teen Titans the whole time, you need this to round out your collection. If you are looking for a great team book, pick up the revamped Rebirth edition of both Titans and Teen Titans.