DC Comics News has compiled a list of DC Comics titles and collectibles shipping to comic shops for August 17, 2016.
Check back every Friday with the DC Comics News Pull Box to see all the cool new DC Comics titles and collectibles that will be available at your favorite local comic shop! So, what titles or collectibles will you be picking up this Wednesday? You can sound off in the comments section below! Click on Comic shop Locator to find the comic shop nearest to you!
COMICS
AQUAMAN #5 $2.99
BATGIRL AND THE BIRDS OF PREY #1 $2.99
BATMAN #5 $2.99
DOCTOR FATE #15 $2.99
GREEN ARROW #5 $2.99
GREEN LANTERNS #5 $2.99
HARLEY QUINN #2 $2.99
INJUSTICE GODS AMONG US YEAR FIVE #16 $2.99
JUSTICE LEAGUE #3 $2.99
LEGENDS OF TOMORROW #6 $7.99
NIGHTWING #3 $2.99
SCOOBY APOCALYPSE #4 $3.99
SUICIDE SQUAD #1 $2.99
SUPERGIRL REBIRTH #1 $2.99
SUPERMAN #5 $2.99
TEEN TITANS GO #17 $2.99
DCN Pull Box Spotlight
SUICIDE SQUAD #1 $2.99
(W) Rob Williams (A/CA) Jim Lee, Scott Williams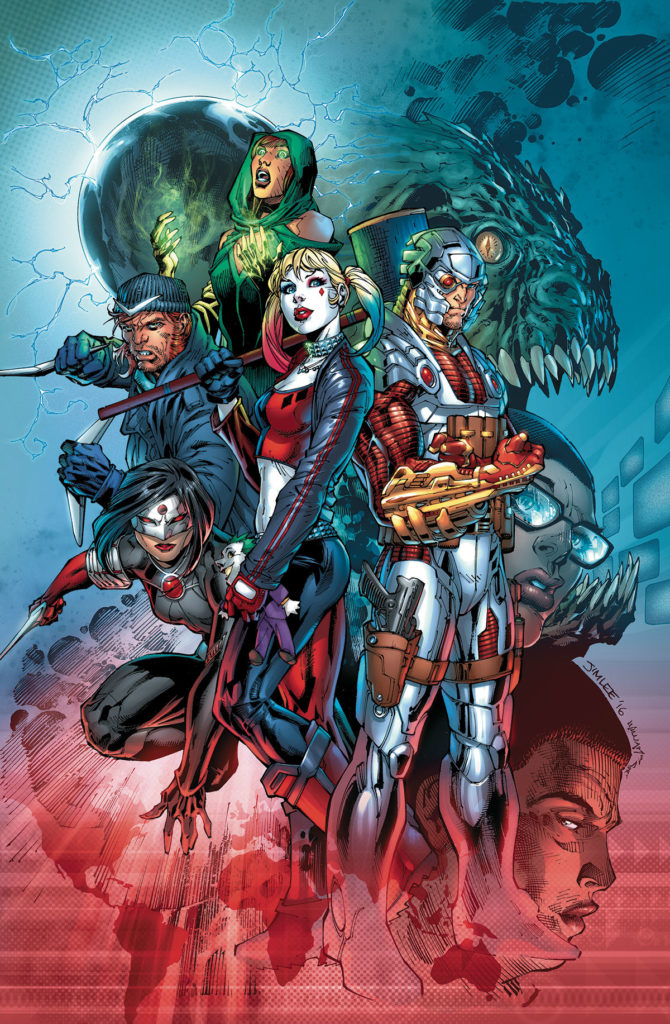 "The Black Vault" part one! When a mysterious and definitely super-important cosmic item falls out of the heavens and into enemy hands, America has only one option: Task Force X, Amanda Waller's strike team of incarcerated super-criminals. A one-stop-shop for plausibly deniable espionage and ultra- violence, this "Suicide Squad" only handles missions they're not expected to survive. An insane new era of SUICIDE SQUAD begins here with superstar artist Jim Lee and red-hot writer Rob Williams (UNFOLLOW, MARTIAN MANHUNTER).
Variant Covers
AQUAMAN #5 $2.99 (Joshua Middleton variant)
BATGIRL AND THE BIRDS OF PREY #1 $2.99 (Karmome Shirahama variant)
BATMAN #5 $2.99 (Tim Sale variant)
GREEN ARROW #5 $2.99 (Neal Adams variant)
GREEN LANTERNS #5 $2.99 (Emanuela Lupacchino variant)
HARLEY QUINN #2 $2.99 (Bill Sienkiewicz variant)
JUSTICE LEAGUE #3 $2.99 (Yanick Paquette variant)
NIGHTWING #3 $2.99 (Ivan Reis variant)
SCOOBY APOCALYPSE #4 $3.99 (Jim Lee variant)
SUICIDE SQUAD #1 $2.99 (Lee Bermejo variant)
SUPERGIRL REBIRTH #1 $2.99 (Adam Hughes variant)
SUPERMAN #5 $2.99 (Kenneth Rocafort variant)
GRAPHIC NOVELS
BATMAN TEENAGE MUTANT NINJA TURTLES HC $24.99
HELLBLAZER TP VOL 14 GOOD INTENTIONS (MR) $24.99
INJUSTICE GODS AMONG US YEAR FOUR HC VOL 02 $22.99
LOONEY TUNES GREATEST HITS TP VOL 01 WHATS UP DOC $12.99
LUCIFER TP VOL 01 COLD HEAVEN (MR) $14.99
WONDER WOMAN BY GEORGE PEREZ TP VOL 01 $24.99
MERCHANDISE/COLLECTIBLES
POCKET POP FLASH TV FLASH VIN FIG KEYCHAIN $5.99
POCKET POP SUICIDE SQUAD JOKER VINYL FIG KEYCHAIN $5.99
THUNDERCATS 144 PIECE BUTTON ASST $PI
ACTION FIGURES/STATUES
BVS DAWN OF JUSTICE PLAY ARTS KAI ARMORED BATMAN AF $149.99
DC COMICS ICONS DEATHSTROKE STATUE $100.00
POP DC HEROES BATMAN AS RIDDLER IMPOPSTER VINYL FIG $10.00
Please comment below and don't forget to like, share and follow us on:
Facebook: https://www.facebook.com/dccomicsnews
Twitter: @DCComicsNews
Pinterest: http://www.pinterest.com/dccomicsnews/
Tumblr: http://dccomicsnews.tumblr.com
Instagram: @dccomicsnews