The full length trailer and all of the latest details surrounding the upcoming animated movie Batman: Return of the Caped Crusaders have been gathered here. The full-length film from Warner Bros animation and DC Entertainment will see Adam West, Burt Ward and Julie Newmar back in the saddle to reprise their roles as Batman, Robin and Catwoman to bring justice to the animated world of DC.
The plot is perhaps best explained using the official synopsis:
It's back to the 1960s as Batman and Robin spring into action when Gotham City is threatened by a quartet of Batman's most fiendish foes – Penguin, The Joker, Riddler and Catwoman. This time, the four Super-Villains have combined their wicked talents to hatch a plot so nefarious that the Dynamic Duo will need to go to outer space (and back) to foil their arch enemies and restore order in Gotham City. It's a truly fantastic adventure that will pit good against evil, good against good, evil against evil … and feature two words that exponentially raise the stakes for both sides: Replicator Ray. Holy Multiplication Tables!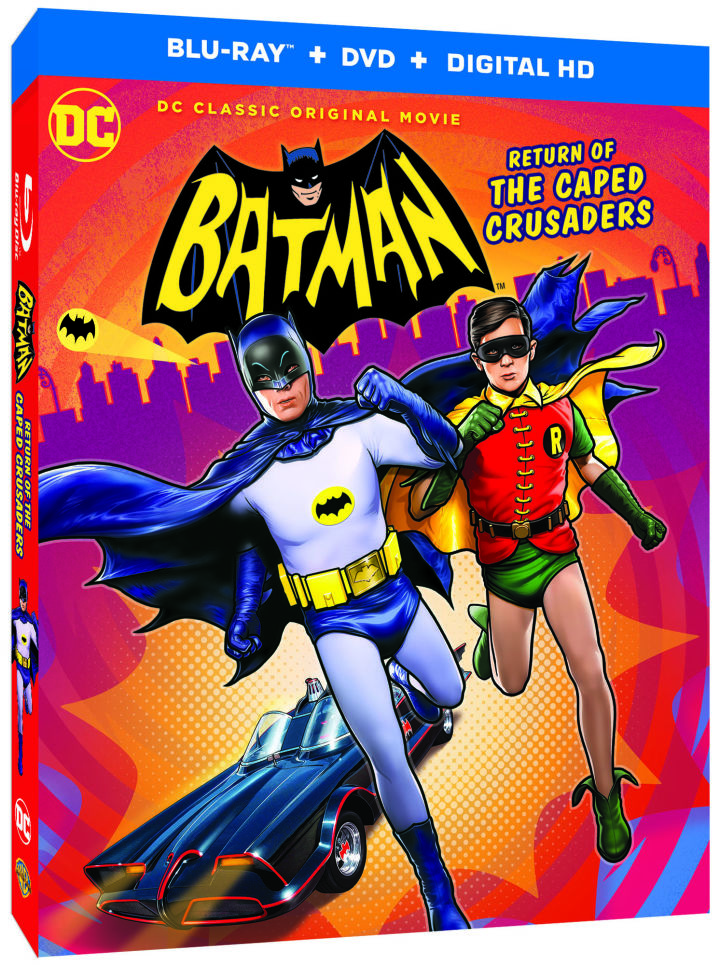 The aptly named film will be available on Digital HD onwards from October 11, 2016. Streaming and downloading will be possible in both HD and standard definition from select retailers such as Amazon, CinemaNow, Fixster, iTunes, PlayStation, Vudu and Xbox, with more to be announced.
A Blu-Ray Combo Pack with an SRP of $24.98 is set for release on November 1, 2016 alongside a DVD version priced at SRP $19.98. The order due date has been given as September 27, 2016.
The movie has a fantastic and seasoned creative team behind it,  with Rick Morales (LEGO DC Comics Super Heroes – Justice League: Cosmic Clash) directing a script written by Michael Jelenic (Teen Titans Go!) and James Tucker (Justice League vs. Teen Titans). Tucker and Jelenic are also involved as supervising producer and producer, respectively. Executive producers include Sam Register, Benjamin Melniker and Michael Uslan.
The trailer and box art will no doubt bring about nostalgia and excitement for Batman fans of all ages. Excited for the return of such a classic cast? Let us know in the comments!