DC Comics News has compiled a list of DC Comics titles and collectibles shipping to comic shops for September 7, 2016.
Check back every Friday with the DC Comics News Pull Box to see all the cool new DC Comics titles and collectibles that will be available at your favorite local comic shop! So, what titles or collectibles will you be picking up this Wednesday? You can sound off in the comments section below! Click on Comic shop Locator to find the comic shop nearest to you!
COMICS
AQUAMAN #6 $2.99
BATMAN #6 $2.99
BATMAN BEYOND #16 $2.99
BLOODLINES #6 GROUND ZERO $2.99
CYBORG REBIRTH #1 $2.99
EVERAFTER FROM THE PAGES OF FABLES #1 $3.99
FLINTSTONES #3 $3.99
GREEN ARROW #6 $2.99
GREEN LANTERNS #6 $2.99
HARLEY QUINN #3 $2.99
JUSTICE LEAGUE #4 $2.99
NIGHTWING #4 $2.99
SCOOBY DOO WHERE ARE YOU #73 $2.99
SHERIFF OF BABYLON #10 $3.99
SUPERGIRL #1 $2.99
SUPERMAN #6 $2.99
UNFOLLOW #11 $3.99
DCN Pull Box Spotlight
THE IRON GIANT DELUXE COLLECTIBLE FIGURE $300.00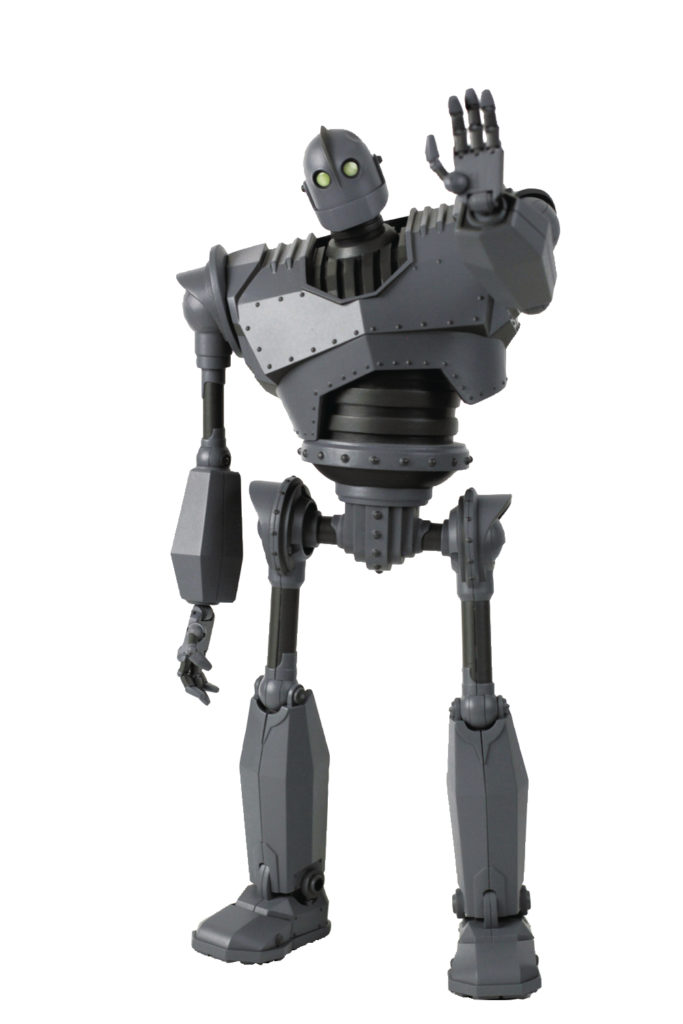 From Mondo Tees. The Iron Giant Deluxe Figure is the most highly detailed Iron Giant collectible to date! Created using the actual digital files used in the film, the figure features over 30 points of articulation, two interchangeable heads with a light up feature, magnetic "S" that can be detached from its sign and attached to his chest, switch-out "War Arm," Hogarth mini-figure, and a girder to munch on! In addition to this, the figure measures approximately 16″ and also includes a sound feature, with Iron Giant quotes from the film!
Variant Covers
Note: Variant Prices To Be Determined By Retailer
AQUAMAN #6 (Joshua Middleton variant) $2.99
BATMAN #6 (Tim Sale variant) $2.99
CYBORG REBIRTH #1 (Joe Benitez variant) $2.99
FLINTSTONES #3 (Bilquis Evely variant) $3.99
GREEN ARROW #6 (Neal Adams variant) $2.99
GREEN LANTERNS #6 (Emanuela Lupacchino variant) $2.99
HARLEY QUINN #3 (Bill Sienkiewicz variant) $2.99
JUSTICE LEAGUE #4 (Yanick Paquette variant) $2.99
NIGHTWING #4 (Ivan Reis variant) $2.99
SUPERGIRL #1 (Blank variant) $2.99
SUPERGIRL #1 (Bengal variant) $2.99
SUPERMAN #6 (Kenneth Rocafort variant) $2.99
GRAPHIC NOVELS
BATMAN 66 MEETS THE MAN FROM UNCLE HC $19.99
BATMAN ARKHAM KNIGHT GENESIS TP $14.99
BATMAN ARKHAM POISON IVY TP $19.99
BATMAN BY SCOTT SNYDER & GREG CAPULLO BOX SET $49.99
BATMAN HC VOL 09 BLOOM $24.99
BATMAN TP VOL 08 SUPERHEAVY $16.99
POISON IVY CYCLE OF LIFE AND DEATH TP $16.99
ROBIN SON OF BATMAN HC VOL 02 DAWN OF THE DEMONS $24.99
ROBIN SON OF BATMAN TP VOL 01 YEAR OF BLOOD $16.99
SUPERGIRL BIZARROGIRL TP NEW ED $17.99
SUPERGIRL FRIENDS AND FUGITIVES TP NEW ED $16.99
SUPERGIRL WHO IS SUPERWOMAN TP NEW ED $16.99
BOOKS/MAGAZINES
BACK ISSUE #91 $8.95
BATMAN YOU CHOOSE YR STORIES CLAYFACE RETURNS $6.95
BATMAN YOU CHOOSE YR STORIES LAZARUS PLAN $6.95
BEDTIME FOR BATMAN YR PICTURE BOOK $15.95
TEEN TITANS GO CHARACTER GUIDEBOOK SC $5.99
MERCHANDISE/COLLECTIBLES
ARROW TV COFFEE MUG $11.99
BATMAN SHIELD PREMIUM NOTEBOOK $14.99
DC DICE MASTERS GREEN ARROW AND FLASH 90 CT DIS $89.10
DC HEROES HARLEY QUINN COFFEE MUG $11.99
DC HEROES SUPERMAN COFFEE MUG $11.99
DC HEROES WONDER WOMAN COFFEE MUG $11.99
DC RETRO MEGO STYLE 8IN AF SER 2 ASST
DC WATCH COLLECTION #4 SUICIDE SQUAD $34.95
FLASH TV COFFEE MUG $11.99
LEGO HARLEY QUINN KEYCHAIN LED LITE $13.99
LEGO JOKER KEYCHAIN LED LITE $13.99
STAR LABS COFFEE MUG $11.99
SUPERMAN SHIELD PREMIUM NOTEBOOK $19.99
ACTION FIGURES/STATUES
DC COMICS DESIGNER SER CAPULLO FLASH AF $28.00
DC COMICS DESIGNER SER CAPULLO SURVIVAL GEAR BATMAN AF $28.00
DC COMICS DESIGNER SER CAPULLO WONDER WOMAN AF $28.00
POP DC HEROES BATMAN SURF VINYL FIG $10.99
POP DC HEROES JOKER SURF VINYL FIG $10.99
POP DUCK DODGERS DUCK K9 VINYL FIG $10.99
POP DUCK DODGERS DUCK MARVIN MARTIN VINYL FIG $10.99
THE IRON GIANT DELUXE COLLECTIBLE FIGURE $300.00
CLOTHING
BATMAN NAVY TIE Price Determined By Retailer
BATMAN PINSTRIPE NAVY TIE Price Determined By Retailer
BATMAN REBIRTH BY CAPULLO T/S MED $19.95
BATMAN REBIRTH BY CAPULLO T/S SM $19.95
BATMAN REBIRTH BY CAPULLO T/S XL $19.95
BATMAN REBIRTH BY CAPULLO T/S XXL $22.95
BATMAN SYMBOL CUFFLINKS Price Determined By Retailer
BATMAN VINTAGE CUFFLINKS Price Determined By Retailer
DARK KNIGHT SATIN BLACK CUFFLINKS Price Determined By Retailer
DC WATCH COLLECTION #4 SUICIDE SQUAD $34.95
FLASH LOGO CUFFLINKS Price Determined By Retailer
GREEN LANTERN SYMBOL CUFFLINKS Price Determined By Retailer
SUICIDE SQUAD DEADSHOT FITTED CAP SZ 7 3/8 $51.99
SUICIDE SQUAD JOKER FITTED CAP SZ 7 1/8 $51.99
SUICIDE SQUAD JOKER KNIT W/POM $25.99
SUICIDE SQUAD PURPLE/GREEN SNAP BACK CAP $26.99
SUPERMAN SHIELD GOLD ENAMEL CUFFLINKS Price Determined By Retailer
SUPERMAN SHIELD NAVY TIE Price Determined By Retailer
WONDER WOMAN ACTION CUFFLINKS Price Determined By Retailer
Please comment below and don't forget to like, share and follow us on:
Facebook: https://www.facebook.com/dccomicsnews
Twitter: @DCComicsNews
Pinterest: http://www.pinterest.com/dccomicsnews/
Tumblr: http://dccomicsnews.tumblr.com
Instagram: @dccomicsnews