DC Comics News has compiled a list of DC Comics titles and collectibles shipping to comic shops for October 12, 2016.
Check back every Friday with the DC Comics News Pull Box to see all the cool new DC Comics titles and collectibles that will be available at your favorite local comic shop! So, what titles or collectibles will you be picking up this Wednesday? You can sound off in the comments section below! Click on Comic shop Locator to find the comic shop nearest to you!
COMICS
ACTION COMICS #965 $2.99
ALL STAR BATMAN #3 $4.99
AMERICAN VAMPIRE ANTHOLOGY #2 $7.99
BATGIRL AND THE BIRDS OF PREY #3 $2.99
DEATHSTROKE #4 $2.99
DETECTIVE COMICS #942 (MONSTER MEN) $2.99
DOOM PATROL #2 $3.99
EARTH 2 SOCIETY #17 $2.99
FLASH #8 $2.99
GOTHAM ACADEMY SECOND SEMESTER #2 $2.99
HAL JORDAN AND THE GREEN LANTERN CORPS #6 $2.99
LOST BOYS #1 (OF 6) $3.99
NEW SUPER MAN #4 $2.99
RED HOOD AND THE OUTLAWS #3 $2.99
SCOOBY APOCALYPSE #6 $3.99
SCOOBY DOO WHERE ARE YOU #74 $2.99
SHERIFF OF BABYLON #11 (OF 12) $3.99
SUICIDE SQUAD #4 $2.99
SUPERGIRL #2 $2.99
SUPERWOMAN #3 $2.99
TEEN TITANS GO #18 $2.99
UNFOLLOW #12 $3.99
WONDER WOMAN #8 $2.99
DCN Pull Box Triple Spotlight
DOOM PATROL #2 $3.99
(W) Gerard Way (A/CA) Nick Derington
What happened to Larry Trainor? The hero known as Negative Man is still out there, but he's not exactly the same guy he was back when Doom Patrol was still together. Like a Russian doll, there is man inside the man, and who knows how many other men inside of them, with the guy on top possessing a mind for mischief that incites violence.
Meanwhile, Casey has started rebuilding Robotman, even though she still doesn't know exactly how Cliff Steele ended up crossing her path in the first place.
---
LOST BOYS #1 (OF 6) $3.99
(W) Tim Seeley (A) Scott Godlewski (CA) Tony Harris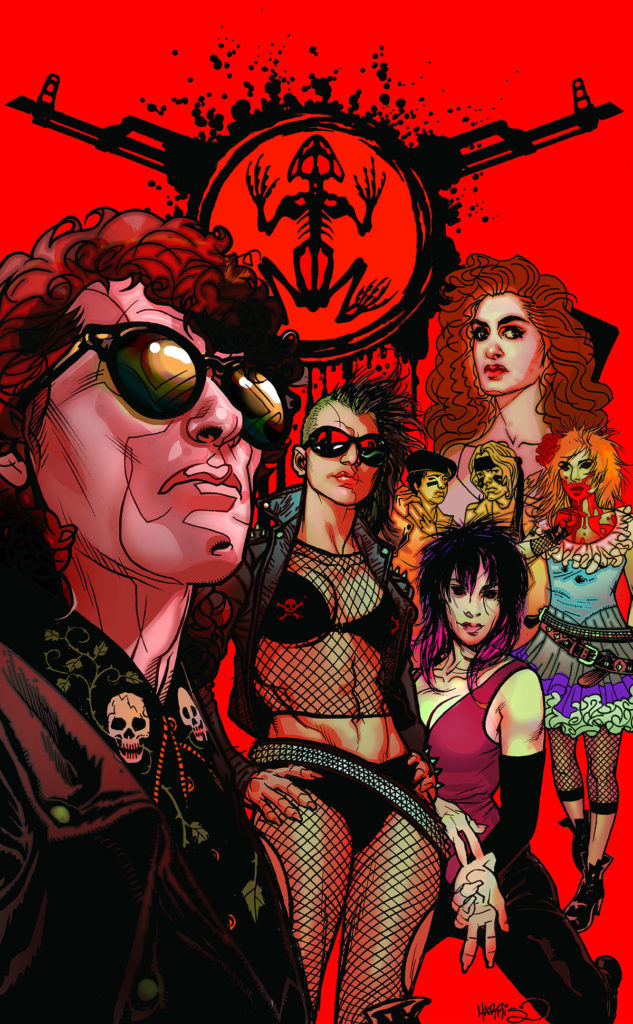 The stakes are raised in this nostalgic and unstoppable sequel to the '80s cult classic vampire film, The Lost Boys. Veteran horror writers Tim Seeley (GRAYSON, NIGHTWING, Hack/Slash), and Scott Godlewski (THE DARK & BLOODY, Copperhead) deliver a gruesome and stylish return to the bloody boardwalks and big hair of 1987!
Santa Carla, California is on edge. The eccentric coastal town and haven for the undead was finally returning to "normal" after its last supernatural scuffle left the local coven's head vampire dead and gave newcomers Michael and Sam Emerson a housewarming both violent and bizarre. Now the brothers must once again team up with militant vampire hunters Edgar and Allan Frog when a new gang of ruthless, stunning, life-sucking nightcrawlers known as the Blood Belles emerges from the aftermath to collect Michael's love interest and their lost sister, Star.
---
WONDER WOMAN #8 $2.99
(W) Greg Rucka (A/CA) Bilquis Evely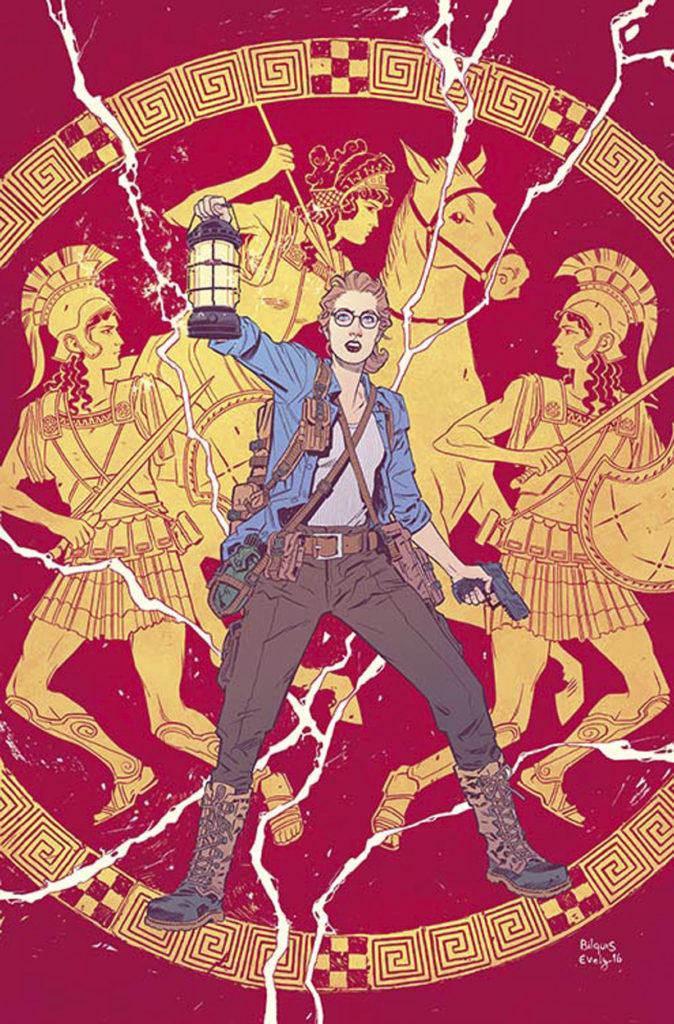 A Year One interlude written by Greg Rucka with art and cover by Bilquis Evely!  In this tale that spotlights the Cheetah's past, young Barbara Ann Minerva is sent on a quest for answers to the Amazons' most ancient secrets!
Variant Covers
Note: Variant Prices To Be Determined By Retailer
ACTION COMICS #965 (Gary Frank variant) $2.99
ALL STAR BATMAN #3 (Jock) $4.99
ALL STAR BATMAN #3 (Declan Shalvey variant) $4.99
BATGIRL AND THE BIRDS OF PREY #3 (Karmome Shirahama variant) $2.99
DEATHSTROKE #4 (Shane Davis variant) $2.99
DETECTIVE COMICS #942 (Rafael Albuquerque variant) $2.99
DOOM PATROL #2 (Michael Allred variant) $3.99
EARTH 2 SOCIETY #17 (Tony Harris variant) $2.99
FLASH #8 (Dave Johnson variant) $2.99
HAL JORDAN AND THE GREEN LANTERN CORPS #6 (Kevin Nowlan variant) $2.99
LOST BOYS #1 (OF 6) (Joelle Jones variant) $3.99
NEW SUPER MAN #4 (Bernard Chang variant) $2.99
RED HOOD AND THE OUTLAWS #3 (Matteo Scalera variant) $2.99
SCOOBY APOCALYPSE #6 (Dan Parent variant) $3.99
SHADE THE CHANGING GIRL #1 (Tula Lotay variant) $3.99
SUICIDE SQUAD #4 (Lee Bermejo variant) $2.99
SUPERGIRL #2 (Bengal variant) $2.99
SUPERWOMAN #3 (Terry and Rachel Dodson variant) $2.99
WONDER WOMAN #8 (Jenny Frison variant) $2.99
GRAPHIC NOVELS
BATMAN BY ED BRUBAKER TP VOL 02 $19.99
CATWOMAN TP VOL 08 RUN LIKE HELL $14.99
CONVERGENCE TP $24.99
DC UNIVERSE BY NEIL GAIMAN DELUXE ED HC $29.99
JUSTICE LEAGUE UNITED TP VOL 02 THE INFINITUS SAGA $14.99
LAST GANG IN TOWN TP $14.99
RED HOOD ARSENAL TP VOL 02 DEVILS DAUGHTER $16.99
SUPERMAN AMERICAN ALIEN HC $24.99
WE ARE ROBIN TP VOL 02 JOKERS $14.99
WONDER WOMAN THE GOLDEN AGE OMNIBUS HC VOL 01 $75.00
MERCHANDISE/COLLECTIBLES
BATMAN TAS JOKER FIG BOTTLE OPENER $18.00
DC BATMAN DIE CUT EMBOSSED TIN SIGN W/ HIGH GLOSS $14.99
DC BATMAN LOGO DIE CUT EMBOSSED TIN SIGN $39.99
DC BATMAN SCHEMATIC DIE CUT EMBOSSED TIN SIGN W/ HIGH GLOSS $24.99
DC COMICS HARLEY QUINN FLOWER 5 PK SHORT COMIC STORAGE BOX $64.95
DC COMICS JUSTICE LEAGUE ROAD TRIP BOARD GAME $24.99
DC SUPERMAN DIE CUT EMBOSSED TIN SIGN $14.99
SUICIDE SQUAD BOOMERANG PEWTER LAPEL PIN $3.99
SUICIDE SQUAD DEADSHOT PEWTER LAPEL PIN $3.99
SUICIDE SQUAD DIABLO PEWTER LAPEL PIN $3.99
SUICIDE SQUAD ENCHANTRESS PEWTER LAPEL PIN $3.99
SUICIDE SQUAD HARLEY QUINN PEWTER LAPEL PIN $3.99
SUICIDE SQUAD JOKER PEWTER LAPEL PIN $3.99
SUICIDE SQUAD KATANA PEWTER LAPEL PIN $3.99
SUICIDE SQUAD KILLER CROC PEWTER LAPEL PIN $3.99
SUICIDE SQUAD LOGO PEWTER KEYRING $6.99
SUICIDE SQUAD PLAYING CARDS $5.99
SUICIDE SQUAD RICK FLAG PEWTER LAPEL PIN $3.99
SUICIDE SQUAD SLIPKNOT PEWTER LAPEL PIN $3.99
V FOR VENDETTA GOVERNMENTS SNAP KEYCHAIN $7.95
V FOR VENDETTA MASK SNAP KEYCHAIN $7.95
ACTION FIGURES/STATUES
BATMAN TAS BATMOBILE W BENDABLE FIGURES $34.99
DC SUPER HERO GIRLS TRAINING ACTION DOLL ASST $PI
MASTERS O/T UNIVERSE EVIL LYN MINI BUST $89.99
SUICIDE SQUAD DEADSHOT 10IN PLUSH $19.99
SUICIDE SQUAD HARLEY QUINN 10IN PLUSH $19.99
SUICIDE SQUAD JOKER 10IN PLUSH $19.99
SUICIDE SQUAD KATANA 10IN PLUSH $19.99
CLOTHING
BATMAN CHOKEOUT BY ROSS T/S XL $19.95
Please comment below and don't forget to like, share and follow us on:
Facebook: https://www.facebook.com/dccomicsnews
Twitter: @DCComicsNews
Pinterest: http://www.pinterest.com/dccomicsnews/
Tumblr: http://dccomicsnews.tumblr.com
Instagram: @dccomicsnews